Experience your own wonderland with AlisonWonderland Photography.
When it comes to photography, it seems Alison from AlisonWonderland Photography can turn her hand to anything!
With her exceptional eye and talent for creating magical masterpieces, when you work with Alison one thing you'll be guaranteed to receive is a piece of artwork to treasure forever.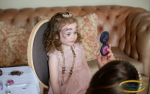 Just recently Alison has run a unicorn day, which surely has to be every little girl's dream day?! It's an opportunity for little ladies (and even some more grown up ladies!) to add some sparkle, dress up and be photographed. This time the event took place at the Powdermils Hotel, the grounds of which were the perfect setting for the experience.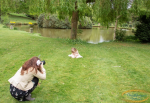 Each session began with being pampered by Rosie from Rose Petals Beauty - styling, hair accessories, unicorn facepaint and glitter - and then it was over to Alison who worked her magic with capturing the perfect image. She will then add the finishing touches behind the scenes to create the magical unicorn images. It really does create an image like no other, and one that would make an excellent Mothers Day or Fathers Day gift... too late for this year but definitely worth bearing in mind for next year. We simply cannot wait to see the end result... watch this space.

It's almost a case of "think of a magical theme and Alison can create the perfect image!" Alison loves nothing more than making someone's dreams come to life, just like she did with this mermaid image for Violet. This formed part of Violet's 16th birthday present, and for someone who just loves mermaids, it was simply perfect. Alison has worked with other themes too - from Harry Potter to fairies, dinosaurs to superheroes, pirates to princesses. She really can turn a fantasy idea into reality. Even if you don't know where to start, Alison can run a creative exploration session with you. She will work with you to help you tap into your imagination, have some fun and come up with a concept that truly reflects what you're after. It's a specialist skill and one that Alison has in abundance! 
If you're engaged and still looking for your wedding photographer then you must give Alison a call. She's worked with a number of couples to photograph their special day, leaving them with stunning images that they will be able to treasure for many years to come. 

Another service offered by Alison that sets her apart from other photographers (and helps earn her reputation as the Queen of Digital Arts in Hastings!) is digital painting.
This is a fun one that Alison created for a client recently. You can see her incredible skill at turning what was a photograph into a digital art image. We love it!
 So there you have it! All the news from the fabulous AlisonWonderland Photography. We wait with bated breath to see what delights the next few months have in store.... we'll report back!