Autumn delights at Aspects Hair Designers & Beauty House.
All hail the arrival of autumn!
Autumn has arrived at Aspects Hair Designers & Beauty House, and with it comes the perfect excuse for embracing those lovely autumn hues.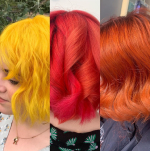 So are you thinking of going a rich red?
Or a beautiful brown?
How about amazing auburn?!
Whatever the autumn colour, the colour specialists at Aspects can help. Book a complimentary colour consultation online to have a chat with one of our colour specialists! We can advise, look at your ideas and come up with a plan for your hair this autumn/winter! 
Stand up for Cezanne!
Cezanne Smoothing Treatment transforms frizzy, unruly hair to locks that look sleek, shiny and fabulous.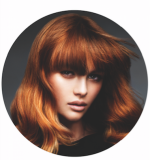 Rather than using a formaldehyde-based keratin system to cover the hair, Cezanne's revolutionary low pH system opens up the cuticle enabling a proprietary blend of keratin, botanical extracts and vitamins to enter through the cuticle to the cortex. Then when you apply heat during the straightening process, the cuticle is closed and the blends are locked into the hair, protecting and smoothing the hair from the inside out.
The amazing benefits include
Banishing frizz
Hair that's damaged is repaired
Drying time is reduced by 50%
Locks in and enhances colour
Increases shine & smoothness
If this sounds like the perfect treatment for your hair then contact the salon. You'll need to book in for an essential initial consultation so that your hair can be assessed, we can take strand tests if necessary and then we can discuss the available treatments that will work best for your hair type.
The wonders of 

Olaplex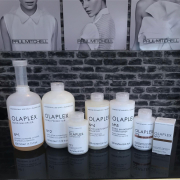 Olaplex has long been hailed by hair colourists as a mechanism to maintain hair in optimum condition throughout a chemical treatment, which is ultimately damaging to hair. It helps restore broken bonds in the hair that are caused by chemical, thermal and mechanical damage. 
Olaplex is a three-step process that not only helps protect the hair during the colouring process, but it helps mend some of the previous damage - making the hair healthier and stronger - whilst preventing further damage in the future.
And it doesn't just protect against colour damage, it can protect your hair from frequent heat exposure too. 

Olaplex No 1 & 2: these steps are an in-salon service which rebuilds broken disulphide bonds and begins the process of preventing damage and repairing hair.
and to use between salon visits:
No3: Olaplex Hair Perfector is a treatment purchased to take home and continue weekly until the next salon visit.
No 4: Olaplex Bond Maintainer Shampoo restores, repairs and hydrates to add incredible shine.
No5: Olaplex Bond Maintainer Conditioner restores, repairs and hydrates without adding excessive weight. Eliminates damage and frizz for strong, healthy looking hair!
No6: Olaplex Bond Smoother concentrated leave-in smoothing crème. For all hair types.
No7: Olaplex Bonding Oil boosts shine, strengthens and repairs all hair types – contains Heat and UV Protection!
So to turn your dry, brittle hair into soft, shiny, resilient hair - speak to the team at Aspects. 
We have the full range of the game changing Olaplex in salon.
Olaplex is the perfect solution for helping your hair stay healthy and beautiful all year round, whatever the weather. Your stylist will analyse your hair type and recommend the most beneficial treatment for your hair.