How much does a Paintless Dent Repair cost?
26th February 2017
... Comments
---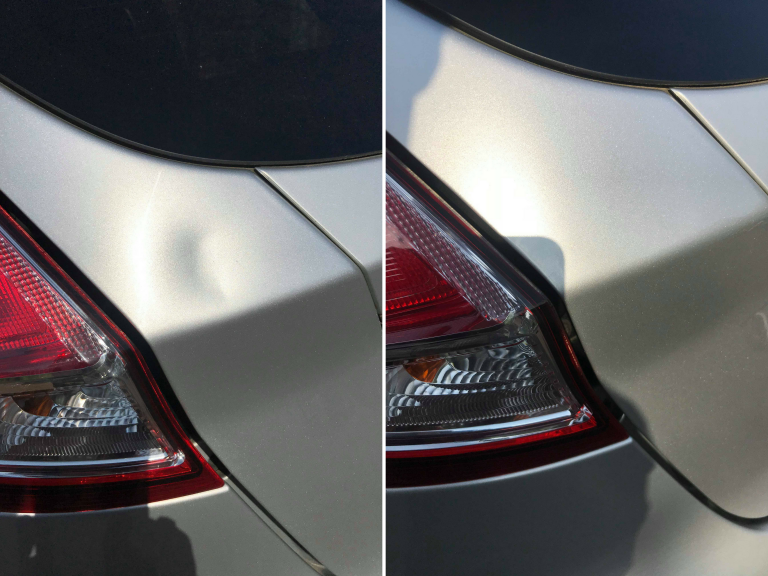 This is obviously one of the most common questions that we are asked and I believe that if someone gives you a direct answer to that question without inspecting, first hand, the damage to be repaired, they could be doing you a dis-service.
There are many factors that need to be taken into consideration when calculation the price of a paintless dent repair and there is a risk of a technician coming up against one of these factors unexpectedly and because it hasn't been priced correctly the repair could be rushed or carried out inappropriately resulting in a poorer quality finish.
Insurance Approved Price Matrix
When Dent Devils estimate the cost of a dent repair an industry standard, insurance approved estimating matrix is used. This takes into consideration the method, skill and time needed to carry out a quality repair and will adjust the price accordingly. The first thing usually taken into consideration is the size and shape of the dent which the technician will check using their sighting aid to show the full extent of the distortions in the panel from the reflection it creates. The outer edges are then marked and the distance between the marks is measured. Next to consider is the depth of the dent in relation to the size, a small dent that is deeper can be more difficult to repair than a large one where the depth is spread over a wider area.
Different levels of repair
Any swage or styling lines in the panel that need to be restored can take a lot of skill to reshape cleanly and will add to the cost of the repair. Different metal types will also affect the level of skill needed to perform a clean dent repair with metals such as aluminium and HSS (High Strength Steel) being much more difficult to repair than standard steel panels. Damage occurring in different panels will also have an effect on the cost of the repair, each panel will offer differing levels of access and will require different methods of restoration. The front wing of a car can usually offer easy open access to the back of a dent where the rear wings are more often double skinned, closed panels making access more difficult and an alternative method such as glue pulling may need to be used.
100% perfect repair
There are still more factors to be considered when it comes to calculating the cost of a dent repair and because each dent is as individual as a fingerprint giving a fixed price is not the best way to price pdr. The price given by a Dent Devils technician using the estimating matrix will be to make the damage as close to perfect as possible. Obviously a 100% perfect repair is always the target for our technicians but unfortunately this is not always possible, if there is likely to be any blemishes or flaws in the repair the technician will discuss it with you before carrying out any work in order for you to be able to make an informed decision regarding the best method of repair, pdr or bodyshop. Paintless dent repair is the only type of car body repair that can restore the panel to exactly as it was before it suffered any damage with the original factory coating still intact. This is not possible with a more traditional bodyshop repair where the factory paint is removed, the damage is filled and a different coating is applied.
Mobile Dent Repair vs Bodyshops
Because paintless dent repair takes far less time, uses far fewer materials and can usually be performed by a mobile technician, it will more often be less costly than a bodyshop repair while still being higher quality and a lot more convenient. Invest in the best technicians and you will not be able to tell there was ever any damage. Call Dent Devils on 01323 639244 today to arrange a free inspection by your local technician and a genuine quotation to carry out the repair.