Sudbury Businesses Rally together to offer FREE kids meals for those in need
The Free School Meal Vouchers won't be extended this October half term, but inspired by Marcus Rashford's campaign, businesses in and around Sudbury want to ensure that those families affected by the pandemic;  maybe their furlough has ended, lost a job due to lockdown restrictions or they're waiting for their UC to arrive.
Whatever the reason, please don't let your kids go hungry.
Here is where you can get help
First and foremost, the Storehouse Food Bank wants to make sure NO child goes without food this half term and if you're struggling to afford food, please call Sudbury Town Council, press option 1 for an email referral. 
If you'd like to donate some food, visit their website and their Facebook page. There you'll find updated food lists and where you can drop off your food. Or, you maybe in a position to donate some money. You can do so here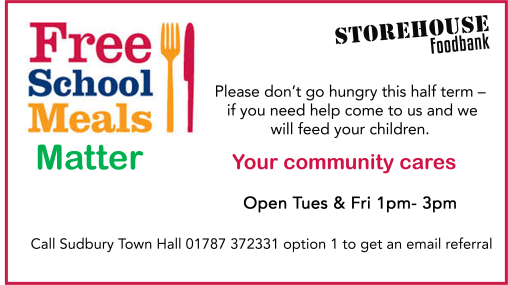 Businesses in and around Sudbury have also been sending out their messages of support and offering free meals for children
The Kings Head, Great Cornard.
The Kings Head, on Bures Road, are not only offering free kids meals during half term, but have launched a fundraiser for the Storehouse Food Bank. You can donate here.
They have also said if there is any child in the area that needs a meal, to pop in and provide a free kids meal
Prado Lounge, Market Hill, Sudbury
Prado Lounge are offering free packed lunches to kids that need them (subject to availability - although they want to ensure they have enough for all)
All you need to do is send them a message on Facebook or Instagram.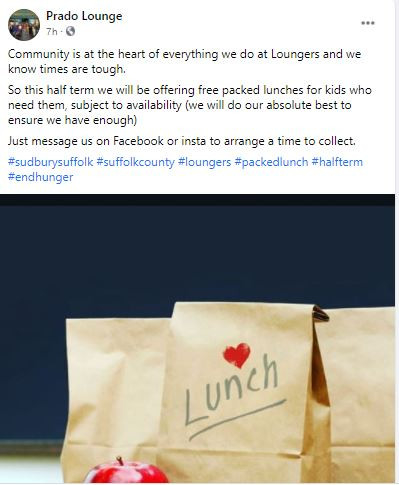 The Ballingdon Valley Restaurant, Ballingdon
The Ballingdon Valley Restaurant also want to lend a hand and are offering a free hot lunch to any child who would normally receive a Free School Dinner. Just get in touch with them Monday - Friday morning, as per their post below
The Hare Inn, Long Melford
The Hare Inn, Long Melford are offering a free, hot, take away lunch for children who may otherwise go hungry this half term. You will  need to send them a message on Facebook by 5pm to order the following day.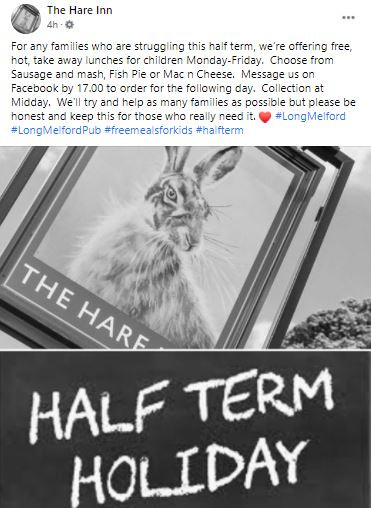 Sophie from Baby Rule's Kitchen wants to help! As of Monday at Half Term, she will be sharing recipes for low cost meals she plans to cook the next day. For each recipe she shares, she will cook that dish for any child in Sudbury that needs it. Just get in touch with her by 8am the day before, so she can plan, buy and cook the meal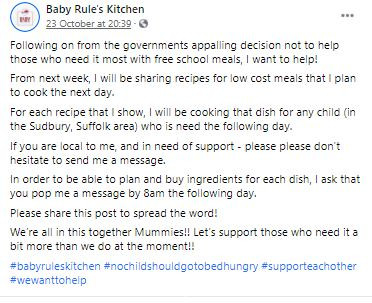 Weston's Bakery, Gaol Lane Sudbury
If any child needs it, Weston's in Gaol Lane are offering a free packed lunch. Just give them a call and they'll set on aside for you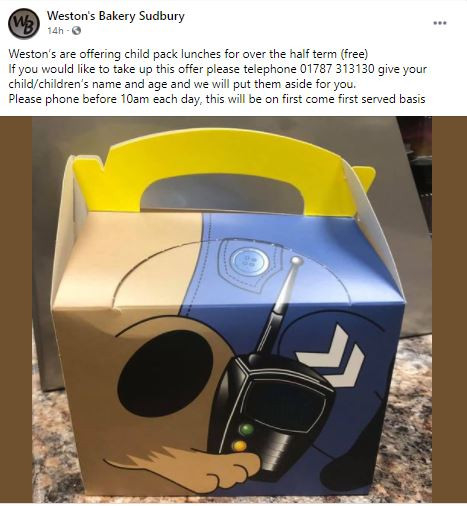 Tatum's Tea House, Lavenham
Tatum's Tea House in Lavenham are offering free healthy packed lunches to those that are eligible for free school meals. Just drop them a message on Facebook.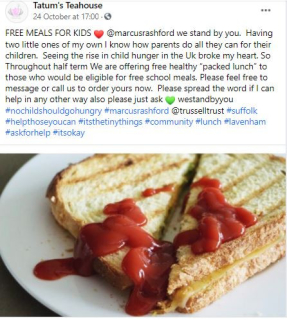 The Melford Valley Tandoori Restaurant, Long Melford
Melford Valley have pledged to not let any children go hungry this half term and you're welcome to pick up a meal for your children. Please give them a call the day before to put in your order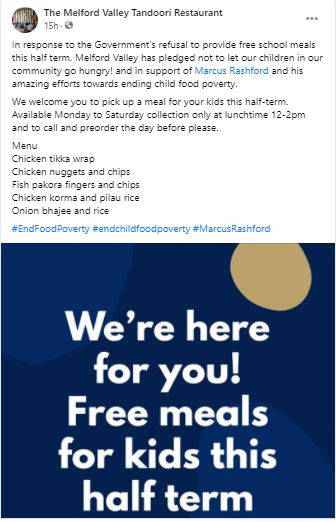 If you're a business that's offering help this half term, please get in touch with me (sudbury@thebestof.co.uk) and then make sure you add yourself to this website, so people in need can find you.
Once again Sudbury has shown what a wonderful town it is; with community at its heart. Let's continue to be kind & supportive