Shops & Businesses of Sudbury Town Centre... it's time to get Festive!
9th November 2021
... Comments
---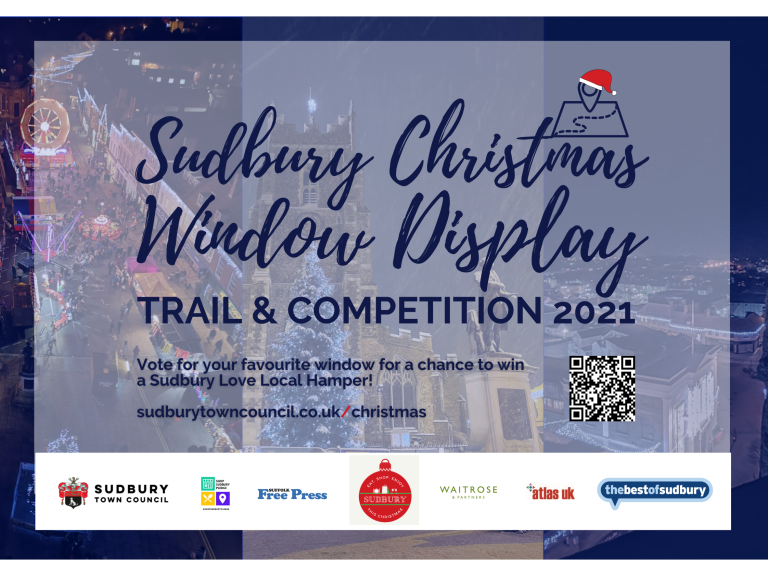 Thebestof Sudbury is delighted to announce that once again we will be working in partnership with Sudbury Town Council to host the 2021 Sudbury Christmas Window Display competition.
Be part of it and click HERE
This year we're expecting it to be bigger and better than ever and we are inviting any Sudbury business with a street facing window to join the competition.
For those businesses that enter, not only will they be part of a traditional, community festive event, that brings joy and festive cheer to the people of Sudbury, but there are some great promotional opportunities all for FREE!
Your business will be included in the Christmas window display map.
This map will be distributed to 12,000 homes within a five-mile radius of Sudbury, encouraging local people to come and visit the town and do their Christmas shopping
Copies will being available at Sudbury Town Council and the map can also be downloaded from thebestof Sudbury website.
The Sudbury Window Display Facebook group will be available for you to post photos of your windows and encourage people to visit
The event will be promoted through thebestof Sudbury, Sudbury Town Council and Suffolk Free Press
Voting will open on the 26th November to coincide with this year's Sudbury Christmas light switch on.
The public can vote for their favourite window online at thebestof Sudbury & Sudbury Town Council website or voting slips will be available at Sudbury Town Council. The Suffolk Free Press will run a weekly voting slips in their paper from 25th November.
The winning window display will be chosen by both a public vote and a judges panel, very much like Strictly Come Dancing. And the winner will take back the  Christmas Window Display Winners Cup (Sponsored by Cobblers & Keys in Borehamgate Precinct) Promotion on thebestof Sudbury, photo and editorial about the win in the Suffolk Free Press prior to Christmas and a free ad in the new 2022 Sudbury Town Map produced by Atlas UK
The judges panel will be visiting the window display on Monday 13th December and the public  voting will end on Sunday the 19th. The winner will be notified on Monday the 20th and you'll need to be available for a photo for the newspaper.
 Everyone who votes online or offline will be entered into a competition to win a fabulous Sudbury Love hamper, from Waitrose and local businesses.
You will only be included, if you sign up here by 12th November.