Some say that eyes are the window to the soul, but did you know your eyes can also detect physical conditions such as diabetes and high blood pressure?
In our continuing commitment to offer you the very best eye care, we recently invested in a diagnostic 3D scanner.
This technology aligns with our commitment to preventative treatment and will increase your options should you be diagnosed with  a  serious  eye condition.
That's because this state-of-the-art technology can help us spot conditions including:
diabetes, age-related macular degeneration (AMD), glaucoma, and high blood pressure up to four years earlier than previously possible. These conditions can affect your eyes and even lead to life changing sight loss. Glaucoma is the leading cause of blindness   in the West and diabetes is  the
fastest growing health threat of our times. Serious eye conditions can affect your quality of life.
For example, you may be unable to drive and find that you can no longer enjoy many things you previously took for granted.
But early detection can change the outcome – significantly.
In fact, early detection can save your eyesight. For example, glaucoma creeps up on you with a slow onset of visual field loss. With early detection it can be    treated.
And now you can protect yourself with our new Advanced 3D Eye Exam.
How OCT technology is saving eyesight
It's unusual to see Optical Coherence Tomography (or OCT) in an optician's. That's because this expensive technology is normally only found in top eye hospitals  such as Moorfields.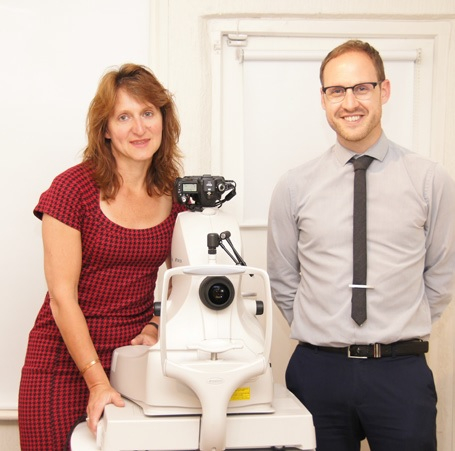 Our Optometrists Jo Williams and Will Norman standing proudly next to their OCT machine
Here's a quick overview to explain how this complex technology works…
First, light waves are used to create 3D images of the cell layers at the back of your eye.
The test is non-intrusive and nothing touches your eyes. Next, using special software, your results are compared with a worldwide database, which gives highly  accurate  predictive diagnoses.
Finally, your optician will discuss and explain your results thoroughly. There's never any rush. Everything will be explained without jargon so you can understand. If a problem is identified, we'll clearly outline the next steps.
And remember, because this technology allows early diagnosis, you'll often find that you have more options.
We're proud to be one of a handful of opticians in the country to have invested in this technology. As a result, you can enjoy the security of advanced eye exams in the convenience of your local practice. To book your appointment simply contact us in branch.