Happy Independence Day from John Winthrop's County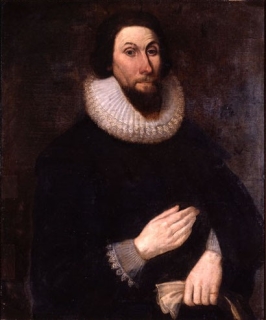 On 4th July, our friends across The Pond, celebrate Independence Day. There may be many that don't realise one of their nation's early settlers, originated from Edwardstone just a few miles from Sudbury, Suffolk.
John Winthrop was born into an influential and wealthy family. His father, Adam Winthrop was a lawyer, landowner and merchant who later became Lord of The Manor in Groton. 
The Winthrops were devout Puritans, John probably more so than his Father. When King Charles 1st came to the throne in 1624 and dissolved Parliament 5 years later, this caused a huge amount of unrest amongst the Puritans, who felt under threat.
So, in the spring of 1630, Winthrop led a fleet of 11 ships, his being The Arbella, with 700 passengers to the Massachusetts Bay Colony. 
He settled in what now known as Boston, Massachusetts, becoming their founding Governor and remained in office for 12 terms.
He died in 1649 in Boston, MA having never returned to England, however, our County's influence is seen all over Winthrop's New World, with towns called Groton, Boxford and Sudbury.
We have also welcomed our friends from Boxford, MA to Boxford Suffolk, as well as US dignitaries. 
You can visit the grave of John Winthrop's father, Adam, in Groton Churchyard, as well taking a look at the Mulburry Tree, believed to have been planted by Adam Winthrop in the 1560s.