Your Door Locks Could Invalidate Your Home Insurance
Did you know that your door locks could invalidate your home insurance? Secure Homes Security, Hertfordshire's leading locksmiths, offers some advice to homeowners.
Whether your external doors are made from uPVC or wood, you need to ensure that the door locks are in full working order. Having the correct lock on a door is essential for both home security and for complying with your home insurance policy.
For example, many wooden doors have night latches which are mounted on the internal surface of the door, instead of being morticed into the door itself. Although these locks are very common, most homeowners do not realise that insurance companies will insist that these locks are used alongside a second lock.
If one of your external doors has a night latch, check to see if there is a second type of lock. Make sure it has a key and that the lock is in good working order. Some insurance providers may even specify that the second lock needs to be a five-lever mortice lock or a multi-point locking system.
Installing good quality door locks will obviously give you and your family peace of mind, but they could also mean you qualify for a discount on your home insurance premiums.
Most people don't know the types of locks used in their home, so you need to identify the locks. Here is Secure Homes Security's quick guide:
Five-lever mortice lock: regarded as providing a good level of security, especially when the lock conforms to the British Standard. Commonly fitted to wooden doors, mortice locks require a key both to open and lock it from both sides.
Multi-point locking system: one of the most secure locks, particularly SS312 Diamond approved cylinders, often found on uPVC and composite doors. They have a minimum of three locking points in the door frame that all lock when you turn the key.
Night latches: as mentioned, these are often fitted alongside a mortice lock on a wooden door. Fitted on the inside of a door, the key locking cylinder is on the outside of the door while there is handle or knob inside.
Bolts: sliding bolts often used at the top or bottom of doors to provide additional security. These need to be used in conjunction with one of the above locking systems.
Next, double check the wording of your home insurance policy to ensure that you comply. For example, if a door is left unlocked and you have something stolen, it's likely that your claim would not be paid. Most insurance providers state that there needs to be signs of "force and violence" used to gain entry.
Replacing your doors and locks sounds expensive. However, simply having your locks serviced regularly will keep them in top condition, while also extending their life which will save you money.
Finally, remember to check that all your external doors are locked before going to bed. Nearly a third of all burglaries happen because residents have left windows or doors unsecured.
---
More Information…
Rob and Mark at Secure Homes Security provide an excellent-value locksmith service in Hertford, Ware, Potters Bar and surrounding areas, with fantastic customer service.
Check out their feature page on thebestof Hertford and Ware here:
http://bit.ly/secure-homes-security
Check out ALL their reviews, regardless of whether they were left on Google, Yell, or any of the other main review sites, here:
http://bit.ly/secure-homes-security-reviews
Call: 01707 527133
Email: info@securehomessecurity.co.uk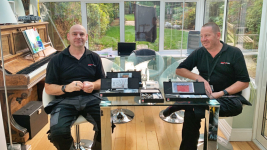 You might also like to take a look at these other resources:
How much do locksmiths charge in Hertford, Ware and Potters Bar?
Top 10 door lock problems – and what to do about them – Part 1
Is a smart lock right for you?
Extra security for garage locks
Your door locks could invalidate your home insurance
Christmas security tips from Hertfordshire's leading locksmiths