The 30 best places to eat, in and around Hertford...As voted by YOU!
14th May 2013
... Comments
---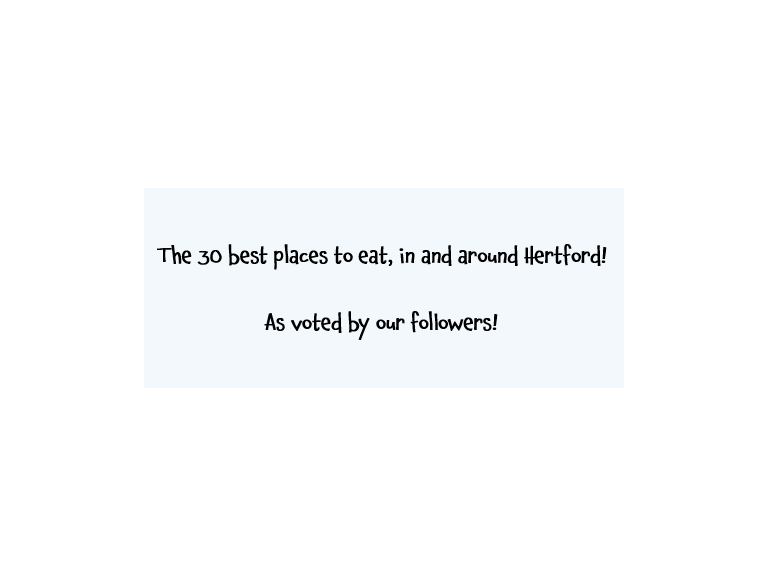 Welcome to the Hertford blog.
We recently asked our followers over on our Facebook page where they like to eat in, and around Hertford.
We had well over a hundred replies, and here we list where the people of Hertford and the surrounding area like to go out for something to eat! We've split them up into categories so it's easier for you to find out where's best to go in and around Hertford!
Indian Restaurants:
Tikka Cottage – Really popular choice with 13 positive comments and likes. 
Ruby's - Another popular Indian restaurant, there were 5 recommendations for this Hertford based Indian restaurant. 
The Raj (on Ware Rd) – There was 9 recommendations for this long standing Indian restaurant. 
Ware Tandoori – Another long standing Indian restaurant on Ware High St attracting 2 recommendations. 
Dills – Formerly known as The Hot House, this Indian restaurant had 4 people recommend it. 
Pubs/Bars:
The Sow & Pigs Thundridge) – 8 recommendations for this out of town gastro pub. 
Galley Hall (Hertford Heath) – 9 people were really impressed with their good service and portion sizes. 
Baroosh – This was a favourite for their breakfasts and Sunday Roasts, 4 recommendations. 
The Old Barge – An old Hertford favourite, this pub had 7 recommendations. 
The Farmers Boy – The Brickendon pub had 5 recommendations. 
The College Arms – Situated in Hertford Heath, 6 people recommended The College Arms. 
The Grandison – A true country pub, with a good reputation, 4 recommendations overall. 
The Snug – A cocktail favourite, but also good food! 2 recommendations in total. 
The Vine – On Ware High St, The Vine had 1 recommendation for their Sunday Roasts. 
The Millstream – Tucked away in residential Hertford, The Millstream has built a good reputation and had 3 recommendations.
English / Continental Restaurants:
Casa Lua – This Spanish tapas restaurant on Ware High Street replaced the popular French restaurant a few years back and received 6 recommendations from our Facebook followers. 
Sfizio – Another Ware based restaurant with a long standing reputation for good Italian food. 3 recommendations. 
Il Vino – Brand new Italian restaurant on St Andrews Street in Hertford. Only 2 recommendations, but it's only been open a month! 
Village Taverna – Really tucked away opposite the library in Ware, this restaurant with its traditional Greek food had 1 recommendation.
O Zero Pizzeria – Relatively new Ware based Italian restaurant with a modern twist and good Italian food. 2 recommendations. 
Lussmans – A favourite for many around East Herts, this brilliant restaurant had 13 recommendations. 
Loch Fyne – A seafood specialist! Superb food from the sea and had 6 recommendations. 
The Chop House – Opened in early 2013 in Hertford, The Chop House is all about meat, and lots of it! 3 recommendations. 
Thai Restaurants:
Old Siam – A very popular destination for our Facebook followers! 15 recommendations in total! 
The Thai Cottage – This Ware based Thai restaurant has a good reputation and attracted 6 recommendations. 
Baan Thitiya – Situated on St Andrews St in Hertford, this Thai restaurant had 8 recommendations. 
The Lord Luis – A pub/Thai restaurant in Stanstead Abbotts. The Lord Louis attracted 2 recommendations for its Thai Express part of the establishment. 
Cafes:
Ware To Eat – 4 people recommended this traditional cafe on Ware High Street for its great breakfasts. 
Serendipity – An independent coffee shop in Bircherley Green, Hertford, 2 people recommended it. 
Roses Cafe – With an easy to reach location in Hertford, Roses Cafe attracted 3 recommendations. 
And that's it! All these recommendations were either genuine positive comments or 'likes' in response to our question on our Facebook page.
To join in the fun please give our page a 'like' by visiting us here.
Thanks for reading!