Revamp your old Jewellery with just a polish!
2nd January 2017
... Comments
---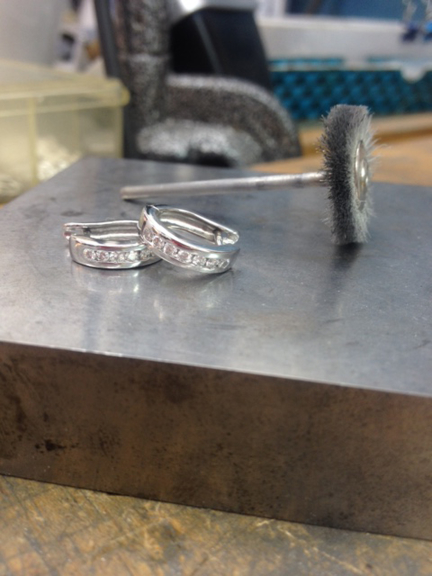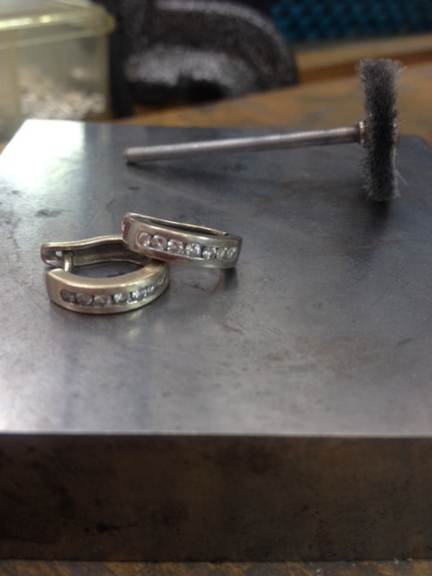 It's true, pop by to ask a Jewellery about polishing your worn Jewellery. It's all done here in our onsite workshop and usually done within a matter of days. 
Our polishing process promises to be rid of daily scratches and dirt. We remove fine marks with different grades of buff until they are no longer visible, give them an extensive polish and clean in our industrial sonic cleaner and voila! Your Jewellery piece looks brand new. 
Once our customers have had their Jewellery polished, most indulge themselves with a cleaning kit to maintain the polish for that little bit longer from home. We have two types of cleaning kit; one is specifically for silver pieces. This includes a Silver Cleaning Liquid and Silver Cleaning Cloth. Using both will prolong the cleanliness of your piece and restore a shiny surface when oxidized. The second kit is for all metals and stone cleaning. This contains a handy pack of Jewellery wipes which is ideal to keep in your handbag for Jewellery emergencies. A simple disposable cloth is dispensed and is already infused with an active polish for brightening your metals, whether that's yellow gold, platinum or silver. These fabulous wipes are accompanied by the amazing Diamond Dazzle Stik. Another handy product to keep in your handbag, this pen looks just like a lip gloss, though never mix the two! With a twist of the silver end, the brush becomes loaded with a blue gel type liquid which can then be brushed onto your stones and rinsed off with water. The effect is instant and does not harm your Jewellery. It has been cleverly designed to get into any nooks and crannies with a brush tip allowing each part of the stone to be cleaned. Of course this works best on diamonds however it can be used on the likes of rubies and sapphires too.
Prices:
Silver polish FROM £15
Gold polish FROM £24
White gold polish and Rhodium finish FROM £35
Platinum polish FROM £30

Silver cleaning Kit £10
Metal and Stone Cleaning kit £15
Sian's tips: Silver tarnishes when it's not worn. The natural acids in your skin keep it clean so keep rotating your Jewellery to keep your silver in tip top shape.

Body Creams and Perfume WILL accelerate the tarnishing process on metals, remember to apply these before putting on your piece of Jewellery.

Future brides, pop your engagement rings in for a full polish before your big day, this way it looks great in your wedding photos too!