Melted Gold
3rd November 2015
... Comments
---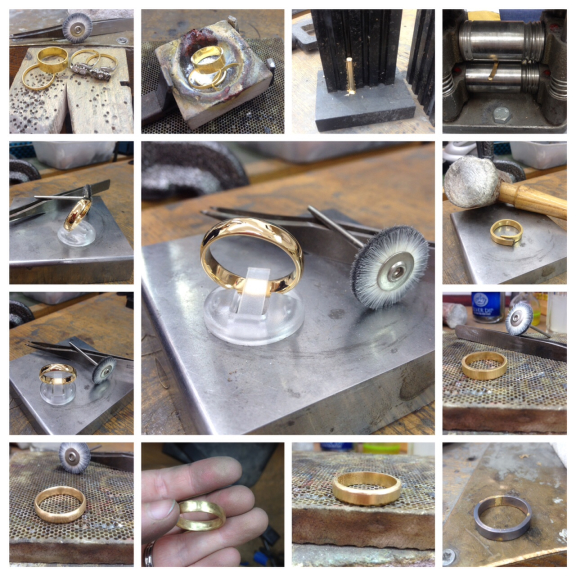 The jewellery trade is a wonderful one to work in. Many people see it as luxurious, being able to create pieces containing the finest materials the planet has to offer. It certainly is exciting shopping for stones or working with a piece of platinum, but watching a piece transform is perhaps one of the most rewarding parts of our job. We enjoy our customer's reactions much more! 
Though our intention is never to make anyone cry happy tears, when a piece of jewellery comes in for transformation there is always the sentimental element we try our best to keep hold of. Whether that is mounting granny's stone into an engagement ring, or using her gold to make a wedding band.
In our latest case, we have used 2 engagement rings and two wedding bands from family members to create a wedding band. It was an 18ct and 22ct mix of gold and so we were not sure what shade of yellow the mix would produce but it was definitely worth giving it a go. The customer now has a unique colour gold to him using his relative's metal.
He chose the style of ring by trying on some samples in store, he then narrowed down his choice to one he loved and we measured his finger. 
Gold is a lovely metal to work with, in my opinion it's one of the best for the most dramatic results. Old gold can tarnish over time, it can hold a hue to it when worn constantly and only needs a little polish to create spectacular results.
If you have inherited some jewellery that isn't quite your style, pop it all in and discuss your ideas with an onsite jeweller.Melt downs start from £200.
For more information visit us in store at 15 Market Place, Hertford, SG14 1DG or call us on 01992 534555.