In this digital age, more people are asking whether a smart lock is a better option for their home.  After all, if everything else is transforming to smart and intelligent, why not your door locks.
A well-connected stylish door lock gives you easy access to your home, without the need for keys. If you worry about locking yourself out, losing your keys, or forgetting to lock your door, a smart lock offers a solution. Similarly, if you need to allow carers access to your home a smart lock is an ideal way of doing so.
Not only will a smart lock provide easy access to you, it will also keep track of every individual coming in and going out -allowing you to keep an eye on any suspicious callers.
Smart locks offer full-proof security by allowing you to use your voice or any keyless password method to unlock the door in seconds. Many models connect seamlessly with your smartphone, meaning you can use the application to see and speak to anyone at your door from almost anywhere. And, of course, there are also options to connect to nifty gadgets which support voice control commands. Thus, you can access your door locks via Google Assistant, Apple HomeKit, and Amazon Alexa.
The latest feature for smart locks comes in the shape of "If This, Then That" which lets you control the behaviour of the device in defined circumstances, for example, you can set that the doors should unlock if the smoke or CO alarm is triggered. Thus, these smart door locks are not just a straightforward approach to entry, but an enhanced protective layer around you and your family.
Choosing the best smart door lock can be a tricky task which is why Rob and Mark at Secure Homes Security are always happy to talk you through the best fit for your personal circumstances and provide a free, no obligation quotation. Voted our Locksmiths of the Year, thebestof Hertford and Ware are confident of their customer care and commitment.
---
More Information…
Rob and Mark at Secure Homes Security provide an excellent-value locksmith service in Hertford, Ware, Potters Bar and surrounding areas, with fantastic customer service.
Check out their feature page on thebestof Hertford and Ware here:
http://bit.ly/secure-homes-security
Check out ALL their reviews, regardless of whether they were left on Google, Yell, or any of the other main review sites, here:
http://bit.ly/secure-homes-security-reviews
Call: 01707 527133
Email: info@securehomessecurity.co.uk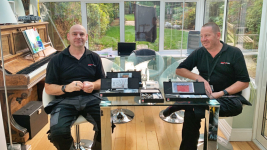 You might also like to take a look at these other resources:
How much do locksmiths charge in Hertford, Ware and Potters Bar?
Top 10 door lock problems – and what to do about them – Part 1
Is a smart lock right for you?
Extra security for garage locks
Your door locks could invalidate your home insurance
Christmas security tips from Hertfordshire's leading locksmiths
---