Installation at Hertford Castle to Commemorate Remembrance Sunday
6th November 2019
... Comments
---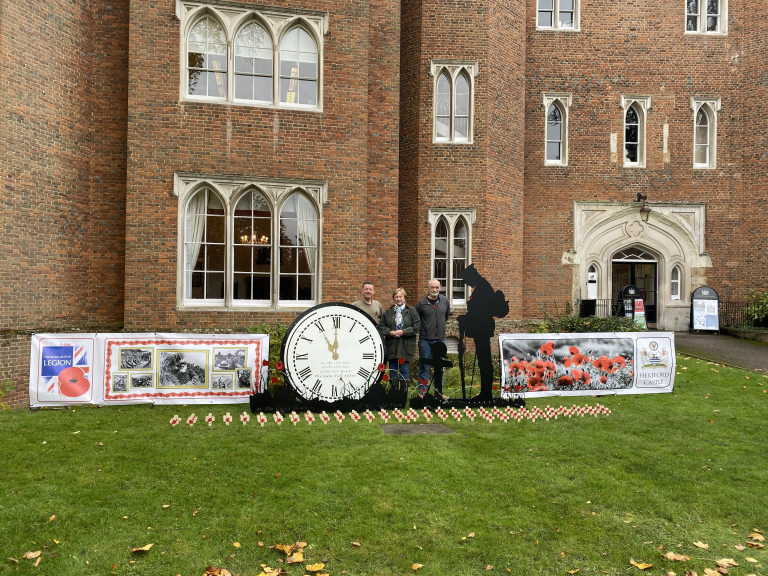 Local Royal Air Force Association Standard Bearer John Devlin has created a very fitting tribute to remember those who have lost their lives whilst serving their country.
This commemoration follows the incredible feat of trailing 15, 000 poppies, that were created by the Hertford Yarn Bombers, from the roof of Hertford Castle that took place in November 2018.
Mr Devlin has spent many hours designing and crafting the impressive silhouette that was installed at Hertford Castle on Monday 4 November. The installation includes reference to the Armistice of November 1918 through the clock face that sits nestled within a field of beautifully designed poppies.
The installation is made of mild steel and is predominantly black in colour. The historic Hertford Castle provides a superb backdrop for the 7 feet tall solder that is looking downwards, leaning on his rifle.
The foreground of the installation comprises 101 small wooden crosses marking 101 years since the end of the First World War.
Mr Devlin commented "It was important to me to contribute this year's commemoration of Remembrance Sunday. The support and encouragement of the Hertford Branch of the Royal British
Legion has been very helpful particularly at the design stage."
John Cutmore, Chair of the Hertford Branch of the Royal British Legion commented "This silhouette captures why the country remembers those who sacrificed their lives for others. The Branch is very
grateful to Mr Devlin for his work and to Hertford Town Council for hosting the installation".
Deputy Mayor of Hertford Town Council, Cllr Mrs Sally Newton said "Hertford Town Council is delighted to be involved with the installation of this tribute. Whilst on display it will be seen by many who visit the Castle Grounds and will attract extra visitors to the Castle and Hertford Town Centre.
The Royal British Legion poppies and other commemoration items are available at the Castle leading up to Remembrance Sunday"
The installation is on display at Hertford Castle from Monday 4 November to Monday 11th November.