Give your jewellery a spring clean from home!
13th May 2015
... Comments
---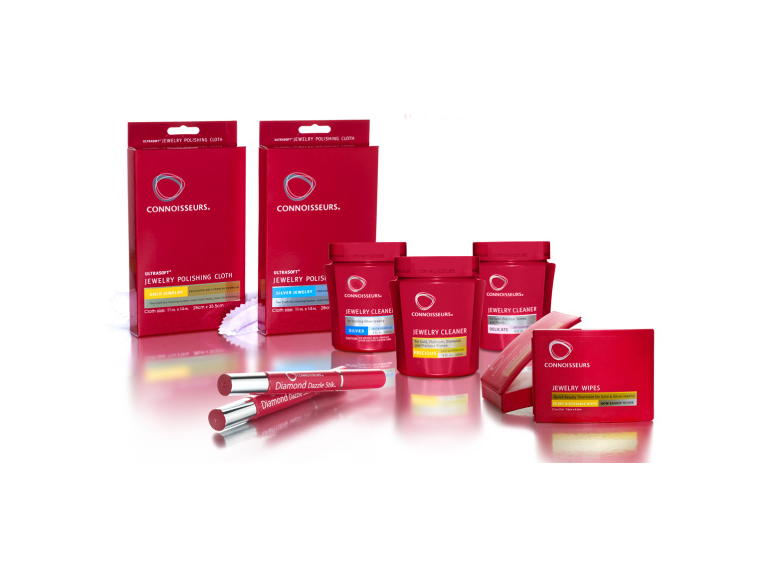 Ignore all those myths of using gin or rum to clean your jewellery there is an easier way.
It has taken us many years to find a brand we feel is perfect for home cleaning, but we finally found one and it's available to purchase in store. The brand is Connoisseurs and we think it's fabulous!
We currently have 4 simple to use products that will make your life easier without breaking the bank.
Product 1 is a liquid silver cleaner. Ideal for plainer pieces, simply dip your piece in the liquid and remove, rinse under cool running water and leave to dry. It removes the brown tarnishing we all experience when we lock our silver away for a while and it does it as quick as a flash! £5.99.
Product 2 is a fabric silver cloth. The large cloth is coated with a chemical, which is not harmful to your skin but works brilliantly on your silver. Simply rub over your piece with an area of the cloth to brighten the metal and wipe away any slight tarnishing you may see. We have found this works brilliantly on chains. £7.99.
Product 3 is presented in a protective box and these are jewellery wipes. Ideal for the more precious metals like gold and platinum, these are once again coated fabric cloths ready for use straight away. Simply pull one out of the box and rub on your jewellery to brighten your metal and prolong the need for a professional polish. £7.99.
Product 4 is known as the Diamond Dazzle Stik. It's perhaps our best selling product out of the four with amazing visible results instantly. This simple brush stick has a twist end which releases a gel, once again not harmful to your skin, brush the gel over your diamonds and prepare to be amazed! You will need to rinse the gel away with cool water but you will see all the usual dirt and grease disappear from your diamond and it will once again sparkle like the day you got it. £9.99.
In store we have combination gift packs ready to buy with a complimentary discount when buying two products at once. We have found if we pair the products up, you can maintain your jewellery for much longer without needing to have them professionally cleaned and polished.
For more information call us on: 01992 534555 or come in and visit us at Lance James Jewellers, 15 Market Place, Hertford.