Christmas Security Tips from Hertfordshire's Leading Locksmiths
Ensure that Santa is the only nocturnal visitor to your property this Christmas with these festive security tips from Secure Homes Security, Hertfordshire's leading locksmiths.
During the long winter evenings the sight of decorations and a brightly lit Christmas tree in your front window can be very tempting to opportunist thieves. With your home bursting with festive food and treats, you need to think one step ahead to keep your home, family and possessions safe.
Here are Secure Homes Security's 12 tips for Christmas:
1. Close Curtains
When you have the lights on inside, in the dark winter months it is easy to tell when a house is unoccupied and burglars can use this to their advantage. Make sure you close all your curtains when you retire to bed, and you can even ask a neighbour to close them while you are away.
2. Interior Lights
A dark, unlit home can be a tempting target for burglars, so if you're out for the evening remember to leave a light on so it looks like someone is home. You can also invest in timer switches to turn on lamps while you are away.
3. Presents
Make sure you store all your presents in a safe place, such as a cupboard, store room or loft. Only put your presents under the tree on Christmas Eve, so they are not on show to passing thieves.
4. Social Media
Sharing your festive experience on social media can be great fun. However, if you are spending Christmas away from home, you could be advertising the fact that your home is empty. You also need to be careful about showing the world what Santa bought you for Christmas, please think carefully before posting.
5. Recycling
Once all the presents have been opened, the hard work of clearing up begins. Be careful where you put the packaging for expensive gifts such as games consoles and gadgets. Rather than putting them in your own bin at home, keep boxes hidden until you can make a trip to your local recycling centre.
6. Insurance
Christmas means you have a lot of expensive gifts and food at home. Double check that your contents insurance policy covers all your presents. Limits for single items can be as low as £1,000, so contact your insurance company if you've purchased anything above your policy limit. You might also want to check that your insurance policy covers accidental damage such as breakages to new gadgets and carpet stains.
7. Check Doors
It is surprising how many people don't check that all their external doors are locked before going to bed. Opportunist thieves can quickly go along a street, checking the front doors. In fact, nearly a third of all burglaries happen because residents have left windows or doors unsecured. Remove keys from the inside of your front door, as thieves can reach through the letterbox.
8. Alarms
There is a wide range of high-tech alarms with systems to suit every budget. Many modern systems use wi-fi technology so there is no need for expensive and disruptive cabling work. Ensure that your property displays alarm signs to deter potential thieves.
9. Gardens
Can thieves access your home from your back garden? Alleyways and neighbouring properties can be used by determined burglars, so ensure that your fences are secure. Hedges, spiky bushes and trees can provide natural barriers, while security lights are a powerful deterrent. Padlocks on your shed and garage also send out a clear sign of security.
10. Ultraviolet Marking
Use an ultraviolet pen to mark your possessions with your house number and postcode. This can help the police to return any stolen items. The ink is invisible in daylight.
11. CCTV
More and more households are investing in external and internal CCTV systems to protect their property. The technology is getting more affordable and the cameras send out a clear and obvious sign that your home is secure.
12. Neighbourhood Watch
Does your area have a Neighbourhood Watch group? Joining your local group can alert you to crimes in your area and help to keep your street safe. If you are unable to find a local group, you could start one or simply ask your neighbours to help keep an eye on your property.
---
More Information…
Rob and Mark at Secure Homes Security provide an excellent-value locksmith service in Hertford, Ware, Potters Bar and surrounding areas, with fantastic customer service.
Check out their feature page on thebestof Hertford and Ware here:
http://bit.ly/secure-homes-security
Check out ALL their reviews, regardless of whether they were left on Google, Yell, or any of the other main review sites, here:
http://bit.ly/secure-homes-security-reviews
Call: 01707 527133
Email: info@securehomessecurity.co.uk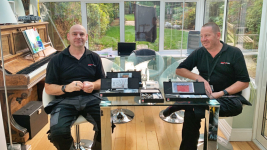 You might also like to take a look at these other resources:
How much do locksmiths charge in Hertford, Ware and Potters Bar?
Top 10 door lock problems – and what to do about them – Part 1
Is a smart lock right for you?
Extra security for garage locks
Your door locks could invalidate your home insurance
Christmas security tips from Hertfordshire's leading locksmiths
---