Autumn Has Finally Started…
5th November 2014
... Comments
---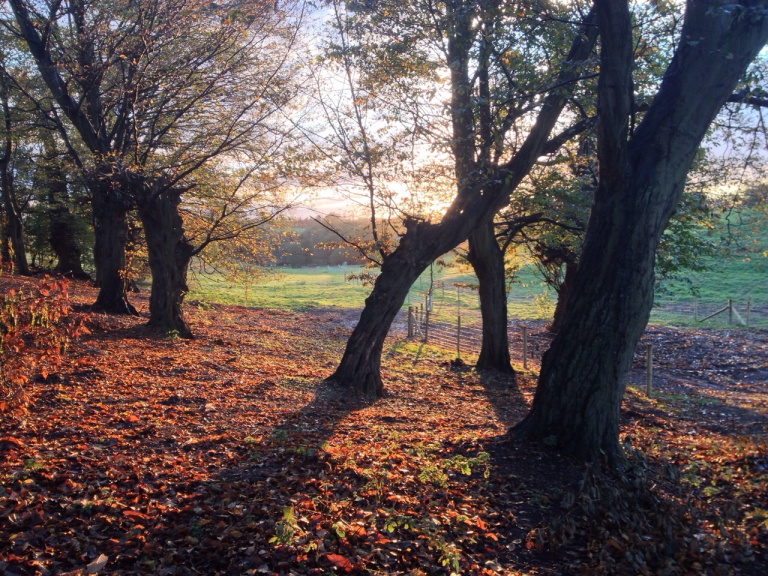 Walking around the town yesterday, I noticed how the leaves were changing colour, beautiful shades of amber, gold, copper and bronze blazing in the sunshine.  
Personally I love nothing more than wandering through woodlands and gardens to take in this magnificent spectacle.  
In and around Hertford there are plenty of places where you can enjoy the seasonal colours. In this month's edition of Hertfordshire Life magazine, you'll find an article about Fanhams Hall in Ware. The Hall has exotic specimen trees and a considerable collection of Japanese Maples dotted around its extensive gardens. 
Or alternatively you could take a stroll around the newly opened Panshanger Park, and join one of their guided heritage walks. There are cycle paths in the Park as well, if your preference is for two wheels rather than two feet!  Weather permitting you should definitely pause to admire the view of the lake, and Hertingfordbury church steeple visible in the distance.If you'd like to find out more, you can contact the Friends of Panshanger Park at http://friendsofpanshangerpark.co.uk/
Further afield, Hatfield House Parkland or the Ashridge Estate are ideal locations for great woodland walks.
And while you are out in the woods, it is of course time to start collecting the seeds of the Aesculus Hippocastanum (horse-chestnut to you and me), so that you can challenge the kids (and the young at heart) to a game of conkers.  Although a British invention, the game has now gone international, and children around the world can be found tying the shiny brown seeds on to a string and smashing their mates' conker (and each other's knuckles in the process) to pieces.  I'm sure you know the rules, and if you don't, a quick internet search will refresh your memory:  all you need is some conkers, string, a skewer to make the hole, and scissors.  
May the strongest conker win!