APOPO Hero Rats
23rd August 2016
... Comments
---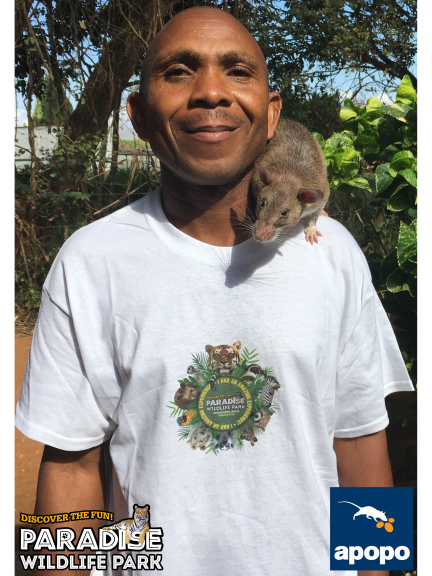 Paradise have been raising funds to help support APOPO and the work of the African Pouch Rats. APOPO have ensured that Mozambique is now a landmine free zone & are now helping to detect tuberculosis in people within several countries.
APOPO HeroRATs have some incredible stats that will blow people away. The HeroRATs have destroyed 83,805 Landmines, which has ensured that 914,452 people are now freed from explosive threats. The African Pouch Rats have also detected over 10,000 tuberculosis cases and helped halt over 60,000 potential tuberculosis infections. 
APOPO will be sending a team to Paradise over the weekend of the 27th & 28th August, where they have some amazing activities planned for visitors to take part in. "We can't wait to share the story and impact of these remarkable animals with Paradise visitors. For one weekend only guests of the park will be able to experience what it is like to search for deadly landmines underneath the earth by wearing a full de-mining suit and a metal detector. Come and join us for a unique experience you won't forget" - Robin Toal, Fundraising Manager
They will be taking over the 1:30pm shows to perform interactive demonstrations for the public, this is the first time they will performing a demonstration in the UK.
Paradise Wildlife Park have been raising funds through their coin collecting fancy rats. At the end of every show Peach & Zelda the parks Fancy Rats collect donations made from the visitors at Paradise to raise funds for their fellow species the African Pouch Rat and support the work they accomplish.
To find out more about the great work that APOPO HeroRATs do visit their website: www.apopo.org.