3 Easy Ways to Decorate for Halloween
3rd October 2018
... Comments
---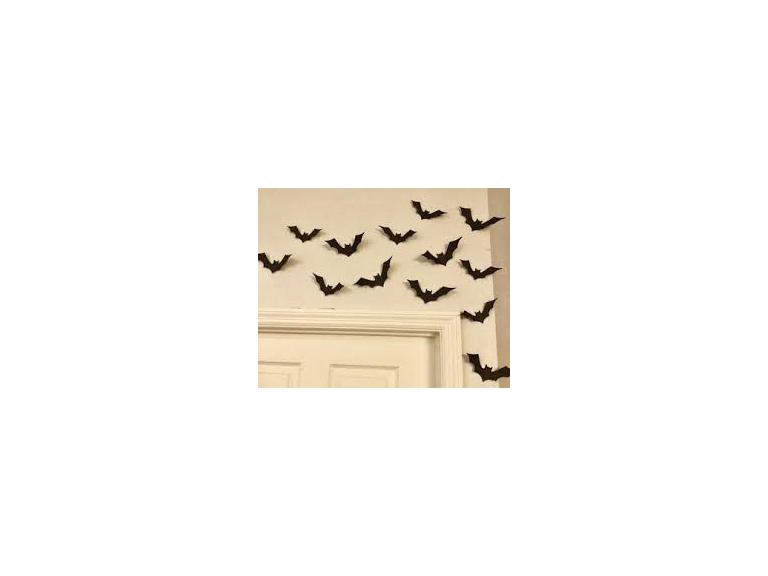 Following are some Halloween decorations that are quick, easy and at very low cost to produce.
1) Stick a swarm of bats on your windows or walls. Suction back glow-in-the-dark and black plastic bats are available from places like Poundstretchers or Poundland.
2) Bin Bag Spider Webs - you don't even have to bother leaving the house for this super cheap and cheerful Halloween project.  A few black bin bags and scissors will do the trick! They look really cool hanging in front of the window, and they can be used indoors or outside.  Simply follow the these instructions: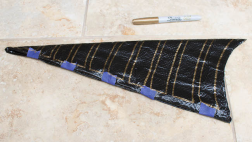 Because you will get two spiderwebs out of one large rubbish bag, you will only need 1 or 2 bin bags for this project. I recommend bags that are thin with a grainy texture if possible because the glossy bags tend to slide around a lot when you're trying to cut them.
Trim the edges off of the sides and bottom of your bin bag so that you have 2 rectangles (keep them together so that you can cut both at once).
Fold them into a triangle, and cut off the excess so that you have a perfect square.
Fold into a smaller triangle, and then again into another smaller triangle.
Now, fold once more to make a cone shape (you will have excess bin bag on the bottom).
Tape the side of the bag that is open with tape that is easy to remove (I suggest masking tape) so that it will be easier to cut.
Cut the excess plastic off of the bottom of your "cone" in a curved shape that resembles the outer edges of the spider web.
Use a permanent marker (gold works well) to draw the pattern shown below. You're basically drawing long thick rectangles, only slightly curved to match the shape of the half-moon at the bottom.
Cut out your markings, and then remove the tape.
Unfold the bags and pull them apart, revealing 2 bin bag spider webs. Hang them on the wall or in front of a window with clear tape.
Tips:
Make a few different sizes, and connect them together on the wall or over a window with scrap strips of bag for a more realistic look.
Make a couple of spiders with felt or card stock to place on the webs.
Thanks to FastForwardFun.com
3) Make the hedges outside your house super scary - glow sticks in tubes are the perfect way to greet people into your party.
Take toilet paper rolls and cut eyes out in them.
Place glow sticks in them and stick with masking tape.
Pop them randomly in bushes so that in the dark the scary eyes glow.
Have fun!