SwingTrain with Shelley
Leaf Hall Community Centre
51 Seaside
Eastbourne
BN22 7NB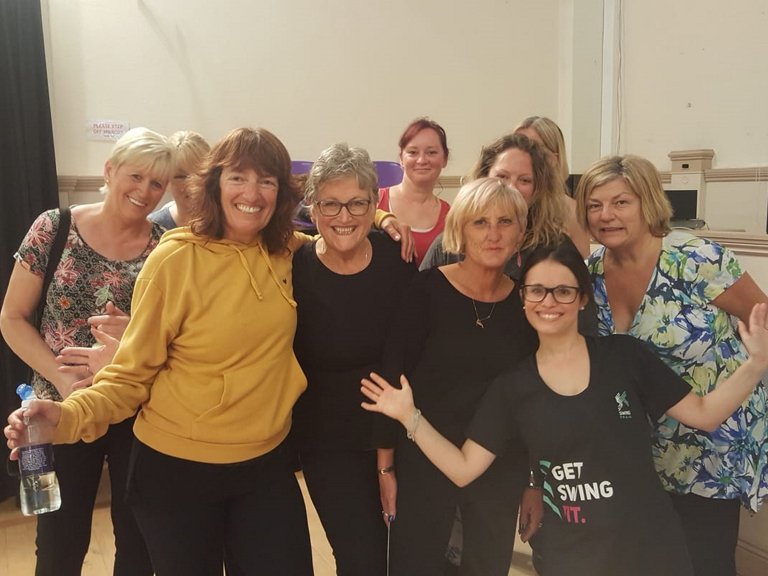 SwingTrain is a fun and effective dance cardio workout. Inspired by the joyful, energetic sounds of Charleston, Swing, Gospel, Electro Swing and Hot Jazz!
Total-body exercise classes suitable for all levels, with music so infectious you won't realise you're burning up to 500 calories an hour! Our first-rate SwingTrainers will lead you through a series of fun, follow-along moves and engaging choreography guaranteed to get you sweating and smiling.
Just a fiver for an hours class!
Future dates
Tuesday 9th July 7:30pm until 8:30pm
Tuesday 16th July 7:30pm until 8:30pm
Tuesday 23rd July 7:30pm until 8:30pm
Tuesday 30th July 7:30pm until 8:30pm
Tuesday 6th August 7:30pm until 8:30pm
Tuesday 13th August 7:30pm until 8:30pm
Tuesday 20th August 7:30pm until 8:30pm
Tuesday 27th August 7:30pm until 8:30pm
Tuesday 3rd September 7:30pm until 8:30pm
Tuesday 10th September 7:30pm until 8:30pm
Tuesday 17th September 7:30pm until 8:30pm
Tuesday 24th September 7:30pm until 8:30pm
Tuesday 1st October 7:30pm until 8:30pm
Tuesday 8th October 7:30pm until 8:30pm
Tuesday 15th October 7:30pm until 8:30pm
Tuesday 22nd October 7:30pm until 8:30pm
Tuesday 29th October 7:30pm until 8:30pm
Tuesday 5th November 7:30pm until 8:30pm
Tuesday 12th November 7:30pm until 8:30pm
Tuesday 19th November 7:30pm until 8:30pm
Tuesday 26th November 7:30pm until 8:30pm
Tuesday 3rd December 7:30pm until 8:30pm
Tuesday 10th December 7:30pm until 8:30pm
Tuesday 17th December 7:30pm until 8:30pm