Protect your Christmas from the opportunistic burglar!
19th November 2015
... Comments
---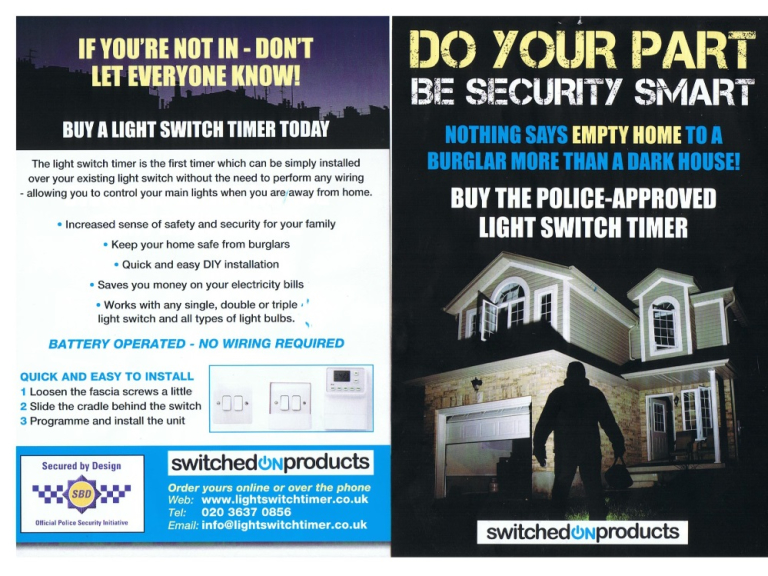 With the night's drawing in and Christmas fast approaching, it is an unfortunate fact that burglaries are on the increase.
As you stockpile gifts for loved ones, thieves are doing the same.  Many burglaries are spur of the moment and opportunistic, fortunately there are a few ways to deter this burglar and protect your home.  A window or door left a jar maybe enough of an invitation, as is an untidy garden or post that is still in your letterbox.
If you are going away, overnight or for longer, there is the dilemma of whether to leave the lights on – or not. 
A house in darkness is a clear sign no one is in. However, a landing light and one or two more, on constantly is also an indication there is no movement inside!
Switched on Products have a great solution to this problem, which is easy to install and allows you to control your main lights when you are away from home.
A Light Switch Timer which simply fits over your existing light switch, without the need for any wiring keeps your home safe from burglars.
You can programme the unit to mimic your behaviour at home – even popping on and off briefly in middle of the night – as though you are visiting the bathroom!
Goldilocks are currently stocking Light Switch Timers for just £24!  Why not give Barrie call for more information?
The light switch timer is approved by the police and gives you piece of mind in these long nights.
To read more about Goldilocks Locksmiths on thebestof Cardigan and Teifi Valley click here