Cenarth Falls are in Ceredigion but lie just on the border of Carmarthenshire so I thought I would include them in my "what to do in Carmarthenshire" blogs, as they are so magnificent.
I don't know about you, but I think there is something special about watching water cascade over rocky precipices and gush off downstream, even though they can be quite noisy there is something peaceful about that noise and definitely something enigmatic about just watching the huge amounts of water, mesmerised by such a force of nature.
Cenarth falls are most notable on the river Teifi for their Salmon and trout who swim upstream to spawn and can be seen leaping up the falls in the autumn.
There are plenty of facilities in the area, after your walk along the banks of the river admiring the falls, there is  the Three horseshoes pub where you can partake of something a little stronger than tea or if you prefer to stick to tea or coffee there is a coffee shop and gift shop for a little memento of your trip.
The falls are in the village of Cenarth and one of the dominating features besides the falls is the lovely little bridge, well worth a photo in itself.  It was built in 1787, designed by William Edwards and his son David.  One of the main features of the bridge is its circular holes which give the bridge its strength.
While in Cenarth a visit to the coracle museum is a must, coracles used to be used all over Britain many years ago but there are very few locations that still use them, the river Teifi is one of those locations, as well as the Towy and the Taff.  They are used for net fishing; a net is placed between two coracles that drift down the river collecting the salmon and trout as they go.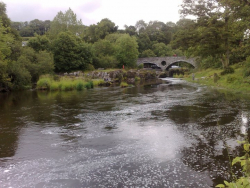 There is also a caravan holiday park close by with a resort and spa within the park, a chance to unwind and enjoy all Cenarth has to offer.  You can rent a caravan for a short stay or for longer or even buy one of your own, I have friends who own a caravan here and they go almost every weekend to get away from it all and just enjoy the peace and tranquillity.  Being near the river provides a much different view of the world I think, a world more at one with nature and all the wonders of the natural world.
And don't forget to look out for those Red Kites, very often seen in this area.  If you are looking for a peaceful tranquil getaway, Cenarth is the place to go.