What's behind Clearview Windows?
15th November 2020
... Comments
---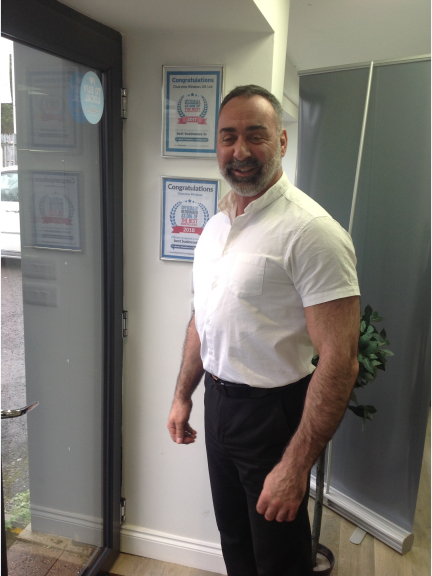 I started Clearview Windows Ltd after doing an apprenticeship with a builder and working in the trade as
a carpenter. Wooden windows with all their ongoing maintenance seemed to be yesterdays news
and I wanted to be in at the start of something new. What wasn't new was my van, I started out
with an idea of what I wanted to achieve, my tools and experience but no van! I borrowed one from
a friend until Godfrey Stacey of Staceys Motors let me have a van that he had, a scruffy one, but it
worked. I promised him that day that I'd be back to order my first new van with him as soon as I
could. I spent my capital investing in some business leaflets and Purnells who printed them for me,
added in some business cards for free. Every job I went to I put out my Clearview Windows board,
working six days a week to get my business off the ground. Eighteen months and lots of hard work
later, I kept my promise to Godfrey and ordered my very first new van. I had it signwritten with my
Clearview Windows logo and I couldn't have been more pleased.
I was so grateful to every customer in my first
year of trading, I was very happy to be working
for myself and that hasn't changed. I'm still
grateful for every customer that I work for and
every day I'm very pleased to see my logo on my
vans. I'm lucky enough to say I have six vans now
and employ local fitters to work for me,
maintaining the Clearview Windows business that
has grown with me and my family to include my
daughters too. In those 22 years I've gone from
that humble beginning to my current operation and even in times as challenging as these, I'm happy
and grateful for the work and every customer that comes my way. We offer a range of windows,
doors, conservatories, blinds and building work, also we can replace and or repair too, whether you
want a revamp or a complete new look.
My business feels like my family to me, my staff and my customers are all treated with respect and
courtesy, I run things the way I always did, I have my list of jobs to do, and I work through them
daily, ticking things off as I go, never letting anything get away from me. I am justly proud of my
customer service, I like to be able to give the customers a personal touch at Clearview. We see
clients as normal even in times like the Covid 19 Pandemic, we have a further hygiene protocol,
using gloves and masks and staying outside or we can quote from seeing a photo and some
measurements if that's what the client prefers. I usually get the quote back to them very quickly, for
instance an existing client wanted to update her conservatory that we installed many years ago, I
saw her yesterday and I have the drawing and quote of the new more modern look conservatory
that she wants, ready to be dropped off with her today.
Recently we were assessed for Which's Trusted Trader scheme, it was a long process of being vetted
and we were highly delighted to be awarded the Trusted Trader status, so you can be sure of our
reputation and the quality of our work all backed by our 10 year guarantee. If you want to pop into
our showroom, please do come and see us at Allerton Road, Bridgwater where you will find me or
Phil, my office manager, we look forward to meeting you.