The benefits of having a conservatory
7th December 2016
Author: Chloe G
Comments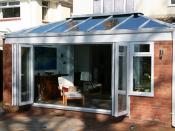 Extra living space
This is one of the main reasons why people decide to have a conservatory installed in their homes. A conservatory can be your guest receiving area where you can bring your guests and have a good chat with them. You can also use this new space to have more room on your other rooms where you think some of the furniture are cluttering the place.
Home value increases
Since this is another living space, it is an extension of your home. Conservatories are usually designed to become aesthetically appealing specially to prospect buyers of your property. As the elegance of your home increases, so is its value on the housing market.
Enjoy your garden peacefully
Most of conservatories are designed right next to a garden since its walls are normally made of glass. You will be able to relax and marvel on the greeneries of your plants without worrying about insects crawling on you or mosquitos trying to suck your blood. You will be able to rest with your garden's view any time of the day.
Great source of light
Since the walls are usually made of glass, the light can pass through with minimal obstructions letting more light into the house which will ultimately help you saving more energy and electricity during the day. Also, natural light has a certain charm that can't be replaced by artificial lighting and the previous makes the conservatory regal and sophisticated.
Installing a conservatory in your home is a good investment and having the best conservatory installation team will ensure that you'll get the most for what you pay for. Simply give Pro- Fit Windows Ltd and have it quoted.