Spring Cleaning Tips from The Gleam Team
13th April 2021
... Comments
---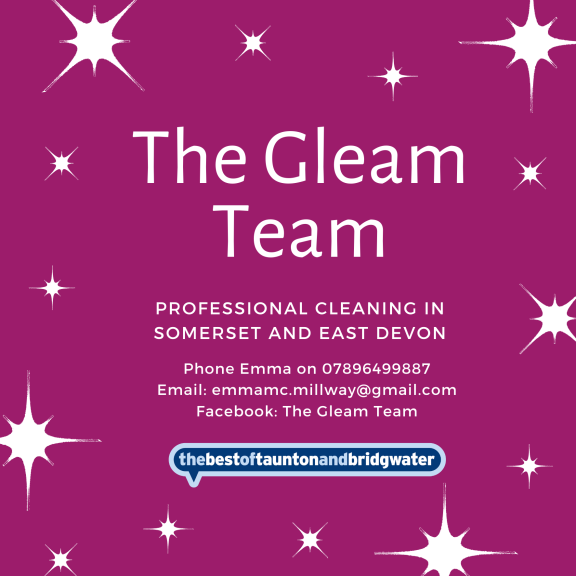 Hi, I'd like to introduce myself:  I'm Emma, owner of The Gleam Team.  We offer a professional cleaning service that is tailored to your needs.  We specialise in End of Tenancy cleaning, Moving House cleaning, Builders cleaning and other specialist cleaning services.  Basically if it's mucky we can clean it!  Here I'd like to share some of my Spring Cleaning top tips as the sun has started to shine through our windows again!  I started this business between having my children and wanting to work part time and over the years I've built a very good reputation for leaving things Gleaming! 
To get your Windows to sparkle fill a bucket with warm water, a squirt of washing up liquid and half a cup of white vinegar.  Using a clean microfibre cloth, rinse it in the water, wring out and wash your window briskly all over, paying attention to the corners where they get grubby.  Before the suds can dry, quickly squeegee them off in a downward direction with your rubber squeegee from the shower, wipe up any dirty water and drips with a different cloth.  Then with a dry clean microfibre cloth buff your window dry and remove any drips or smears left from the squeegee.  If you have a WindowVac, use this instead and buff afterwards.  For the purists out there, swap your microfibre buffing cloth for a sheet of scrumpled up newspaper and see those windows gleam!  You will be the envy of all your neighbours, I promise.  You can do the same to any internal glass doors too.
Cobwebs!  They are the bane of my life in a country home.  Catch them with the hose of your vacuum cleaner, pop the brush on the end to save making any marks on your walls or ceilings.  It's best done before you vacuum the room as it will make a bit of dust as you go along.  If you want to be really good, or you have someone who suffers from dust allergies, this is a good time to strip the bed back to the mattress, fling the windows open and leave to air before vacuuming the mattress thoroughly prior to remaking the bed with clean linen.  There is nothing nicer than climbing into a freshly laundered bed.
Limescale on taps is a real problem in our hard water area and it's something that I see a great deal of.  There are lots of proprietorial cleaners on the market that are very good but something that you keep in your cupboard or fridge will do the job just as well.  For taps that just need a maintenance clean, rub with half a lemon dipped in salt and leave for fifteen minutes before rinsing.  The lemon is acidic and will remove the scale and the salt just works as a very gentle abrasive to facilitate this.  For taps that have a thick scale covering, you need to soak a cloth in white vinegar, wrap around the tap, cover with a small plastic food bag and tie up with an elastic band.  This needs to stay on for a few hours or overnight depending on how thick the scale is.  Rinse well after removing and you should find that the scale falls off easily. Buff dry and admire your shiny taps.
If all else fails, or you just can't reach the problem area, give us a call and we will endeavour to help you out with anything you need.  We are professional but always personal too, happy to help as little or as much as you want.  See our five star reviews here and give us a call.
Happy Spring Cleaning!
Emma
The Gleam Team