H R Salons Traditional Skills, Modern Finish.
19th August 2021
... Comments
---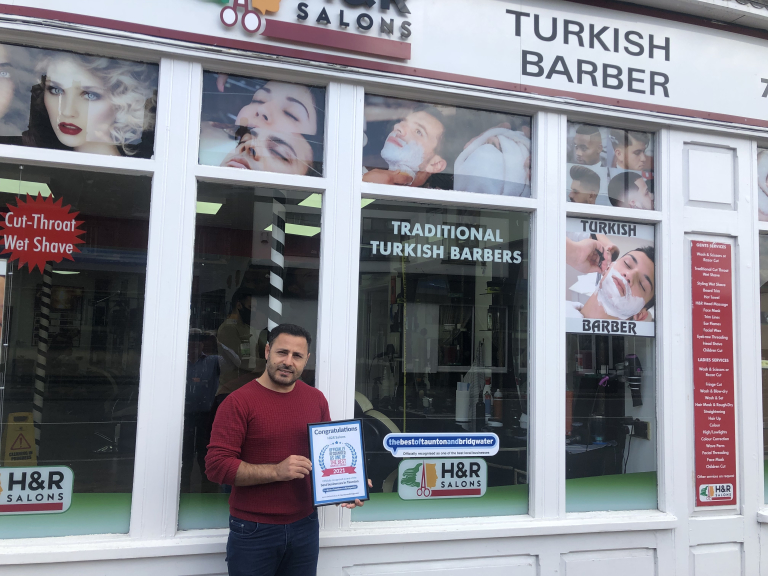 Welcome to HR Salon in East Reach, Taunton.  This is a traditional Turkish Barbers and Hairdressers in a light and airy setting where you will be assured of a warm welcome and a fast service.  They pride themselves on their traditional skills learned over a lifetime of barbering. Learned both here and in Turkey where many of them were apprenticed to a master barber as they trained.  However, don't be fooled into thinking they can't do modern and on trend hairstyles, they are constantly learning new techniques and styles to keep their clientele looking fresh.  Come in and see for yourself, enjoy the experience of being immersed in the salon and come out feeling great.
Musa and his staff are available for walk in appointments in the way of a traditional barbers but you can also book an appointment if you prefer.  There is an extensive range of treatments and hair services on offer from the stylists, both ladies and gents.  HR Salons offer a very competitive pricing structure to their clients which they believe is an incentive to all to try new services and to offer a clarity on pricing that is not always available elsewhere.  High lights, Baby lights, Balayage and other processes are very competively priced and the stylists skills are evident in the results.  You can be assured of a professional service, talking to the client about their requirements and making sure that you get exactly what you want is paramount to H R Salon's staff.
I called in to see Musa on a typical day, several clients came and went while I enjoyed a cup of apple tea and watched the stylists at work.  Edward had a client in the chair for a trim and was chatting with him while he worked his magic.  A chat with the customer first, a quick assessment of the style he required and once Edward was happy, he started to cut.  Scissor cutting and techniques are Edward's preferred methods and he achieved a very fine cut without using any clippers, the fade was impeccable and whilst I'm no expert, it looked very smart  and the client was very pleased with the result.  Then Edward washed the client's hair to remove all the loose hair, dried and styled it.  All the while engaging and making the client feel very comfortable, which is definitely a trademark of the stylists here. 
Another client was having a cut and colour service at the other end of the salon, a lady was having a trim and a gentleman walked in to ask for a trim. Overall I got an impression of a very friendly, relaxed and impeccably clean salon with a smart and welcoming staff.  They make sure all clients new and old get a taste of their traditional skills firmly brought up to date in a modern setting. 
Having not spent much time in a Barbers (except waiting seemingly hours for my son to get his hair cut), I would definitely recommend trying out HR Salon's services, the speed and skills were worth trying out.  I'm only sorry I didn't get to watch a cut throat shave while I was there!  Maybe next time..