Dexterous Designs Re-Brand with new look logo
13th September 2021
... Comments
---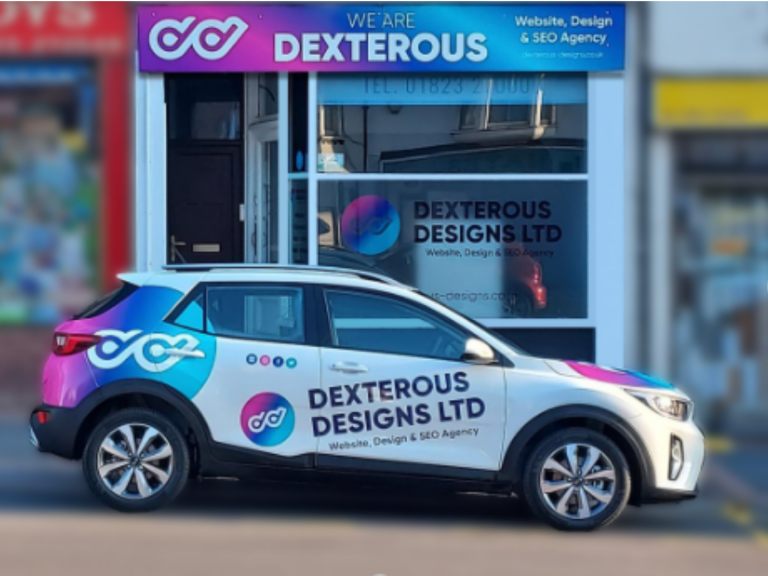 Dexterous Designs keep moving forward and have just rebranded to update their look.  Over the course of the past year, they have been working tirelessly on a complete rebrand and the last few weeks have marked its completion, with a new car and a new studio front. 
They chose to return to the Kia Garage in Taunton, to upgrade our car to a Stonic 2.  Having used them before the upgrade was smooth and easy.  From there, they took the brand new car to Ken White Signs to be branded with the new and exciting logo! Having a working relationship over many years with Ben and the team they were pleased to have another opportunity to work together. Ken White Signs were able to take the design concepts and really bring them to life. Dexterous Designs are justly pleased and proud of the result.
Additionally, the studio front is all new and updated, the new exterior of our studio now represents the company branding too. Make sure to drop by sometime to have a closer look and say hi to the team who are back in the office.
These changes herald the coming out of lockdown which unusually has been an exciting period of growth for Dexterous, through some genuine business challenges with the restrictions placed on us all. The team have been working tirelessly throughout the disruption of this past year, still delivering an exceptional service to clients, so this new look represents how much this arduous work has achieved. The dedicated team, and the client base, has grown slowly, and through internal growth of their expertise and training, Dexterous Designs are also making sure the knowledge, service, and quality of what they deliver is consistently still first-class. 
The new look and the new car is a true reflection of where the Dexterous team, and the business, are headed in the future!