C & D South West Collaboration with Hippychick
23rd August 2021
... Comments
---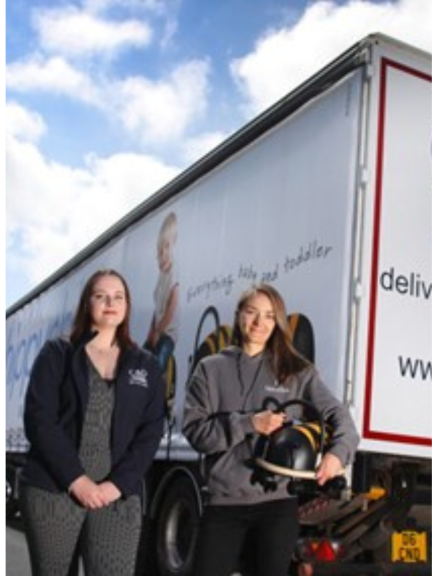 Julia Minchin, Founder and MD of Hippychick, a hugely successful enterprise based in Bridgwater, Somerset, is always keen to highlight her baby and toddler business in the local area.
So a collaboration has been formed between Julia and Lorna Hammond of C & D Southwest, a distribution company based in Chard, with a local and national network.
 A dual branded Single Deck Trailer has been given a Hippychick makeover and now can be seen moving around the South West and beyond from C & D South West Distribution's base in Chard.  This third generation family logistics company were delighted to cement their relationship with Hippychick, who have been in business in Somerset for 21 years.
'The Pandemic has taught us how important community is, which is one of the reasons why we decided to team up with fellow Somerset business, C & D South West.  Throughout the pandemic, C & D stepped up to the plate from day one of lockdown, as keyworkers they ensured that our orders were not just delivered, but on time too.  We have also made it our business to forge relationships and support many other Somerset businesses and concerns from charities to local schools to food banks.'
Lorna Hammond, Managing Director at C & D South West said: 'It's fantastic to have been working with Julia for over five years now and having Hippychick on board and on our livery is a great joint marketing opportunity.  This new route to promote Hippychick is a great idea that C & D South West are happy to be a part of, showcasing quality local business via their extensive road network of distribution.  Look out for the Hippychick trailer on the road and give it a wave or tag us on our social media @cdswltd @hippychickbaby and let us know where you spotted us.