On 23 September 2019, Thomas Cook Travel Agents went into Administration, closing its doors after 178 years of trading. With 9000 people losing their jobs nationwide, the good businesses and people of Sudbury in Suffolk wanted to show their support to those in the Sudbury branch that have lost their jobs. Which makes me wonder, is Sudbury the kindest town in the country? When the fire took out the shops and flats in Friars street, businesses and the community were keen to rally round with donations of clothes, toys and even office space for those that lost their businesses. In times of crisis, the people of Sudbury do not disappoint
Those that have lost their jobs at Sudbury  Thomas Cook branch, here are your offers of help:
To the nearly 9,000 people out of a job today... anyone who worked in our Sudbury Thomas Cook please come in and have a FREE cut & blow-dry on us. We want to help relieve some of the stress and possible oncoming financial pressure/interviews etc 💛
It is a very sad day to see Thomas Cook go into liquidation and nearly 9,000 people in the uk waking up to no jobs today, if we can help some of those people even just a little bit we will.
Sad new for the staff and another empty shop in town so we would like to offer £10 off any shoe repair and a free polishing for the Sudbury Thomas Cook staff, to help get your shoes ready for any upcoming job interviews. Come in with your last payslip and show this post to redeem. #sudbury #sudburysuffolk
Please pass our offer on to them.
Following the sad news regarding Thomas Cook our thoughts go out to all the people who have just suddenly lost their jobs so we are offering all of the Sudbury Thomas Cook staff a FREE Small Breakfast , just pop in with your last payslip to redeem 😀
#shoplocal #supportlocal #sticktogether #sudburylove
The Beauty Cave wrote these kinds words in their Facebook Group

There have been offers of help with CV writing and local job opportunities from Bridie at Just Recruitment and an offer of help from someone who is happy to type up any CVs. They can call 01787 881962 and speak to her or the team. If anyone needs help with any Microsoft Office training or interview skills, Ebru Sami-Taylor has offered 1:1 refresher courses. Just pop into Torque Bikes in Cross Street and speak to the team there
Keith Grinsted has been running an award winning Launchpad scheme for those who've been made redundant and he's offered a free one hours 1:1 consultation to any Thomas Cook staff. And he's even offered to by the coffee
Domestic & Office Cleaning company Girl Friday has offered the use of their office and computers. Get in touch with Vicki
Mwah Tanning are offering a free sunbed session to all the Sudbury Thomas Cook Branch. Just call 01787 466111 or email info@mwahtanning.co.uk to book
A local Sudbury resident, Jack Ingram, who works for Inntel, are currently recruiting for Business Travel, meetings and events. If anyone's interested, you can click on the link here
5 Star Sparkle Carpet Upholstery & Oven Cleaning posted this on their Facebook Page to show their support for those that have lost their jobs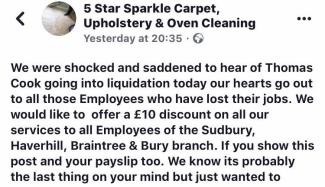 We were shocked and saddened to hear of Thomas Cook going into liquidation today our hearts go out to all those Employees who have lost their jobs. We would like to offer a £10 discount on all our services to all Employees of the Sudbury, Haverhill, Braintree & Bury branch. If you show this post and your payslip too. We know its probably the last thing on your mind but just wanted to show our support 😊💓
Bounce in Glemsford have offered a free session to any Sudbury Thomas Cook employees affected:

Lauren from Askew on Friars Street, is offering a mini facial or back massage to those who've lost their jobs
Award winning Mandy's Jewellery & Gifts are offering a free beginners class to Thomas Cook Employees and their children
Femme Cars would like to let people know they have vacancies for those looking to work with children or drive for a living. Vicki Smith would be happy to talk to anyone effected by the job losses
And for those who are looking at going self employed, Expert Circles has a business package that offers help and advice to those starting their own business. You can take a look at their website here.
It wasn't just businesses either, individuals have offered their support - whether that's the offer of coffee or a chat, or just posting well wishes to all the staff who have lost their job.
In a society that seems quite divided at the moment and so much aggression on social media, it warms the heart that a lovely community like ours, can show such thoughtfulness and compassion.
Thank you Sudbury. I think you're the country's kindest town