7 Points to consider when investing in a New Bedroom.
Bedrooms are of major significance in any home, they can be a haven of peace and tranquillity away from the madding rush of life, a boudoir for the lady of the house, a family place where youngsters can chill after school, and the place for visitors to sleep when in residence.
Investing in a new bedroom, depends upon which of these apply. We offer 7 points worthy of consideration for those planning a new look.
Create a plan, for those not sure about what to include Lawrence Lyons will be happy to help. The plan needs to take into account natural light, windows and access/egress, once they are established the planning can begin.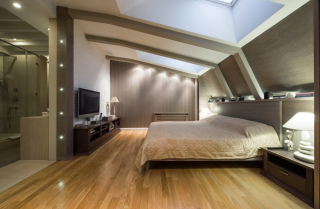 Compare the room size with the bed size that you want, access to the bed on both sides is essential. A King, or Queen Sized bed in a small room could fill the room. For children's bedrooms would bunk beds be a good idea? They are space saving and where there is more than one child in residence a great idea, be careful very small children can fall from bunk beds.
Storage space is important but so is having easy access to wardrobes and drawers, when planning the layout remember to allow for this.
Mains supply, Television connections and internet hub, we use a good deal of home entertainment technology en suite now, this needs to be planned for.
Natural or electric lighting and additional illumination, use natural light where possible. However, electric lighting is now available in many forms and styles from subdued to spotlights and mini spots. Make sure that the open wardrobe doors do not block the available light – or install lighting inside them.
En suite bathrooms, are becoming the must have item and they are very convenient, but they need to be carefully planned, Lawrence Lyons will advise on en suite facilities.
Ancillary uses for the bedroom, a bedroom or a home office combined etc.? Additional uses will need additional planning.
Lawrence Lyons of Haverfordwest are professional bedroom designers and installers, they are experts in making the very best use of space and creating beautiful bedrooms. They offer a no obligation consultation survey and design service, and they are happy to carry out all aspects of fitting and installation for customers throughout Pembrokeshire, Carmarthenshire and Ceredigion.
Lawrence Lyons Bedrooms specialists are recommended by The Best of Pembrokeshire, showcasing the very best of local businesses.