A day in the life of a tour guide with Pembrokeshire Paths
Life as a tour guide will always open up days of interest and sometimes challenge and I wanted to begin to share with you some of the days out which a tour guide maybe asked to deliver.
Each tour or group is different and they all bring along their own requirements and expectations. My most recent tour request was from a nuclear family of 4; mam, dad, 13 year old son and 10 year old daughter.  They had travelled down from London and were just taking out 2 days of their life to visit Pembrokeshire.  They were a fairly wealthy Indian family and with only 2 days to squeeze their Pembrokeshire visit into they really knew how a tour guide can make good use of their valuable time.  They understood that as professional guides we have thoroughly researched our County and know how to deliver the most appropriate tours within their time restraints.  They also did their internet research and something must have clicked for them to get in touch with me.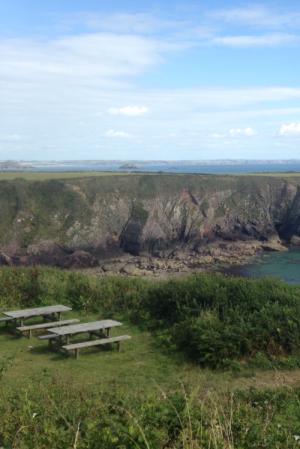 The way I like to work as a guide is to really get to know what they are wanting and any specific requirements or visits that they would like me to share with them.  For this tour other than wanting a walking tour of St Davids there were no additional specifics but for me I always knew the challenge would be to somehow keep the children engaged as we walked around.  Having led 4 children of my own on many walks, I was not underestimating what it would take to keep all of the family on board.
I had just over 3 hours to share St Davids with my visitors and I wanted to share with them the best tour possible.  When planning the tour, a short tour of the cathedral was a must, St Nons is a great starting place for the life of St David and to set the scene for a short pilgrimage tour to the cathedral.  I also wanted to share with them the great splendour of the magnificent Pembrokeshire Coastline and the panoramic views along St Brides bay to Skomer Island in the South and to Ramsey Island in the North.  I also realised that it would be a mistake to include too much distance for the walk.
Se we met at 10:00am and set out from Caerfai Bay to walk the Pembrokeshire Coast path to St Nons.  On meeting my guests some of my worries for the walk melted away, they were a very pleasant friendly family, with polite but typical children of their age.  An immediate intelligence emerged from my initial conversations with them but I soon detected an endearing mischievousness also.  Living with teenagers myself I was not shocked when the older boy immediately smiled at his parents and myself moaning about the lack of WI FI and then stretched out as if defiant to the intended purpose of the walk chasing non-existent Pokemons towards the cliff line on his smartphone.  I know some of you will be completely lost at this stage, just to explain chasing Pokemons is the latest craze with internet phones.  Just to say that these Pokemons live in the virtual world which they can access through their smartphones.  No more to be said on this, other than "watch out when chasing Pokemons along cliff tops!"
The family were soon engaged with the beautiful green blue sea, purple tint rocks and "my God aren't they cold swimming in the sea1!"  One thing we often forget about people from warmer climates is how challenging they find our British climate.  The father was soon eying up the lush blackberries and tempting the whole family to taste, then we got close with stag beetles, red and sea campion and gorse without flowers.   Then a bit further along the path and the scenery of the coastline really opens up towards the North and I can see that father is impressed, he's been to Cornwall before but this is just so much better for him.  I talk further with him and soon learn that they are prolific travellers having holidayed as a family through all parts of the world but this was their first for Wales.  I do hope I am serving our Country and County well!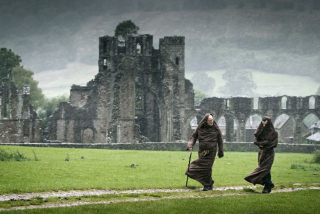 Just before St Nons I then stop them at one of my favourite spots, it's a cut and shaping of the rock just off the coast path.  We walk closer and I show them the rock cut out as a throne to sit on with side seats for the whole family.  I then begin, "imagine almost 1500 years ago, St David and his friends could well have sat here in contemplation looking out far into the ocean and beyond, we could be sitting on the same rock seat that David himself sat on", I am beginning to set the scene.  We then chat about the difference between a modern city life and just freely sitting and engaging with the environment around.  The magic now seems to be working on the boy, he sits quiet just looking out to sea.
We enter the ruins of St Nons chapel and I break into storytelling mode, relating the birth of St David, we visit the well and ponder on the thousands and thousands of pilgrims who have visited this well for healing over the centuries and then we walk the lane toward the City and we are now truly becoming bank holiday pilgrims, firmly set on our destination.
As we walk I become further amazed at the intelligence of these children, farming, history, sea birds their knowledge is incredible.  They even knew what the favoured dogs of the local drovers were as they drove their cattle to market.  Did you know that?  The farmers are cutting and baling and the trailer chugs ahead of us, leading the way of the pilgrim.
We enter the metropolis and down passed pebble to Porth y Twr, the arched tower gate before the full splendour of St Davids cathedral is revealed.  I tell the truth when I tell my guests that every tour I take to St Davids I still get moved by its magnificence and all of my guests share in this.  Down the 39 steps, nothing to do with Alfred Hitchcock, more a symbol for the 39 articles of the prayer book.  Then we make the connection of the purple sandstone of the cathedral building blocks and sea weather cliffs at Caerfai and St Nons.  Into the arena of the spiritual and ancient we go.  We talk of the quirks and peculiarities, I roll a £1 coin along the floor of the knave to emphases the slope of the floor.  We look up to the falling away of the pillars and we marvel at the challenge over the centuries just to keep this cathedral upright, the tower has fallen down on two occasions.  Building on a swamp may have been fine for the original small wooden hut of the original church of St David but when the grandiose of the Normans stacked up huge walls of stone, the swamp set a precarious foundation for some quite miraculous building interventions.  Then we open up the full splendour of the cathedral, my Indian family are still with me.  It's been a long morning and I sense that tiredness is setting in, I cut the tour to suit and we finally reach the shrine of St David.  I sense a distant spiritual reckoning clocking within. They are of Hindu tradition but lapsed and with a very faint acknowledgement of the divine but I am sure that the common spirituality of humankind has again touched them and fanned that dim flame within. 
I finally share with them a common question people ask of this incredible cathedral.  Who paid for the building?  I answer simply "people like yourself, visiting this very special site and leaving a kind donation".  It was also time to settle up my fee for the morning's tour, I think it has gone fine and I am left with a generous tip.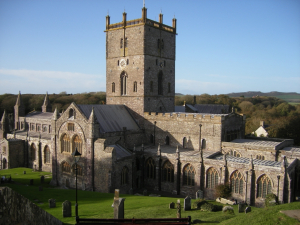 "I'm hungry mother !" it's time for ice cream.
IF you are looking for that special tour for your group or family please get in touch with Andrew, further details here