As an activity for the wider population Nordic walking it is not much more than 20 years old.  Prior to this a similar activity was engaged in as an exclusive advanced training trick for keen cross country skiers who wanted to get a head start on dry land before the snows came. 
So why are people in West Wales and other parts of the country investing their time and resources into learning to Nordic walk?  As an experienced Nordic walking instructor since 2008 I have pioneered Nordic walking in West Wales and have taught hundreds to Nordic walk.  So why do they want to Nordic walk?  In my experience I generally get 4 types of people who come to me for instruction.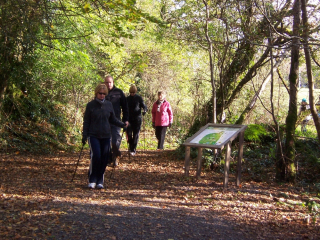 Firstly, there are the keep fit brigade.  They have done the gym, aerobics, Zumba and now see Nordic walking as another way of slimming down, getting fit and looking good.  They also see the benefits of exercising outdoors instead of pushing to their limits indoors. 
Secondly, some people come who have some mobility problems such as knee or hip problems.  They see the possibility of being able to walk easier with the aid of walking poles. 
Thirdly, there are those people who are perhaps more elderly or possibly overweight and are looking for an exercise regime which they can more gently incorporate into their lives. 
Finally there are the outdoor types, who just love walking and the outdoors and have realised that walking poles are a tool which can help them walk more efficiently across the landscape. 
As for all of these reasons for wanting to learn to Nordic walk they are all valid.  Nordic walking is a great all round exercise activity utilising most of your body muscles and joints.  It is also burns significantly more calories than normal walking and it is a great fitness activity.  It is an activity for all ages and abilities; I have witnessed the super fit pushed to their limits and have also seen how Nordic walking poles have supported the elderly and those recovering from hip and knee operations.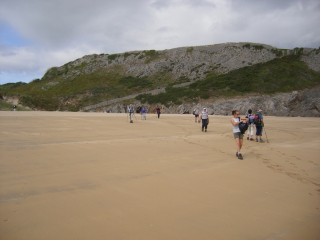 So what about me, what was my initial interest in Nordic walking.  As a lover of the outdoors and a keen walker, I quickly discovered how nordic walking could help me work further, quicker and more efficiently.  I learnt to nordic walk up and down hills, across streams and striding along the Pembrokeshire Coast Path. They have helped me relax through the hypnotic tapping of the poles, they have also helped me to improve my posture, which in turn has brought further subtle benefits to my health.  I was hooked and it wasn't long before I was completing my first instructor's course. 
So over the last few years my nordic walking poles have been my constant companion on my many walks into the Welsh countryside.    So why don't you give these great walking aides a try and book an instruction class with Pembrokeshire Paths.  On average it takes around 4 hours to get to grips with the essentials of nordic walking.  I deliver the training either as one full day, 2 x 2 hour sessions or a gentler instruction over 4 weeks.  Please check out the upcoming tuition workshops and get in touch to book.  http://pembrokeshirepaths.co.uk/nordic-walking/workshops/
Thank you.