Half Term Frizbee Fun at Clerkenhill.
Half-term is almost upon us and it is time to let your hair down and have some fun.
So what is there to do?
Families are welcome at our excellent local fun place to go, Clerkenhill Adventure Park. The Adventure Park offers a number of activities to get the youngsters out and about in the fresh air, and the parents too. The Adventure Park remains open at weekends until after Half - term following which the Adventure Park will close for the Winter so half-term is the last opportunity to have a fun day there.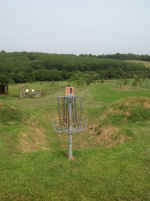 Frizbee Golf Fun is on the agenda for Half-term. With eighteen baskets, just like the holes on a golf course, Frizbee Golf follows similar rules to Golf but instead of hitting a ball with a club towards a hole in the ground you throw a Frizbee towards a 'basket'. The winner is the person who gets the most Frizbees in baskets in the least number of throws. Easy? Try it and see! Each fairway has a par rating & varies in distance & difficulty from its neighbours. Fairways vary in distance from 14 metres to 90 metres. There are many obstacles and challenges to guide your Frizbee through. Frizbee fun is for all the family with skill, a fair wind, and accuracy being the key to success, and a great deal of luck!
Clerkenhill Adventure Park also offers Crazy Golf, that much loved putting game where rank amateurs have a much chance of success as do top notch golfers, the obstacles will drive you crazy.
Explore The Park, there is much to do and a lot to see, with something for the entire family.  There is the Adventure Trail, the Spooky Wood, and the Farm to meander through. In case of bad weather there is an undercover play area too.
In addition, there is a nice coffee shop, and shop that is worth browsing about in.
Clerkenhill Farm Adventure Park is a family friendly fresh air day out for families, and they are dog friendly too. As it is now October and the temperatures are dropping we suggest you wrap up warm and bring a pair of wellies as parts of the site doo get muddy.  
Clerkenhill Adventure Park is highly recommended for a Half Term family day out by the Best of Pembrokeshire, spotlighting the very best of local businesses.