Meet David, the Man Behind AZ Autos
5th February 2014
Author: Keith & Louise Yexley
Comments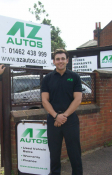 MEET THE PEOPLE BEHIND THE BUSINESS …
Your name? David Alvarez
Your business name? AZ Autos
How long have you been in business? 3 Years
What do you love most about your job?
In car sales you get to meet a wide range of people from different walks of life. One day you could be talking to a soldier in the morning and then to a scientist in the afternoon, I find it really interesting.
Your claim to fame?
I've sold cars to footballers and reality TV stars, but my absolute claim to fame would be selling a car to the actor who played the original Boba Fett in Star Wars
 Your first childhood memory?
Being kicked in the mouth by a sheep and losing 7 teeth – I was handsomely reimbursed by the tooth fairy with a Thundercats sword. 
Most frightening film and why?
For me it is Nightmare on Elms Street – my best mate when I was 7 years old said we were going to what Mr Bean, but his older brother had recorded over the tape with this fim, I have never been so scared in all my life.
What sort of training did you have before going into this business?
I was a salesman with Mazda for 3 years and then I worked for Mercedes-Benz for another 3 years.
What would I find in your refrigerator right now?
At the moment I am in-between houses and therefore I do not have a fridge until Friday
What advice would you give someone who wants to set up their own business?
Stick with it – It's hard initially to know what works and what is profitable. But when you get the right formula and with hard work you can make it a success.
The one local business you couldn't possibly live without in Hitchin?
I really like the Health Emporium. Whether it's sport nutrition or herbal tea, I find them all really helpful and they have a great range of products. If they ever don't have anything I want, they will always order it in pronto.
Who is the most interesting person you have met?
I've met so many interesting people in my work and whilst travelling, so I'm going to narrow it down to people I have met in Hitchin. There's a guy called Dan Drew who is a trainee vicar and has set up the Hub Church in Hitchin. He has a great outlook and he is probably the most un-judgmental person I know.
What's your favourite spot in Hitchin and why?
I can't afford to go there but Waitrose – because I was born there. View wise I love the top of Hitchin Hill / Windmill Hill. I walk my dog there and on a summer evening when the sun's going down, I really enjoy having a beer there and enjoying the view.
If Hollywood made a movie about your life, whom would you like to see play the lead role as you?
A couple of misguided people have said that I look like Jake Gyllenhaal, he a great actor so I will go with him.
What is the last book you read?
James Patterson – NYPD Red
What is the best thing that someone has said about you and your business?
We had a review once that said: "Carlsberg don't make garages, but if they did then it would be AZ Autos! Extremely helpful service, kept me in the loop at all times and some excellent advice given."
Hindsight is a wonderful thing – what one thing would you do differently?
In short: Time is money. Sometimes you can waist so much time shopping around and trying to get the best deal on something. But you could be using that time more effectively to earn money.
If you could be a super hero, what would you want your superpowers to be? 
I would like to be Wolverine from the X men (I think I have a little man crush on Hugh Jackman)
How would you describe your business in three words?
Driven, stubborn and kind.
What were you hoping we'd ask you, but didn't?
Favourite car – 1966 Ford GT40
How have things changed for your business over the past few years?
I started the business in the recession, so I haven't seen much down turn. Thinks have always got progressively better one year to the next and we are just about to open another site down the road in Graveley.
What is the greatest challenge in running a business?
For me and my business it would be space, with cars you can never have enough space.
What are your plans for the future?
As menitioned previously we are opening an additional site in showroom, it is a lovely showroom and really good space. I also really plan to utilise videos as an online selling tool. I would also like to keep expanding my online presence.
What's the best thing about being a member of theBestof Hitchin so far?
Coming from a working life in big corporate companies. I think it is really usefull to go along to the Best of Hitchin events. Talking to members and the different speakers helps me to think outside of the box and come up with fresh ideas. Also it really nice to get recognition for the good work you do.
You can read more about David and AZ Autos in Hitchin by clicking here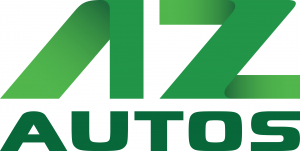 AZ Automobiles Ltd
Why not check out this Car Repairs and Servicing business in Hitchin. AZ Automobiles Ltd is a 'thebestof' business member.