Healthcare organisations collaborate to 'Heart My Hospice' in East and North Hertfordshire

With Hospice Care Week underway, organisations in East and North Hertfordshire are working together to spread awareness of hospice care.
Each year across the UK more than 200,000 terminally ill people receive hospice care. Hospice care supports adults and children living with life-limiting conditions to live life as fully as possible. Its wide-ranging support includes medical care, wellbeing therapies such as massage, emotional support such as counselling and volunteer-led support, including befriending.
More than nine in ten people (92 per cent) say that hospices are "an important asset to their community" according to an earlier ComRes survey commissioned by Hospice UK.
More than half of those surveyed (52 per cent) have interacted with a hospice in some way, such as donating money to help support hospice care (27 per cent).
And more than a third of those surveyed (37 per cent) say they would be willing to volunteer for a hospice, with one in seven (14 per cent) saying they would be "very willing" to work in a hospice.
Garden House Hospice Care, Isabel Hospice, East and North Hertfordshire Clinical Commissioning Group, Hertfordshire Community NHS Trust and East and North Hertfordshire NHS Trust are working together to improve on filling the gaps to reach the people within their community who aren't accessing their services, and those who are accessing their services too late in their palliative journey.
In a joint statement, the organisations said:
"Hospice care is often misunderstood, and we hope to change that. We would like to use this national week to bust some myths around palliative care. People often think that hospices are a place where people come to die, a place that's just for cancer patients at the end of their days, that hospice care only takes place in a bed, on a ward and that hospice care is NHS care… the list goes on.
"Hospice care is about living well and living life to the fullest at every stage of the journey, with support for families and carers as well as patients."
Tracey Bleakley, Chief Executive of national hospice and palliative care charity Hospice UK, said:
"Hospices have a special place in people's hearts, especially for those who have seen first-hand the incredible care they provide to loved ones.
"Like other charities, hospices are operating in a difficult economic environment and many are also facing additional challenges, such as those related to staff recruitment. So, it has never been more important for people to support their local hospice."
To kick-start the celebrations, Garden House Hospice Care have launched an exciting new hospice video, encouraging people to spread awareness of hospice care in our local community. You can watch the video via the below linked image.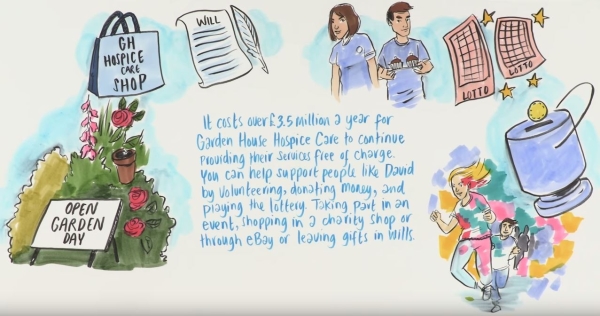 The Hospice are also running a series of events and activities in the community; have your questions answered at the Estate Planning Fair on Friday 12th October, starts at 2pm until 6pm at The Settlement, 229 Nevells Rd, Letchworth Garden City, SG6 4UB. It will provide an excellent opportunity to find out more about all things relating to your estate. Business professionals will be on hand to offer advice and support, including advice on property, Will writing, probate, items of value, financial concerns and Funeral Services. Entry is Free, and refreshments will be available.
Local organisations are also taking part, holding raffles, collections and go yellow days, encouraging members of the public to #HeartMyHospice in aid of Garden House. Participants include Starbucks in Hitchin, settle group, Bucklersbury Dentist and Farnham House.
For more information and to get involved, please contact the Fundraising Team on 01462 679540.
---
Garden House Hospice Care provides a wide range of services for patients, their carers, and families facing a life limiting illness. Free specialist palliative care is provided for over 500 adults a year living with advanced cancer, motor neurone disease or other life limiting illness in our community of 230,000 people in North Hertfordshire, Stevenage, Royston and surrounding villages.With limited NHS funding, we need to raise over £3.5 million in total every year so that we can continue to run our services. The hospice relies on the support of their local community and volunteers to help run its services so that they can be there for patients and their families on this difficult journey.
Hospice UK is the national charity for hospice and palliative care which supports and champions the work more than 200 hospices across the country.

For more information about Hospice Care Week and to view a video about it visit https://www.hospiceuk.org/support-us/campaigns/hospice-care-week
For further details of the ComsRes survey commissioned by Hospice UK visit the Media Centre on its website
For media enquiries:
Garden House Hospice Care: Beth Power, Marketing and Communications Assistant 01462 679540 beth.power@ghhospicecare.org.uk
For more information about Hospice UK contact Suzanne Stevenson at media@helpthehospices.org.uk.