Why travel to Hong Kong or China for your holiday?
HONG KONG
January and February when temperatures occasionally drop below 12 degrees. Most years, there are a few days dropping to 8 degrees or below. Note that even though it says 8 degrees, which sounds mild to Europeans, the biting Siberian monsoon wind makes it feel even colder than the 8 degrees people are used to in the West.
Late February to the end of March, Hong Kong starts becoming warmer and humidity begins to rise as the rainy season draws near. Generally speaking, this is a good time to visit as the temperatures are usually cool, not cold and the chances for rain remain low.
April to June are the wettest and most humid months. Temperatures begin to rise during this time as do the pollution levels, which can reach alarming figures in areas like Central, Causeway Bay and Mongkok on bad days. This problem remains throughout the Summer and Autumn months until the return of the dry and cool season around November. However, there are still nice days during this Spring season.
July to September is when typhoons are most likely to occur. Temperatures during these months rise to as high as 34 degrees. While this is a peak holiday season due to traditional Summer holidays, many feel this is a much less desirable time to visit Hong Kong, weather-wise. High temperatures, high humidity, frequent heavy rains and the chance for typhoons make it much more difficult to enjoy Hong Kong compared to the cooler and drier months.
October is still warm but cooler than summer months. Some rain can be expected but Hong Kong quickly finds itself in the next dry season where temperatures and humidity levels begin to drop as well.

CHINA
October — "the best time", most say
The most popularly recommended time to go to China is early autumn (October).
The weather is optimal: Most of China has warm/mild temperatures, and the summer rains have stopped (apart from around Hong Kong and Sanya) so it's relatively dry. The summer heat has gone. The major Chinese attractions in Beijing, Xi'an, Shanghai, Guilin, Hong Kong, Chengdu, etc. are all at a comfortable time to visit.
It is relatively quiet at tourist attractions for most of the month, as the summer holiday travel crowds have gone. But avoid the first week of October(Chinese National Day Holiday) when attractions, transport, and hotels are packed with Chinese tourists and prices go up considerably.
October is an expensive month to travel, but may be cheaper than July and August.
Fall hues appear, giving many areas added appeal. If you are fond of autumn colours, October is definitely a best month to come to China.
Late Spring (April to May) — comfortable, but rainy
The No. 2 time to go to China is probably April and May when flowers are in bloom, and temperatures are warming up, but not yet too hot.
In late spring temperatures are optimal with all of China getting into the 20s centigrade (the 70s Fahrenheit), except the extreme northwest and northeast. While the North of China (Beijing, Xi'an) is still dry, the summer rains have already began in the South, though not yet at their peak, with dampness guaranteed and storms possible. This could actually enhance the view in the form of mountain mists in mountainous areas like Guilin and the Yellow Mountains.
Not too crowded: April and May are at the beginning of China's peak travel season. China's summer travel peak is yet to come. It is still relatively quiet at attractions.
But avoid the Labor Day holiday week (May 1 – 7), as attractions, transport, and hotels are packed with Chinese tourists and prices go up considerably.
Travel prices are moderate: cheaper than June to October, but dearer than the lower season from November to March.
Ethnic festivals in Guizhou (south China) are concentrated in April and May, such as the sister's meal festival If you are interested in Miao and Dong ethic culture, this is a good time to visit.
September — lingering heat in the South, comfortable in the North
September is probably the No. 3 time to go to China. It has many of the benefits of October, but with more heat and rain. Some still find this month a little too hot. In September you are likely to be able to experience China's Mid-Autumn Festival (85% of years have a September Mid-Autumn), China's second largest festival with lots of tradition and customs associated with it.
Summer (June–August) — The Busiest, Hottest Time
Hottest Weather: June, July and August are the peak of China's hot summer heat. It is quite normal for daytime temperatures to reach 35+°C (95+°F) in all but the Northeast and mountainous areas. Sunshine and warmth certainly make for good holiday weather, though some might find it too hot.
Busiest Travel Time: Students are off in July and August, and every attraction in the country is packed with Chinese travel groups. Hotels are in huge demand. Flight and train tickets are hard to get. Arrange all things well in advance if you plan to travel during this period. This is the most expensive travel time.
The best time to visit China's remote areas: Tibet, the Northwest, Inner Mongolia, and mountainous areas are best-visited in the summer (or late spring/ early autumn) when the weather is not bitterly cold and possibly dangerous.
The Monsoon and Typhoons
The summer rains are also a factor that may affect your trip. Cruises may be halted if the Li River or the Yangtze is in flood, flights may be delayed by typhoons, and any outdoor activity may be rendered less enjoyable by a downpour.
The monsoon is generally greater in intensity the further southeast (or up in the mountains) you go. Hong Kong has the most rainfall, and in Xi'an, and further north and west, the summer rains are hardly worth mentioning.
City & Rainy Months
Guilin / Early monsoon, peaks early June
Shanghai / Rain peaks late June, high amounts in July and August
Xi'an / Moderate rains peak in July
Beijing / Rains peak in late July, mostly in July and August
Chengdu / Like Beijing, but with more rain
Hong Kong / Monsoon peaks in August; typhoons add to very high rainfall from May to September
Sanya / Rains peak in September and continue for longest (May–October), but half the quantity of Hong Kong's
The Low Season — less popular, but cheaper
China's low travel season is from November to (early) March. In the low season, thought the weather is colder, you can save money on hotels, flights, and entry tickets, and you can avoid the crowds
Early Spring (around March)
March is favourite for visiting North China over late autumn as it is warmer and rainfall isn't really a factor. However, in southern China spring can be uncomfortably damp. This is the time for seeing spring flowers in China, though some flowers come earlier in the warmer south.
November (late autumn)
November is the best time to see fall colours across China. See China in Fall. For travelling to the south of China late autumn is better than early spring as it is drier, and there are still some warm days.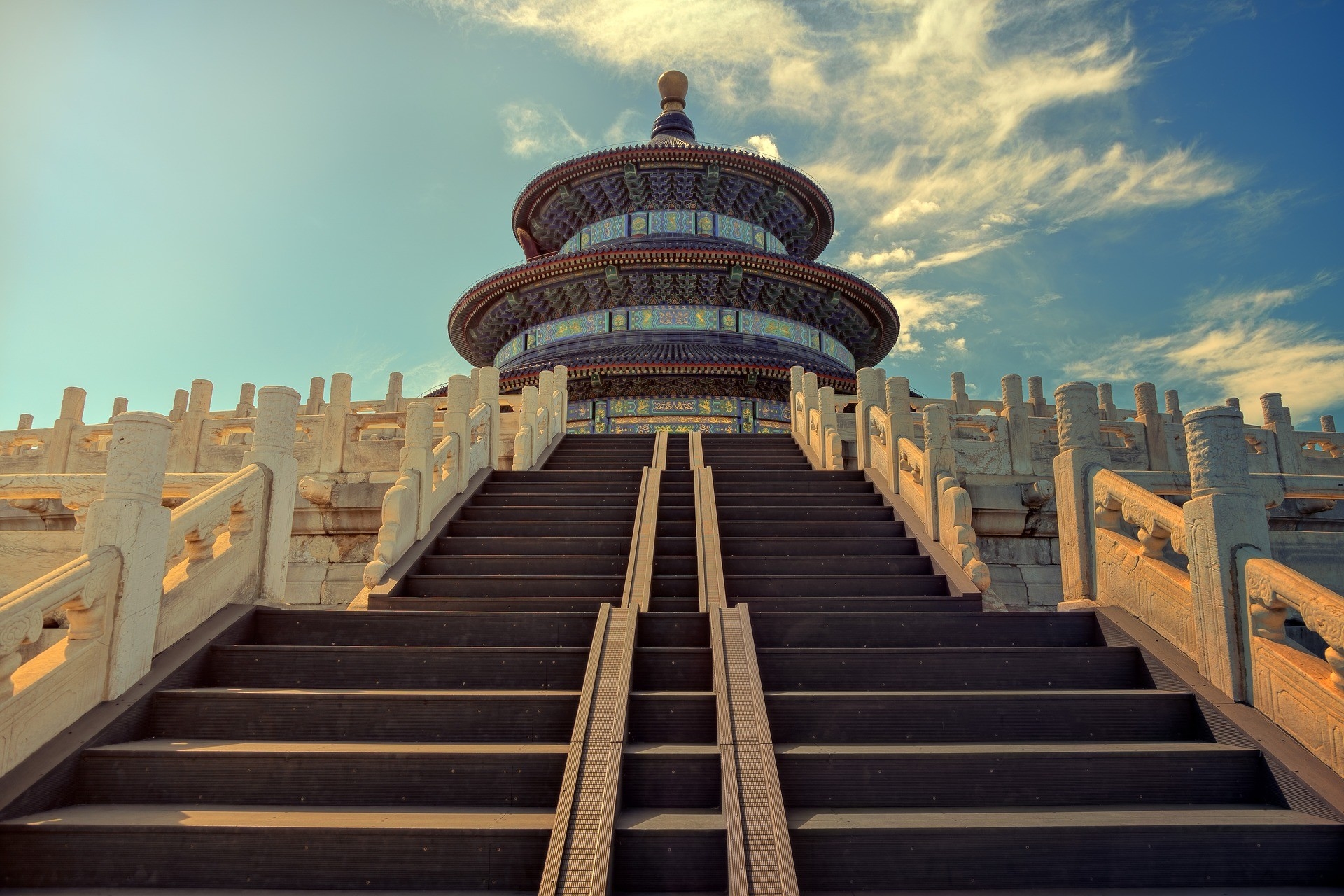 Winter (December to February)
Go in winter for wintry scenery, winter sports, the cheapest low season prices and no tourist crowds. Generally the best times to visit China's top attractions are in line with the above order, with the exception of winter attractions like Harbins Ice and Snow Festival and China's Ski resorts.
Exceptions to wintry conditions and good places to go in China's winter are Hainan Island and its beach resorts like Sanya, and other places that fall just within the tropics like the Hong area, which enjoy mild winters. The tropical rainforest of southernmost Yunnan could be comfortably visited.
Avoid the Chinese New Year period — the exception to low winter prices. Transport is over-capacity for up to two weeks before and after, and hotels raise prices.
The Worst Times to Go to China
For more on bad times to go, including particularly national holidays
Major Traditional and Ethnic Festivals Guide
If you are after China's traditional and ethnic culture, and are fond of colourful local pageantry, you will want to see China's major traditional and ethnic festivals like China's most popular festivals.
*Dates and times need to be confirmed at the time of booking your holiday *
Harbin Ice Festival / Harbin, Heilongjiang 5th Jan to 5th Feb
Chinese New Year / All over China which falls on 5th Feb 2019 but need to check date each year
The Lantern Festival / All over China fall on the 19th Feb 2019 but need to check dates each year
Lusheng Festival / Kaili in Guizhou falls 25th October 2019 but need to check dates each year
Water Splashing Festival / Xishuangbanna in Yunnan falls on the 13th April 2019
Sisters' Meals Festival / Kaili in Guizhou falls on the Falls on The 19th April 19
Dragon Boat Festival / Rivers in S. China falls on 7th June 2019
Nagqu Horse Racing Festival / Nagqu in Tibet falls on the 9th August 2019
Shoton Festival / Tibetan areas fall in August 2019
Mid-Autumn Festival / All over China falls on the 13th September 2019
Top 5 Places you should Visit in China in the Summer
Chengde Summer Palace
Yangtze River Cruises
Zhangjaje National Park
Mount Emel
Huanggushu Waterfall
Top Attractions in China
The Great Wall
Yungang Grottoes
Terracotta Army
Giant Panda Breeding Centre
The Yellow Mountains
The Bund
Potala Palace
The Yangtze River
West Lake
Li River
Victoria Harbor
Call Debbie on 01323 844630 to book a trip of a lifetime.