Why shouldn't you drill to carry out a paintless dent repair?
All too often throughout the course of my working day I come across 'non-factory' holes and bungs in door edges, quarter panels and even the roof rails of cars. It is usually evidence that a poor quality dent technician has been working on the vehicle. Probably the most common sites you would find this is on a used car forecourt where the focus is on getting the cheapest repair possible regardless of the quality. It is usually done just to speed up the process of the repair where it is difficult to access the back of the panel to get rods behind the dent to 'massage' it out. (you can learn how paintless dent repair is performed in my article; 'How does car dent repair work'). Rather than strip a door out, remove a tail light or a piece of trim, the technician will drill or punch a hole to force their tool through. Many technicians consider their only option to fix a dent as they are not aware of, or have not got to grips with alternative methods of repair such as the relatively new skill of 'glue-pulling'.
Finding these holes really gets me angry, not just because it shows a serious lack of integrity from technicians within our industry and is often partnered with a very poor quality repair but also there could be very serious consequences and in the most extreme cases could even result in death!
Results of our Facebook poll
Following a recent poll where 80% of respondents said
"No
way"
to having a hole put in their car to carry out a repair, I would like to reassure that 80% that as an accredited Master Technician I do not drill holes in
people's
cars. I am well known within the industry and with my regular customers for being vocally
'anti
-
drilling'
, As for the other 20%, I hope that after reading this article they are a bit more discerning.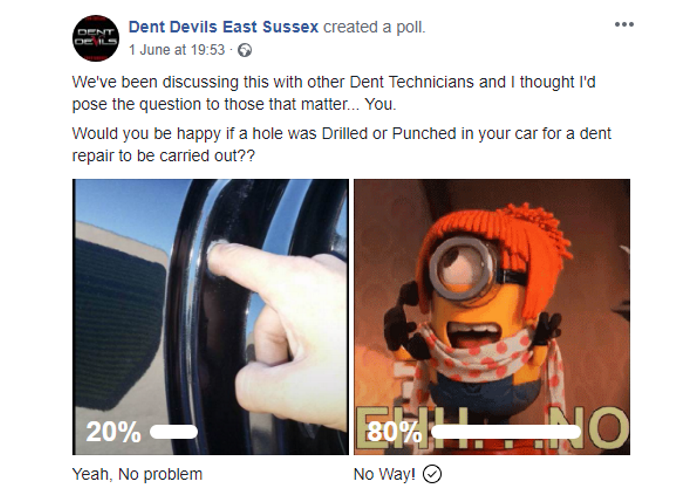 So far as 'pros' for drilling or punching a hole into someone's car (or future car) the list is fairly short; it makes the job easier!
Explaining the cons
The
'cons'
however are far more significant as I will try to
show…
The first thing
it's
going to do is invalidate the
vehicle's
body warranty. Most new cars now come with 10+ years anti-corrosion/anti-perforation warranties. The manufacturer is not going to stand by that if they find that a hole has been bored into the panel. This is mainly because it will break the seal created around the metalwork when the car is painted in the factory. You can learn more about this process in my article
'Why
is
PDR
the superior method of car body repair?
'
Probably the most serious consequence of drilling a hole is the potential to weaken the structural integrity of the vehicle. You are probably well aware that cars produced these days are subject to the most rigorous crash testing, we've all seen the videos of cars being driven into solid objects and those poor crash test dummies being thrown about inside! Drilling a hole in a structural part of the car could easily weaken that part and cause the panel to fail in the event of an accident. This is particularly true of areas such as roof rails and the rear quarters of the car which form part of the main safety frame designed to protect the occupants.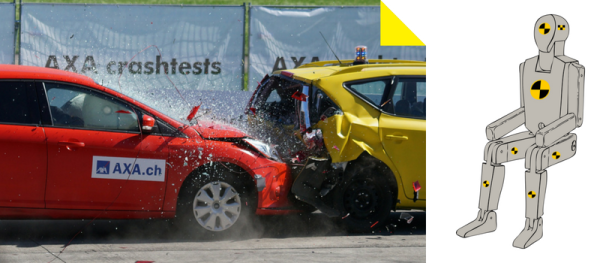 Another potentially fatal consequence is the possibility of affecting the deployment of air-bags. Many new cars come with side or curtain air-bags. If these are needed in the case of a side impact they have a fraction of the time a front air-bag would to deploy and even they have to work in fractions of a second! One of the methods sometimes employed to sense a side impact is air pressure sensors. As the door is crushed, the sensor detects the change of pressure inside the panel. Drilling a hole in that panel through which air can escape at an unregulated rate could affect the readings of the sensor potentially stopping or slowing the deployment time meaning the air-bag isn't there when its needed doing the job it's supposed to. 
Another thing becoming more common in modern cars is the use of electricity. This is transferred around the car via thick, heavily insulated, high voltage cables tucked away from view behind panels and in the structure of the car carrying hundreds of volts between the charging point, batteries and motors. Hitting one of these cables with a drill could easily be fatal for the driller as well as potentially causing massive, expensive damage to the car.
One of the most fundamental reasons not to drill a hole in a car is RUST! The factory paint on a car creates a perfect seal over the metal. Drilling a hole in it breaks that seal and exposes the bare metal to the elements. When bare steel meets oxygen and moisture it rusts. Obviously, this is going to take a fair while before it becomes an issue but if you are going to own the car for any length of time or the car was to become a 'classic' in the future, the future owner is really not going to thank the offender. What I have seen appear far more rapidly is rust stains on the paintwork. As water runs past the hole it picks up tiny particles of oxidised metal and deposits them in an ugly brown streak below the hole.
You would think that touching-up the bare metal around the hole with paint would solve the rusting problem but some of the metal shards created when drilling will fall inside the panel and
oxidise
, possibly creating problems in the future.
To drill or not to drill?
This is by no means a comprehensive list of reasons not to drill but I think it gives a pretty good argument against it. Also, having worked with many vehicle manufacturers directly over the years, I know that they will not endorse a hole being drilled in one of their cars.

All that said, could I see a time when drilling a hole might be appropriate to carry out a paintless dent repair? Yes I can. If all other methods had been exhausted and it's either make a hole or paint the panel a paintless dent repair could still be the best option. If this should occur I believe it should be done in partnership with a manufacturer approved bodyshop who can ensure that it is safe to do so, repair and paint the hole after pdr has been performed following the correct methods and carry out a full system check once completed.
If your vehicle is in need of a paintless dent repair (
costs less than you think
) please check the accreditations of the technician you intend to use and question them in regards to their methods of repair and if they intend to drill a hole in the process. If they suggest this is the only way to carry out the repair I would recommend getting another opinion.
If you still have a question
As always, my help and advice is offered freely. Should you have any queries or concerns please give me a call 
01323 639244 
or send a
message
.