Top 10 Reasons to Buy Local in Eastbourne
Many people think Buy Local is just one day a year or spending a £1 here and there. What people really need to realise is that spending money with local business has a HUGE and positive impact on the local economy.
Here at thebestof Eastbourne, we work with local businesses to improve their local marketing while also promoting year round the value of Buying Local! Be sure to show your support by using our Business Members or at the very least look out for shops displaying our Buy Local window stickers.  
Here are our top 10 reasons why you should 'Buy Local'.
Local businesses with character
We're blessed with many unique businesses here in Eastbourne and what makes them so special are the people behind them. It's more than just providing the goods and services you want, it's about delivering them with a flourish and that all-important personal touch.
Community Well-Being
Local businesses have a stake in Eastbourne, they give back to the community, they help sustain a vibrant town centre; and when you need them, they're a familiar, welcoming face.
Local Decision-Making
Locally-owned businesses are active members of the community, participating in important decisions that affect the town and its residents. They care because they live - and work - here!
Keeping POUNDS in the local economy
When you spend your money at one of the big chains, who knows where it ends up? Spend it with a business based in Eastbourne and you can be sure that a much higher proportion will be returned to the local economy. In fact it's been estimated that every pound sterling spent in our town is re-invested 10 times over, thus enriching the local economy and in turn, the local community.
Jobs and Wages
In our experience, local businesses create jobs that are more rewarding, both in terms of personal satisfaction and remuneration.
Entrepreneurship
Many of the most interesting - and successful - business in Eastbourne are the work of individuals or small groups of entrepreneurs. These innovative, out-of-the-box thinkers are behind a whole range of exciting goods and services that bring benefits for all. Supported properly, these entrepreneurs can play a key role in revitalising local communities and helping our town stay prosperous.
Public Benefits and Costs
A vibrant town shopping centre doesn't require any additional infrastructure because everything is already in place. That means it's good value for businesses and their customers, and this prosperity helps to give Eastbourne a feel-good factor. A thriving, well-lit town centre also makes people feel safe and secure.
Environmental Sustainability
Having local businesses on bus routes or within walking distance cuts down on car journeys (and associated congestion and parking problems) makes deliveries easier, and reduces air pollution. Independent businesses are also more likely to buy locally as well, thus reducing their carbon footprint.
Competition
Fair competition between local businesses encourages innovation and results in lower prices and more choice for consumers over the long term.
Product Diversity
When it comes to deciding what products and services they want you to buy, the big chains plan nationally - so we're likely to be offered the same as their customers in Peterborough or Perth. A high street of local businesses is much more responsive to the needs of the community and helps ensure that Eastbourne retains its unique identity, rather than looking like every other town.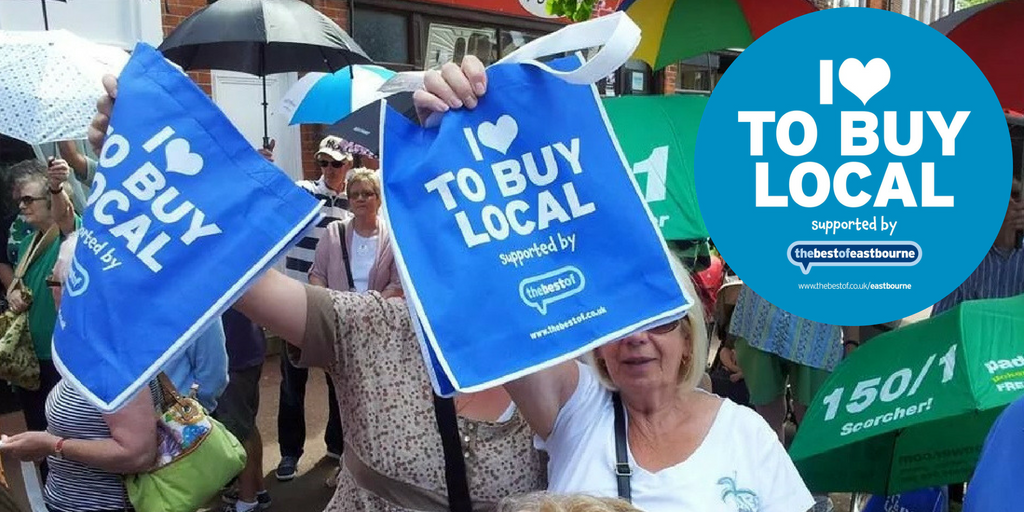 We're proud to support local businesses during Buy Local Week and all the year round. If you feel the same and want to join campaign contact us for details! We'll contact you with all the information you need, together with a FREE Buy Local Window sticker.
And remember, if you'd like to recommend a local business - and have the chance of winning £100.00 - just fill in the short form here.