thebestof Eastbourne Marketing Tools and other Favourites
In this post, I shall be sharing a glimpse behind the curtain and share some of the tools we here at thebestof use to make sure our members are getting the best results possible.
The following is what I will be sharing more information about.
Call Tracking
Email Contact Forms
Reviews facility
Bespoke SEO
Blogging
Social Media Automation
If you want to know more about these please continue reading.
Call Tracking
One of our FAVOURITE tracking tools is our Call Tracking Numbers, we assign these to our Marketing Support Members and above as standard. Why? Because they give us the best indication a campaign is working. When pushing out a blog, offer or a specific call to action and if the phone starts ringing we know the message is getting through loud and clear!
NB! Though these numbers are in use the lack of calls indicates the message is not correct and we will work with you to make sure we find the magic combination to get prospects interested in what you have to offer.
Email Contact Forms
When visitors to your page on thebestofEastbournesend an enquiry to you via your "Email Us" we generate a simple form to complete and send them onto you. This prevents your email address from being harvested by potential spammers and of course lets you know where the enquiry came from.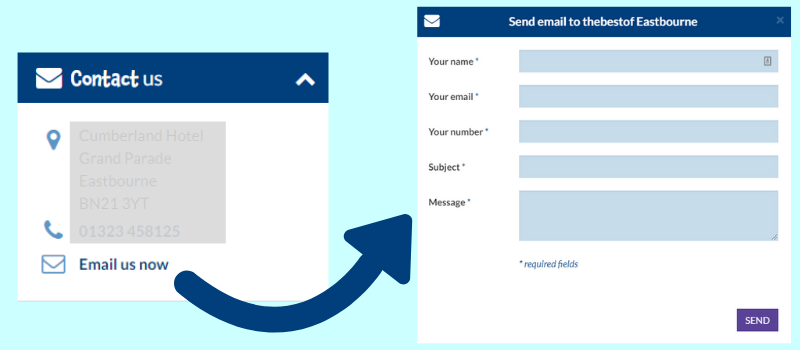 Reviews facility
Reviews are one of the most powerful marketing tools in the world and they are free! What is a better way to market your business than to use the words of your local customers? thebestof facilitates this for you and showcases them to the rest of the community in real time. Collect as many reviews as you can for your business either through the review cards (we send these to you), the review widget that sits on your website or through the Facebook reviews facility.
This means you don't have to send your visitors away from your website to read up about what your other customers have to say about you. You can also develop the landing page for your best reviews; include case studies, video testimonials and other marketing collateral to help confirm your credibility.
The image below is an example of what your Reviews Widget could look like. You are seeing the widget and the "flip side" where your clients can enter their review.

The widget is very flexible from colour choice to size so it best fits in with your website and branding. Do keep in mind mobile optimisation when adding external code to your website… Review how it looks on your mobile as a priority to its desktop view.
Bespoke SEO tool
We have a custom built SEO tool that we use behind the scenes to optimise your profile with us. This means we have the ability to track the key search terms that your customers are using to find your business! From this, we can then update your profile; leading to even more enquiries for your business. If you would like our ongoing optimisation we recommend the Enhanced Marketing Support Membership. There is NO LIMIT to the number of updates that can be made to your feature. We want to make sure you are getting the best possible results for your business.
We don't just use this tool; we have an array of SEO tools and tracking we make use of. One of our favourites that you might like to check out yourself is Market Samurai. We loved it so much we became an affiliate! Download your FREE copy of Market Samurai and laser-target high-traffic, high-profit, low-competition markets with devastating accuracy.
Optimise your blogs for best results
Using what we discover from our SEO tools we will make suggestions for additional content to help you rank organically for even more exposure online. We also share topical ideas for content you might like to write about to drive more general traffic to your page.
Don't worry if you are not tech savvy, we can give you guidance on these and we have a great track record on getting blogs to rank for specific terms!
Social Media Campaigns
So you have great social media and content but not the time to worry about recycling the best content to make the most of it? Well, we have a tool for that… Before you get excited social media automation is not simple, you need to think through the long term goals of your campaign and build relevant content accordingly.
However, when you know what you want to achieve and just need a tool to manage sharing content on an ongoing basis you can use HiPlay. If you already use Buffer you will find this tool goes hand in hand with it and will make your life much easier! Using HiPlay moves your focus from scheduling content to reviewing the analytics to make sure your content is driving traffic to your website.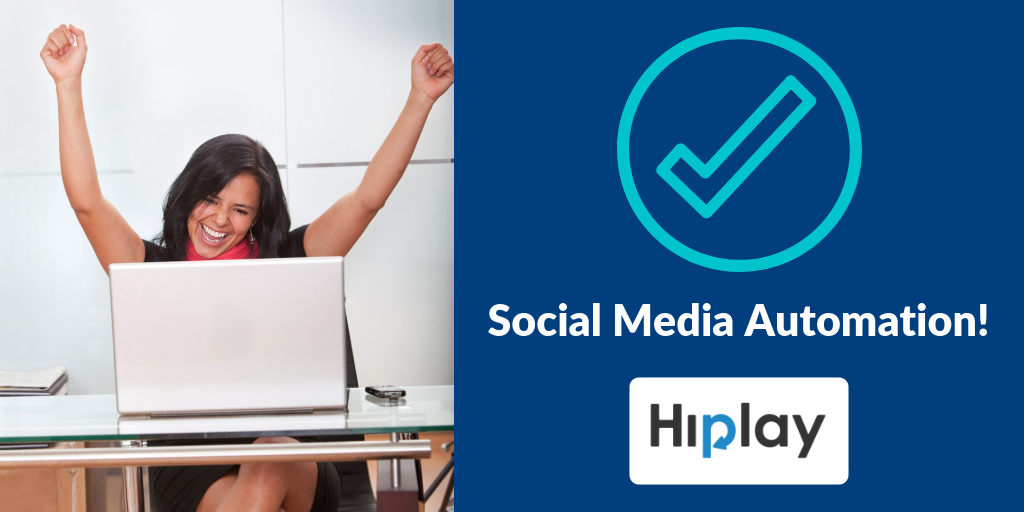 I have not shared all the tools in the post but you should get a flavour for the sorts of things available and my role here at thebestof Eastbourne is to help business owners understand which tools are worth using and of course what the results are telling you.
If you would like to discuss membership with thebestof Eastbourne please request more information by adding your details on our web form.