Tectonic Celebrate 2017 Success With thebestof Eastbourne
Business Of The Year 2017 & Qualifying for #bizoftheyear2018
We haven't even reached the end of November yet but 2017 has already been a massive achievement for us with a massive thanks to our customers. In the beginning of the year we received the #Bizoftheyear2017 awarding for most loved aerial and satellite services in Eastbourne & nationwide. This is the second award we've won for our aerial and satellite services via the Best Of Eastbourne and the CAI (Confederation of Aerial Industries). This was a massive achievement to start of 2017 and we came 4th overall within all the Best of Eastbourne businesses, a massive congratulations to Sarah at Artemi Photography for winning this year.
We were 2nd to qualify for the 2018 awards this year with the help again from our customers leaving us reviews. We're really looking forward to seeing how we do this year and how our fellow members do within their categories.
If you'd like to look at our current reviews or leave us a review then Click Here
Reaching 100 Reviews in a year
This year we hit our annual target earlier than expected this year which was a great surprise. We've managed to go from not getting any reviews or asking for reviews to trying to focus on customer service and feedback to gaining various reviews each month. Not only does this help us as a local independent Eastbourne business but also helps other consumers and potential customers choosing the right electrician, aerial or satellite repairer/installer, CCTV maintenance and so on, by sharing their experience using Tectonic.
We've said it before and we will continue to say thank you to all our customers who have used us and taken time to leave us a review.
Here's some of our favourite review over the last few months:
In November 2017, Birchwood Group said:
"We continue to use Tectonic services for both our IT systems but also for electrical works. Recently they have helped us look at how we can make our out of hours lighting more cost efficient which our FD is very happy about. Always professional, friendly and helpful."
In November 2017, Ray C said:
"Great friendly and professional service from Tectonic. From a phone call I made on Friday to discuss the installation of a satellite dish, aerial and TV set up, the job was completed on Monday by mid-morning. Dish fitted with not a single cable in sight. No mess, no fuss and the engineers made sure their shoes were covered when entering the house. I would HIGHLY recommend Tectonic without hesitation. They deserve the maximum 5 stars."
In October 2017, Chris H said:
"I was let down last minute by a recommended electrical specialist who had over promised and under delivered. Tectonic popped up at the top of Google as a local specialist within this sector and the reviews looked promising. After a call to discuss the requirements, a short time later I had the pleasure of meeting the Tectonic team. They quickly diagnosed the issues and completed the job on time and within the initial budget discussed. I will be recommending to friends + family - excellent service and reliability. Thank you!"
In September 2017, Frances N said:
"I had fantastic customer service from Rhian and the team. Prompt and efficient. My options were clearly explained and pricing was transparent. James attended at my property at the stated time and completed the work to a very high standard. Will use them again."
In September 2017, Homes4Let Property Services Ltd said:
"As always a reliable honest and great service by all at Tectonics. Rhian always there to book jobs in very hassle free for me :) "
In September 2017, Simon Bulteel - Cooden Tax Consulting said:
"Having received a quote for the works to install some new VOIP Phone lines into my office, the Tectonic team were on site before me, waited for me to get to the office and set about the task with the same efficiency they prepared the quote, they were in and out in a couple of hours, tested all of the lines and placed the cabling in such a way that the landlord barely noticed it. I would highly recommend them to anyone looking to use their service and am delighted that they were recommended to me."
Christmas Competition - Customer review incentive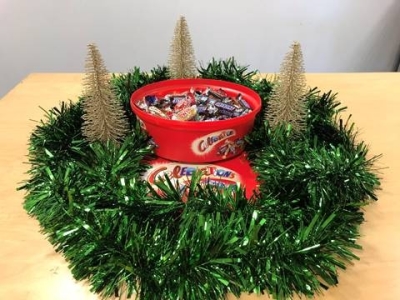 We wanted to give back something extra to our customers this year for helping us and leaving a verified review with the Best Of Eastbourne. When you leave a review you will automatically be entered into a FREE prize draw of £100 and we wanted to top that chance with adding our customers who have left us a review into a draw to win a family tub of Celebrations.
All you have to do to double your chances of winning our competition is go to our Facebook page, LIKE our business page, LIKE our competition post, COMMENT your guess and SHARE our post. Our lucky winner will be announced on Wednesday 20th December at 4pm https://www.facebook.com/tectonicdigitalsystems/posts/1580132098699682
This is open for all customers, new or existing, domestic or commercial, win a tub for the family or the office - Leave your reviews on our Best Of Eastbourne Feature by Clicking Here