HoundDogs scoop Award
27th July 2019
... Comments
---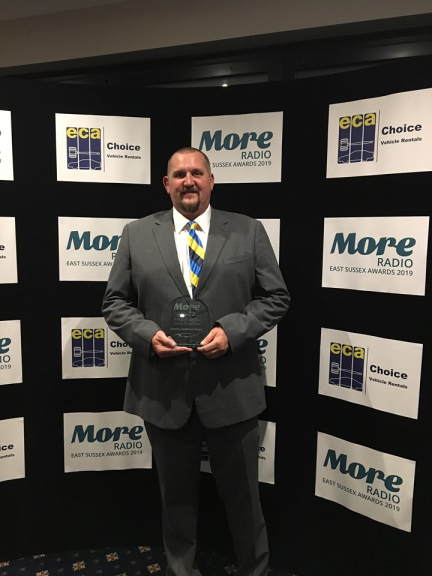 Friday, 26th of July saw two members of the Committee from the Hellingly HoundDogs attend the East Sussex More Radio Awards at the Cooden Beach Hotel after being nominated and then shortlisted for the for the 2019 More Radio Sporting Excellence Award.
The evening started with free sparkling wine on arrival and then moved into a three course meal.
After dinner the Awards started, with categories including LifeTime Achievers Award, Courage Award along with many others. It then came round to the Sporting Excellence Award. After a short video about the HoundDogs organisation and its history, Chair Luke Boorer and Club secretary Claire Boorer were called to the stage to collect the award from More Radio's DJ and host for the evening, Nick Osbourne. 

Chair Luke Boorer later added "It's always nice to win Awards, but this is not the motivation for the hard work the coaches and committee put in. For us, it's about developing children into young adults, teaching them the skills that they can use on the pitch and later on in life as they enter university and into the workplace. It's brilliant just to be nominated and a big thank you to the people who took time to do just that. We now have another beautiful trophy that will sit next to the club's other awards that we have won over the last few years. I may even have to start looking into making the club a trophy cabinet if things carry on in this way! We would like to thank More Radio for hosting these awards and to be honest, yes we do put a lot of hard work into the club, but sitting in that room with some awe inspiring people, really things into perspective. We were lucky to sit with a really heartwarming young boy tonight called Leo, who has more thing wrong with him than anyone should ever know about. All he did was laugh and entertain our table all night. What his parents do for him, with the help from Demelza, is amazing. These are the real heroes in life and the people that we should all look up to."