HoundDogs Looking for U19's Ball Sponsor
18th January 2019
... Comments
---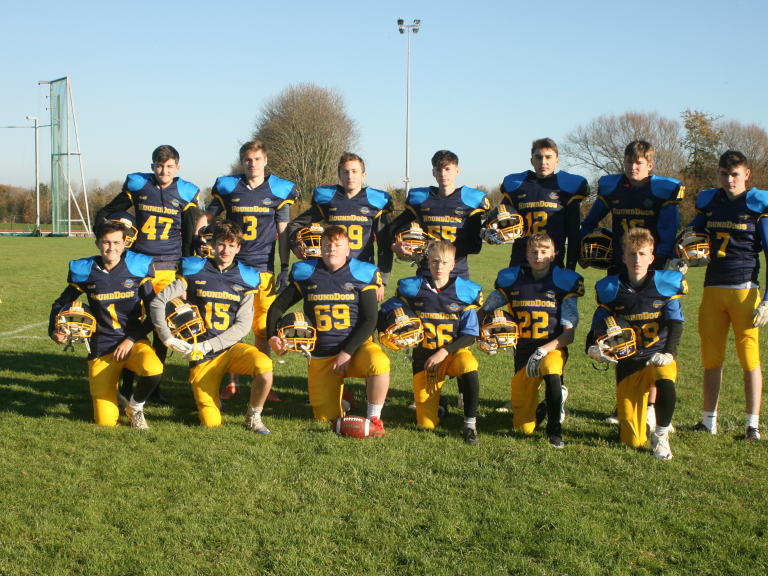 Newly formed Hellingly HoundDogs Youth American Football Club are looking for a new sponsor to help fund the U19's balls for the 2019 and 2020 season. American Football is an expensive sport, but the HoundDogs continue to try and help the youth of East Sussex involved with the sport.
Recently the club has continued with its development and created an under 19's team, thus creating a pathway for children from 7 to continue to train and play American Football right the way through to the age of 19.
When the club was formed back in May of 2016, the club had 8 players, and can now boast over 30 regularly playing and training for the club. The newly formed U19's will team up with two other teams for the 2019 season to form the SE Legion.
All three teams currently do not have enough players on their own to compete in the National Leagues for 2019, but as a collective, they can boast a large squad. The HoundDogs are looking for a ball sponsor of around £150 to help cover some of the cost that the balls cost each season.
The balls are an expansive part of the game with each ball costing nearly £80 each. The Club would like help to recoup some of the £700 it has paid out by means of a ball sponsor.
The U17's currently have EuroShowers as their ball sponsor and in return the for their kind donation the EuroShowers logo has been lazered onto the ball.
A Similar process will also be completed for anyone coming forward to sponsor the U19's, as well as a link from the clubs website to the sponsors and multiple mentions over the course of the 2 tears on social media.
Anyone interested please contact us on hellinglyhounddogs@hotmail.com