Gasbags Ahoy! A resounding success!
"Very inspiring exhibition and a very important aspect of our national history" (exhibition visitor)
The exhibition, Gasbags Ahoy! created with local people and led by Creative Force, has opened at Trinity Church Willingdon to excellent reviews.
The official opening of the Heritage Lottery Funded exhibition was held on Thursday 18th March at a Private View for the participants involved in developing and creating the work. Deputy Lieutenant for East Sussex John Smith officiated the opening, which was also attended by pupils from Willingdon Primary School Airships After School Club, local councilors, members of the Willingdon Royal British Legion and Heritage Eastbourne. Refreshments included Trench Cake and Anzac biscuits, made by The British Queen from World War 1 recipes, which proved surprisingly delicious.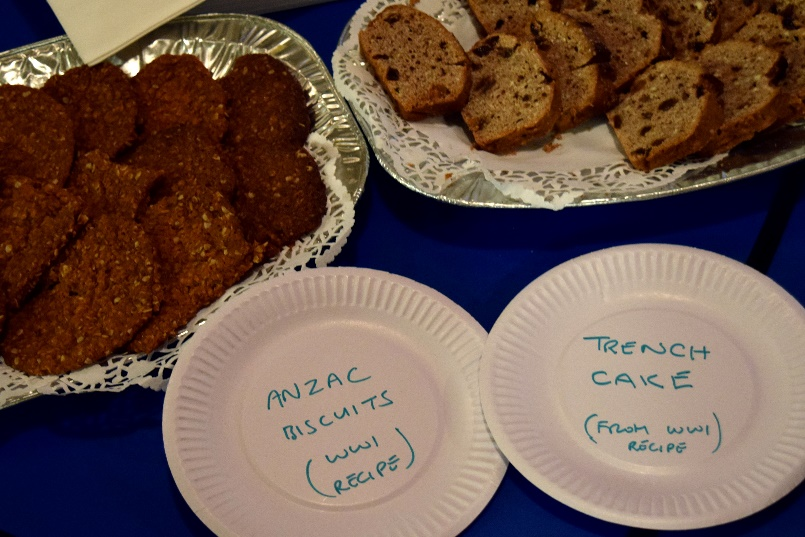 Photo credit Anna Winter
The Deputy Lieutenant spoke with the delighted children who have produced their own Special Edition of 'The Ripping Panel', the magazine produced by airship crew at R.N.A.S. Polegate during World War 1.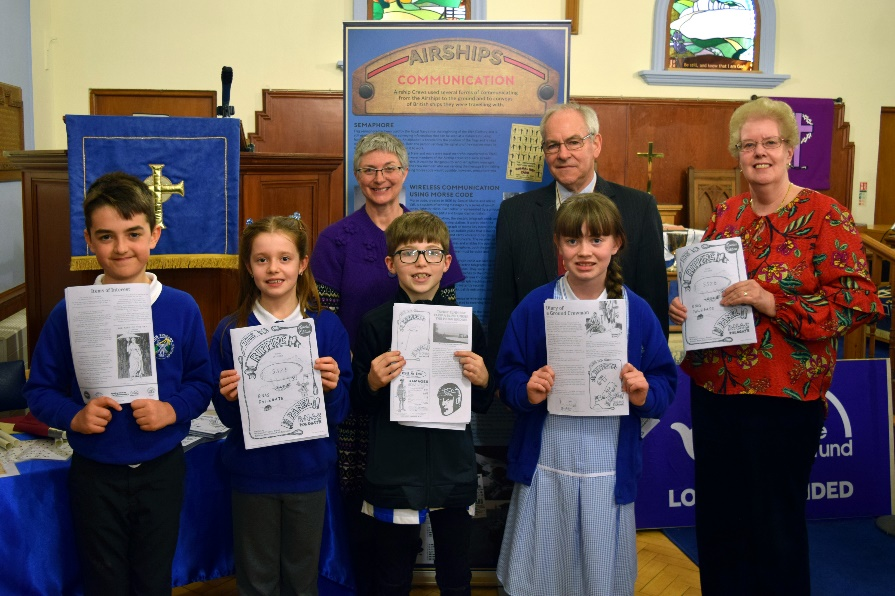 Children from Willingdon Primary School Airships After School Club show off their work with, from left, Teri Sayers-Cooper (Creative Force), Deputy Lieutenant John Smith and Jennie Macfadyen, Secretary of Trinity Church Willingdon
Photo credit Anna Winter
Katherine Buckland from Heritage Eastbourne commented that this is "Such a brilliant exhibition with spectacular stories" and "Well done for preserving the incredible tales from the Airship Station."
The exhibition opened to the public on Saturday 16th March. Reviews from visitors over the weekend were equally appreciative:
"Excellent. A joy"
"A spectacular exhibition. So interesting"
 "Very professional and engaging.  Excellent morning out!".
The exhibition held at and supported by Trinity Church in Willingdon where the airship station was sited, includes banners with facts, local stories, information and images from private collections never before seen by the public. There are also films with photos and voice-overs from descendants of crew and villagers.
John Chambers watches his film about his father, airship pilot William Chambers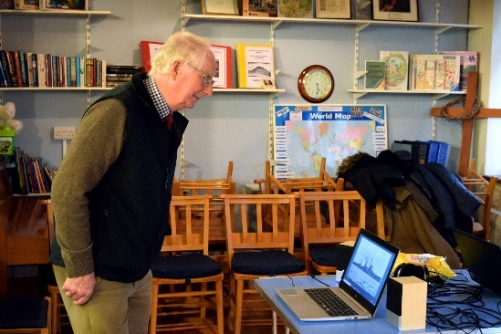 Photo credit Anna Winter
There is even a handmade representation of an SS Zero class hanging on display.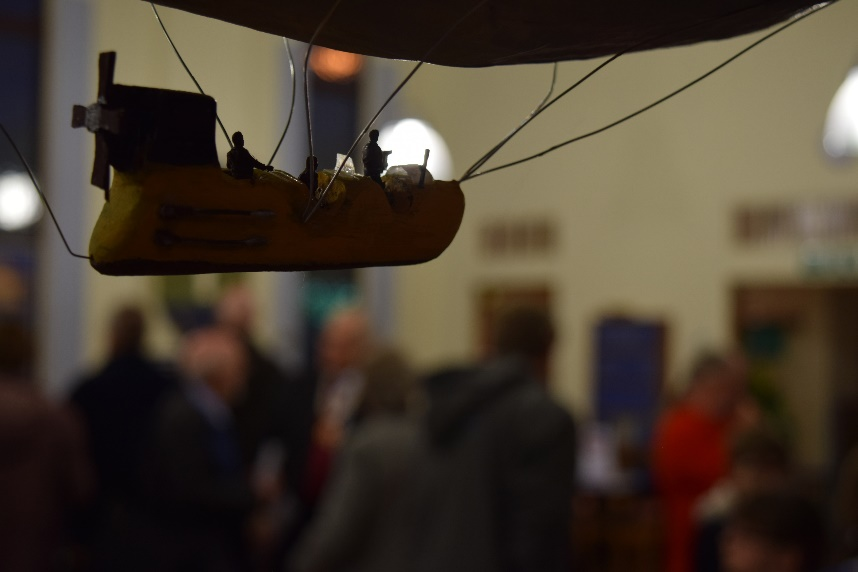 Photo Credit Anna Winter
The exhibition provides a step back into the past, revealing the bravery of the airship crews and the crucial work they did to keep our coastline secure during World War 1. The Submarine Scouts (or Sea Scouts as there were also known) were stationed at Willingdon for reconnaissance duties, to look out for enemy submarines, ships and mines.  They also kept watch over convoys of British ships carrying troops and supplies, being perfectly placed to see danger ahead and able signal below to ships traveling in the Channel.  Communication might have seemed primitive, but it worked! A visitor to the exhibition commented that it is a "Lovely exhibition. My three-year old enjoyed looking at all the photos and trying out the semaphore. Thank you"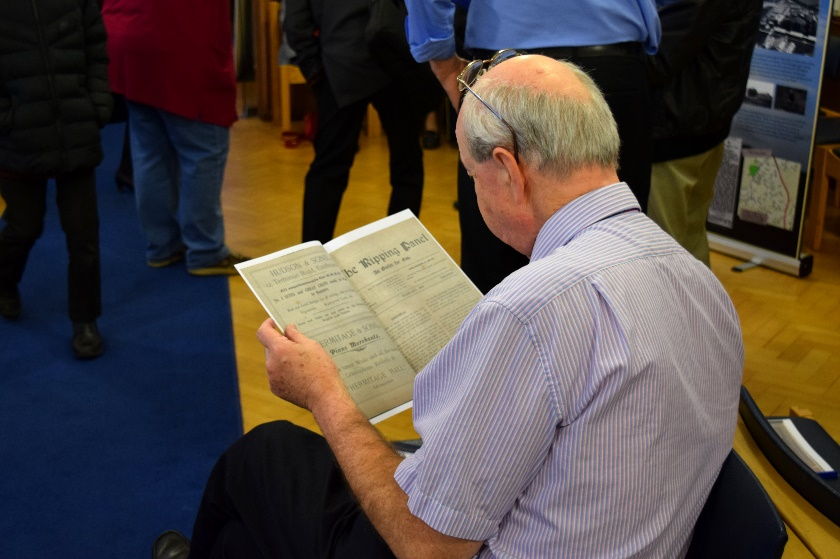 Reading a copy of an original 'Ripping Panel'
Photo credit Anna Winter
There were also dangerous and secret missions carried out from R.N.A.S.  Polegate as well as a number of records set.
Stephen Lloyd MP and Caroline Ansell both attended the exhibition over the weekend and showed their appreciation of the work. Caroline commented "What an extraordinary story to tell! This is a triumph".
Both were also given the opportunity to meet with and speak to the nephew of Eric Steere who, as a seventeen-year-old 'Boy Mechanic', was awarded the 'Albert Medal in Gold' for his bravery during the airship tragedy of 20th December 1917. Only three Albert Medals in Gold were awarded to flying personnel in WW1 and only 45 for saving life on land were awarded in 72 years, making Eric Steere a very extraordinary young man.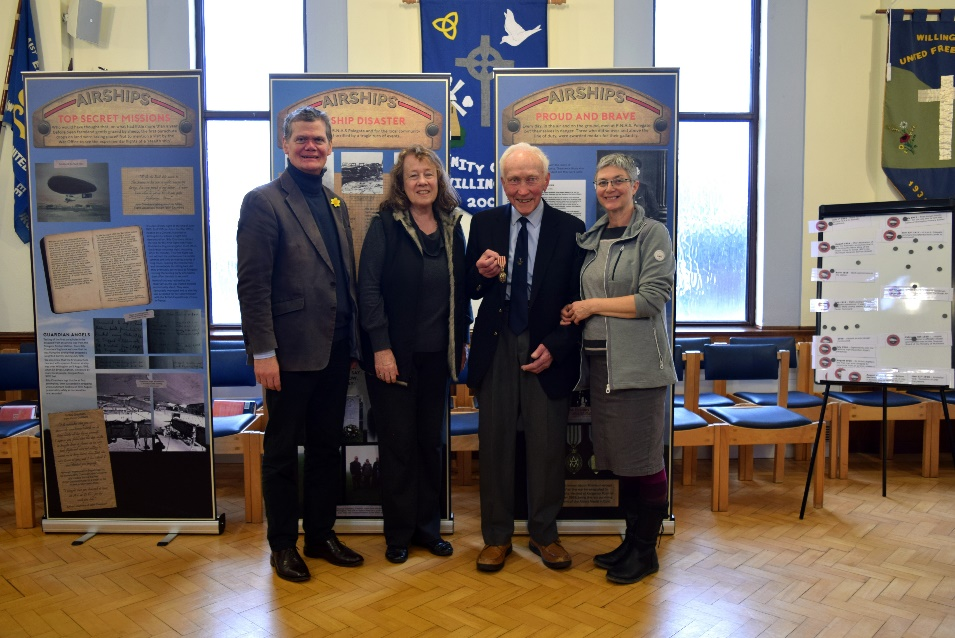 Colin Steere, nephew of Eric Steer, proudly shows his uncle's medal to Stephen Lloyd MP, Rosalind Hodge, Parish Archivist for Willingdon and Teri Sayers-Cooper, Director of Creative Force.
Photo credit Anna Winter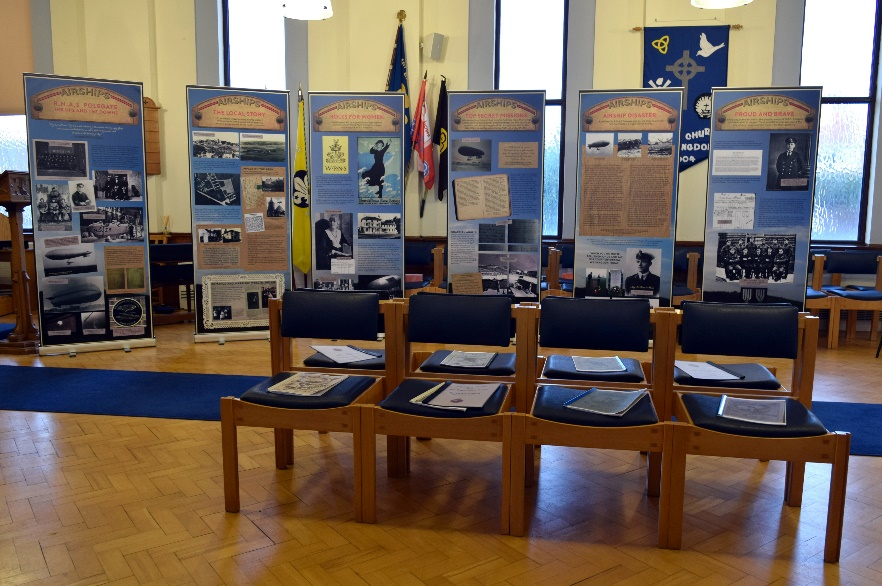 Part of the exhibition
Photo credit Anna Winter
Dates and times of Gasbags Ahoy!
Saturdays 23rd and 30th March : 11.00am to 4.00pm
Sunday 31st March : 12.00 to 3.00pm
Venue: Trinity Church, Coppice Avenue, Willingdon BN20 9PN
Entry Free
On street parking with Blue Badge parking available at venue
Buses 45 51 51x 54 54A 56 98 125
For more information T: 07432 678 228 E: info@creativforce.org.uk
The project and exhibition have been made possible through Heritage Lottery Funding, thanks to money raised by National Lottery players.