Eastbourne People's Assembly support the junior doctors strike
13th January 2016
... Comments
---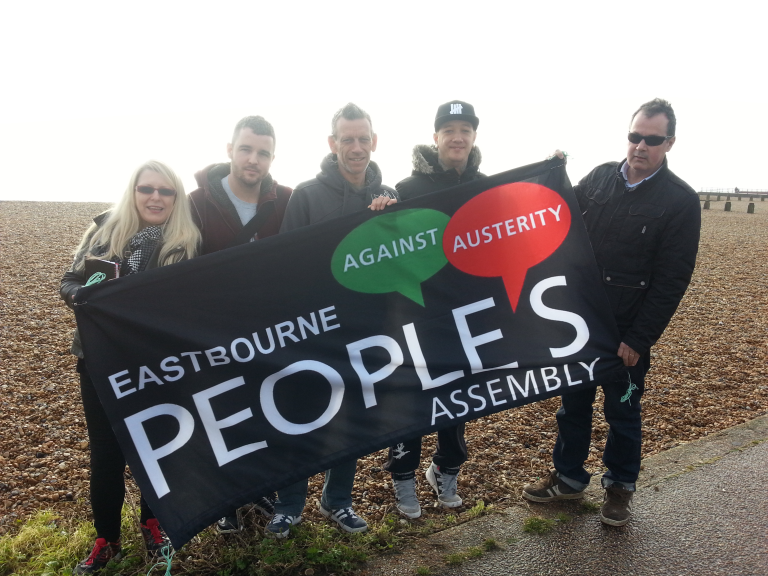 There was a large turnout of members of the Eastbourne People's Assembly Against Austerity at the BMA junior doctors picket line outside the Eastbourne DGH this morning to show support for the junior doctors, who are fighting not only to protect their pay and conditions of working but also to protect patient safety and the future of the NHS as a viable public service. The EPA sees the junior doctors dispute with the government as yet another episode in the ongoing saga of ever more limitations and stresses imposed upon the NHS as a result of the unfair, economically illiterate and unnecessary austerity policies of the government. These policies have undermined the NHS and driven the doctors, nurses, and other health professions into impossibly difficult situations. The EPA call upon the government to sincerely engage in serious negotiations with the junior doctors, to listen to them carefully, and to offer a fair deal to the junior doctors without delay. It is in everybody's best interest that junior doctors, and all NHS staff, are treated with the respect and care that they deserve, as that is the foundation for ensuring good quality patient care in the NHS. Polls show that a clear majority of the public understand why the junior doctors have had to strike and support a just settlement of their grievances, so the government has no popular mandate to make life even tougher for junior doctors than it already is within a chronically underfunded, overworked NHS.
An EPA member, Brian Wilkes, said:
"I wanted to show my support today for the junior doctors and their fight for a fair contract. Their fight is also a fight to protect patient safety and the future of the NHS" 
One of the junior doctors at the picket line at the Eastbourne DGH said:
"The junior doctors are thankful for the support of the public and we hope the contract dispute will be resolved quickly so that we can have a fairer and safer NHS"