Eastbourne Llamas festival
24th July 2013
... Comments
---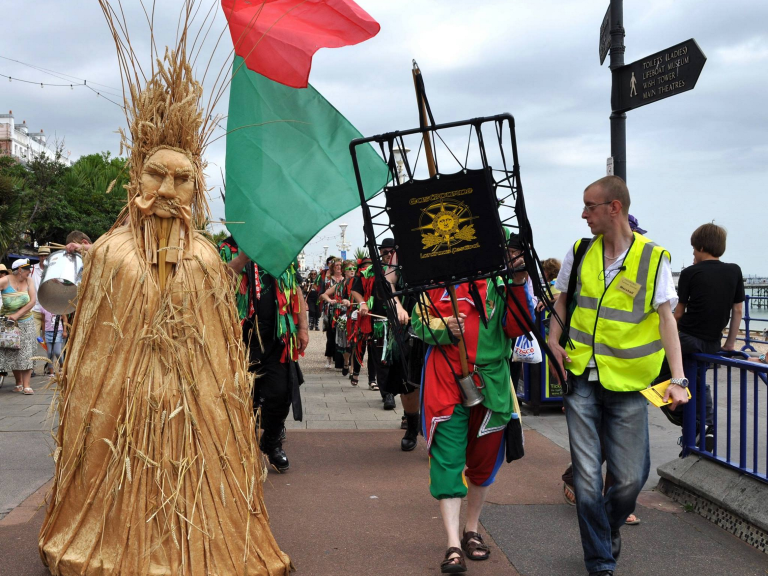 Lammas has been celebrated in Eastbourne since 2001. If you haven't visited this Eastbourne festival before then why not pop along this year? I know one of our members, Louise of Louise Clare Holistics will be going along to check out the crystals on sale. And if you don't have the opportunity to have a card reading there then why not contact Louise to arrange an Angel Card Reading.
You can walk up from Eastbourne pier on the Saturday, joining with the procession that will stop at regular intervals for Morris dancing and drumming before arriving at Western Lawns on Eastbourne seafront where the celebrations are based. Here you will find a variety of stalls and entertainment – definitely something for all the family, including story telling for the children, lots of stalls for Mum to shop at and a beer tent with real ales and ciders for Dad to sample (although Mum may well want to sample some too!). If that doesn't tempt you, then perhaps the great live music line up will.
But the meaning of Lammas isn't forgotten either. Lammas is an ancient harvest festival to celebrate the cutting of the first corn. So at the end of the first day of celebrations, you can gather to see the Hunters Moon Morris Dancers perform the John Barleycorn dance and there will be a celebration of thanks.
Then on Sunday the celebrations continue, with the last event at 4pm - an open air celidh at 4pm with music from The Howlers.
So why not come along – check out the full programme for all the details
Join their Facebook group via https://www.facebook.com/groups/45707716449 where Paul Watson kindly made available the photo used for this blog post.