Eastbourne and Wealden students bag awards at Young Enterprise competition
Students from Ratton School were crowned Eastbourne and Wealden Best Company at the Young Enterprise Company Programme Eastbourne and Wealden Final on 26th April 2016 held at the Birley Centre, Eastbourne.
The team will represent the area at the Company Programme  Sussex Final on 4th May 2016 in Brighton.
The students' company, Initium, sold  bath bombs, service events management and scrabble based products. The team beat off stiff competition from other Young Enterprise companies.
Malachi Jones, Initium Managing Director, said: "The Directors and I were ecstatic when we won Best company at the Eastbourne and Wealden District Young Enterprise Final. We have had a fantastic year with highs and lows throughout. When we started we thought it was going to be easy, but we quickly realised that we would need hard work and perseverance to succeed.  Thankfully we all pulled together at the right times when it was needed. I have learnt so much from this experience, gaining in confidence along the way and want to thank everyone who has supported Initium to gain this success."
Malachi was also the Runner-Up of the Eastbourne and Wealden YE Young Achiever Award.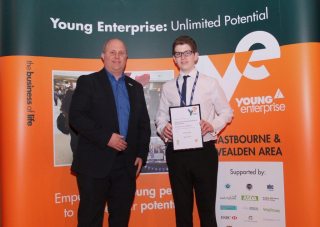 Young Achiever runner up - photo from Charlie Dawes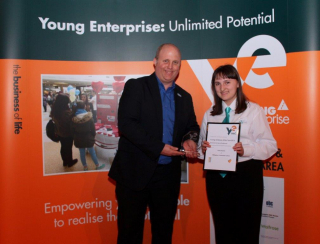 Young Achiever winner - photo from Charlie Dawes 
Young Enterprise's Company Programme is supported by HSBC and is aimed at 15 to 19 year olds. Participants set up and run businesses for an academic year, guided by local mentors.
Caroline Ansell MP for Eastbourne and Willingdon, said: "When I met some of the Young Enterprise students during their Trade Fair at the Arndale Centre recently, I was very impressed with how they presented themselves, how clearly they articulated the decisions behind their brands and their energy.
"They were also receiving fantastic support from the great Eastbourne public - I saw quite a few 'sold out' notices on some of their products!
"It is always encouraging to see this next generation of young local entrepreneurs, and I am delighted the finals were such a success.  My congratulations to all those taking part."
Wendy Gorham, Young Enterprise Manager, said: "We had some great companies started up by students in Eastbourne and Wealden this year and the judges were incredibly impressed with the products and services they had developed and the presentations they gave at the Awards.
"The Awards highlighted how the Young Enterprise Company Programme can inspire young people to become the entrepreneurs of tomorrow and help them develop practical business skills while they are still at school.
"I particularly want to congratulate the students from Ratton School who won 'Best Company, Eastbourne and Wealden for their enthusiasm, dedication and demonstration of super employability skills."
Michael Mercieca, Chief Executive of Young Enterprise said: "The Area Finals are the penultimate stage in finding the UK's Best Overall Company, and all the teams here today have achieved so much over the past year.
"The Company Programme  is a great platform for students to develop their skills such as confidence, teamwork and resilience and interact with their local business community along the way.
"Well done to all the winners today and particularly to Initium  as they go forward to represent Eastbourne and Wealden at the Sussex Final."