Designer Travel Bring Me Sunshine Campaign
We all need a bit of sunshine and fun in our lives sunshine campaign will follow the 8 stages of a SUNFLOWER….
    1. Planting The Seed
This is where the Lifecyle starts, bringing hope and promise of better things to come. The seeds for hope and development are being planted and as we know from small seeds BIG things grow. That will be us here at Designer Travel, we start spreading the seeds of future hope, by being positive, being creative, thinking of the things to come and not dwelling on what used to be.
    2. Germination ( 2 to 10 days)
This is the first stage of the seeds wakening and looking for light. The wispy roots push up through the soil, whilst they are very fragile we know it's a sign of things progressing. This will be the same, we will have more information, we will have a better understanding of our fragile travel industry but it's only the beginning of our new journey.
    3. The Seedling ( 10 to 35 days)
Our seedling is now in its development stage and is becoming a young sunflower plant. When the last of the cold weather has passed it's time to harden the young plant and move outside to enable it to carry on growing. Given the right circumstances it will grown rapidly getting stronger and taller.
For us this stage might take a little longer, but we will be rebooking those who have already been impacted, we will be booking clients for further out dates and we will know whether the ban of no travel will be extended. Even if this is the case we will know what the procedure is and we will have no one overseas, so we would still be in a stable condition but may just be waiting for some extra sunny days to help us get from indoors to the big outdoors to get more strength.
    4. Growing a Bud ( 35 to 65 days)
Our tall and growing leafy plant will soon be strong enough to grow a bud. Seeing buds on our sunflowers will be so exciting. It means we have cared for our plant and we will soon reap the rewards but we are not quite there yet. We need our sunflower to keep growing, keep getting stronger and getting as much sunlight as possible to develop and thrive. The sunflower needs to keep hydrated to keep growing.
This is the same for us, the confidence of the industry will be returning, the fact that we have looked after each other and our clients and helped in our communities . Sales will be growing from both rebooks and new enquiries keeping us hydrated and hopefully the sun will be shining down on us to speed up our recovery.
    5. Flowering ( 65 to 85 days)
Our sunflower has now reached is blooming stage and gently opens its petals to reveal its beauty for the world to see. 
For us hopefully this will mean we start seeing places open, beautiful destinations coming to life and people across the world living a more normal life and starting to flourish again
    6. Pollination (65 to 85 days)
This happens at the same time as the flowering, our beautiful flower opens its doors to others to help them and to keep the population of others alive and kicking. Not only does it feed it also gets carried to other places and the pollen is sprinkled to ensure future life for all.
This is like the sharing and caring idea in travel, when the going gets tough we all help each other, hopefully through this entire period we have all been gearing up to help promote one another for the greater good. Suppliers, hotels, airlines should be blossoming and through us our clients can spread good will and a lifeline to many overseas destinations.
    7. Seed Development ( 85 to 125 days)
After pollination the seeds start to develop and ripen. This stage is fascinating. Its entire lifecycle has come to this, producing as many healthy seeds as possible. As these seeds start to develop they are a great source of food for others as well as leaving some ready for the whole process to start again. 
For us this is the stage where we will have clients coming back after wonderful holidays and recommending us straight away and in the future to their family and friends. 
    8. Harvesting
Any seeds that have lay dormant over the winter months will spring back to life and the entire process will start over.
For us this will be repeat bookings and recommendations and each of your businesses growing as you are all the ones that have continued to care for everything during this entire process
reading this will make you realise how remarkable sunflowers are. The time it takes and the fact that they use everything they can to get the best from their environment without impacting on it and at the end they give back what their growth has produced. 
We also want to spread some sunshine and give back, so this is what  I we do….
I know that many of  you will be isolating or will have children at home, so I am going to encourage them in two ways to take part in our Bring Me Sunshine Campaign. 
Firstly, we have devised a colouring competition for anyone to enter and we will give away a £50 Sunflower voucher to anyone that enters.
For your own kids, please ask them to colour one for us as we will be picking some special prizes for these special people.
Plus there are extra prizes for all pictures sent in of their sun flowers they have grown this year this is for everyone young and old no age limit  so get sowing, if you need any seeds please email me with your address and I will get some sent to you 
debbie@designertravel.co.uk 
I  am going to try and grow my own sunflowers and  will post a picture later to show you how well I am doing so fingers crossed.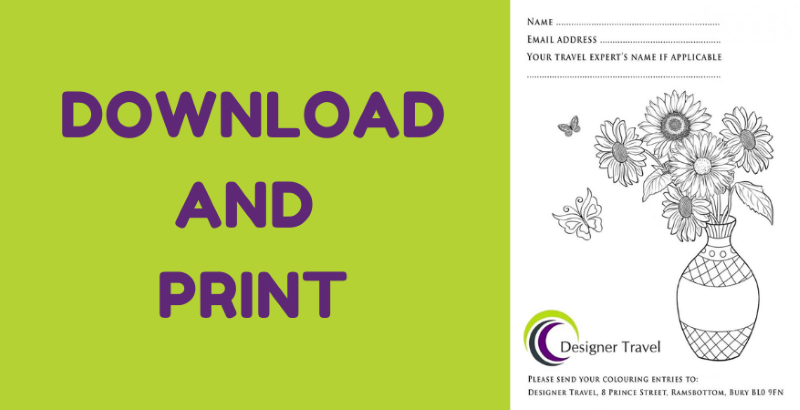 We can then track how we are all doing. Any one of you who participates in either part of our campaign will be emailed a Designer Travel Sunflower voucher for £50 for you to use off any new holiday. Only one voucher per new booking of at least a £1,000 but lease do let family and friends know.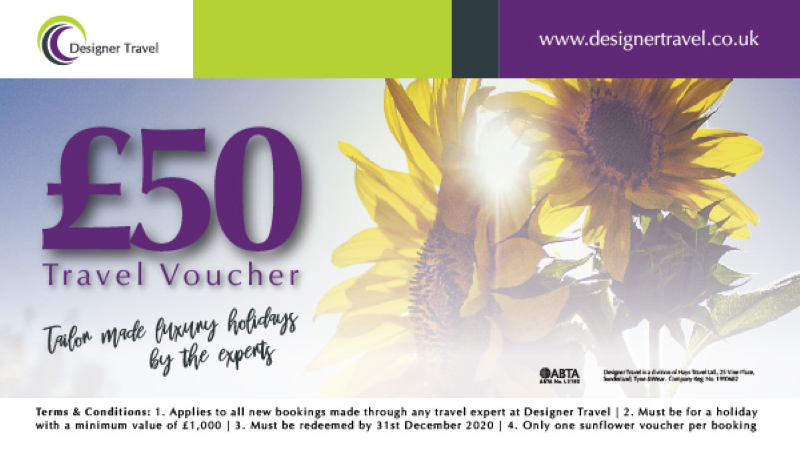 For More Details and to Book call me Debbie Designer Travel on 01323 453259