An Open Letter to the Curzon Cinema
20th March 2012
... Comments
---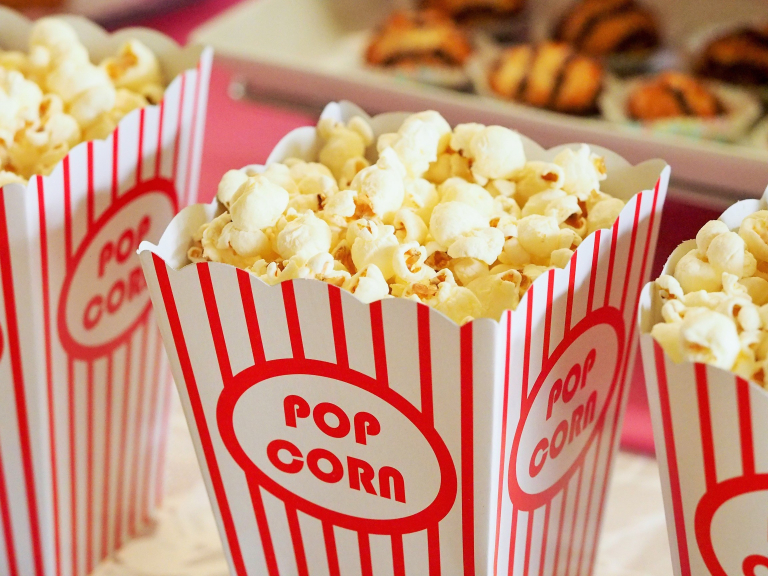 In my last blog post I praised the Curzon for continuing to stand up to the competition. They are staffed by people who clearly care about film, and unlike the increasingly sanitised and mechanized multiplexes, they still project on celluloid.
However, even the most unobservant of passing pedestrians could not fail to notice that they are clearly on the skids. The building is dirty and dishevelled on the outside, despite having plenty to offer on the inside. It is the architectural equivalent of Lieutenant Columbo. It's even the same colour. And when you do get inside the carpets are threadbare, the seats are worn (in some cases they are entirely missing their lower halves) and the wallpaper looks like it dates back to the three-screen conversion in the mid-1970s.
One of the main problems the Curzon has is that the young people of Eastbourne aren't interested in nostalgia or tradition. They want things to look sleek and modern, and those two words would rarely appear in the same sentence as the Curzon cinema.
The Curzon is on a losing streak to start with by virtue of its location: the end of Langney Road, surrounded by charity shops, mobile-phone repair shops and takeaways. Langney Road is not attractive place, and does nothing to encourage people to go there. It was probably a nice road in the 1920s, when the Curzon was gleaming and new, but now it is dingy and squalid.
In short, the Curzon does not appeal to an audience of teenagers and young adults (with the exception of the language students that fill the place in the summer because they don't know where Cineworld is, thankfully). However the Curzon seems to be aiming for a mainstream audience. They regularly show the blockbuster films (this week for instance they are screening The Hunger Games), yet the target audience for this film will mainly go to Cineworld.
So here is my advice, based purely on my own observations and very little actual research. You haven't asked for it, but I'm offering it anyway because I care.
1. Stop trying to compete with Cineworld. Stop trying to attract a teenage audience, admit that Cineworld have won, and move on. Eastbourne is renowned for its population of older people. This is a generation that mainstream cinema has for the most part forgotten. This is why when a film does come along that appeals to a senior audience they come out in droves. Look at the success of The King's Speech or The Best Exotic Marigold Hotel for example. The audience is there, you just have to find them. How do you do that? That brings us to:
2. First of all, ditch the snacks counter and create a licenced bar. Selling coffee and booze that audiences can consume in the screen is a sure-fire way to signify that you are classier than Cineworld. And sell real food, not just popcorn and Revels. I can guarantee you that if someone could come to the cinema and buy cake and a cup of tea, they will be back again the following week. But someone who wants cake probably doesn't want to watch Transformers.
3. Change your programming to reflect the demographic. I'm not saying you should never show an Avatar or a Twilight, but don't push this as your main programing. Perhaps just save those for summer screenings. Yes, you have a Film Cub, which shows occasionally interesting art house films once a fortnight, but this simply isn't enough. The business model you ought to look towards is the Electric Palace in Hastings or the Duke of York in Brighton, even the Hailsham Pavilion. There is a cultured, artistic community in Eastbourne who are not catered for, and instead regularly travel to those venues. With the right kind of marketing I am convinced they would come to the Curzon instead. A balance of some commercial films with a majority of alternative programming will quickly gain you a reputation as a quality venue. And it needn't all be contemporary either. Just imagine mid-afternoon screenings of Brief Encounter, offering a pensioner's discount or a free cup of tea.
4. Money. What I am suggesting is going to cost money. This is true. But what I fear most is that without change the Curzon is going to go into terminal decline. You have to spend money but it will be worth it. So where can the money come from? One option is fundraising. Become a Trust, or a registered charity. The Electric Palace in Hastings is run as a not-for-profit venture, and as such receives funding from the Lottery and the Arts Council amongst others. And just because you are not-for-profit, this doesn't mean you can't make money. You can still pay your staff and invest in your building. And also, why not get Eastbourne on your side? There is a lot of good will in this town. How about a "Friends of the Curzon" organisation? The Devonshire Theatre has a Friends group who raise thousands of pounds every year. You would also then have a willing pool of volunteers to do the jobs you currently cannot afford to fund. Who knows, you may get volunteers who can help with renovation.
5. Go digital. Much as I hope you will continue to project film where possible, going digital will open other potential revenue streams. Your main screen could be converted with help, such as the Digital Funding Partnership from the Cinema Exhibitors Association. Once you have a digital system you can offer live sporting events, or even opera from Covent Garden. Local schools and colleges could have screenings of work their own students have produced. Print hire costs ought to be reduced as well with digital distribution. The Independent Cinema Office has plenty of useful advice on how to find the funds for this, as well as offering training on all aspects of exhibition, from cultural programming to holding your own film festival.
As I said last time, if Eastbourne loses the Curzon, it will never get it back. We are lucky to have you, and perhaps we need to be reminded why.