Accommodation for NHS or other frontline workers in Eastbourne
10th April 2020
... Comments
---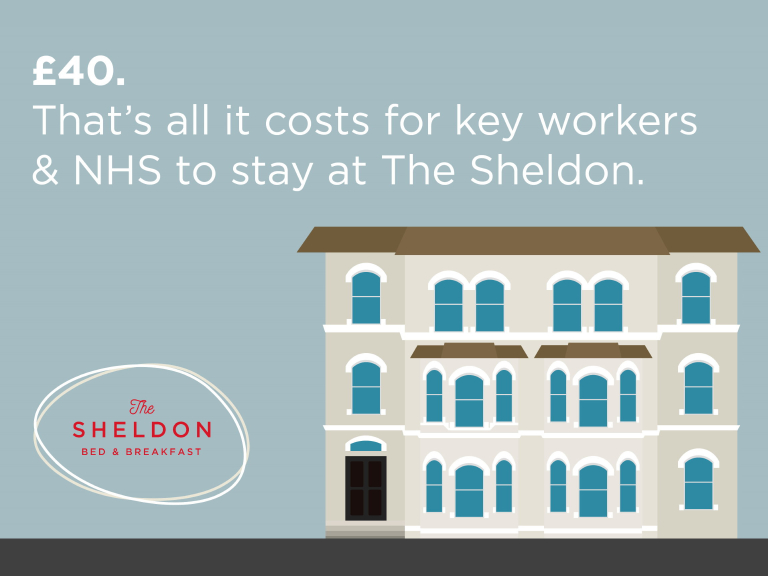 During the covid-19 outbreak one Eastbourne B&B has been working hard. Judith and Greg Brown have owned The Sheldon B&B for 8 years and desperately wanted to help in some way. Before the lockdown we recognised this was going to be life-changing.
We had previously experienced lockdown during the swine-flu and we knew from the moment the story started to unfold that no-one would be safe. We set about making plans to help our guests feel safe whilst visiting us as things developed. We set up a procedure for directing guests straight to the bathroom on arrival. We increased the level of cleaning in our public areas to twice daily with 12 hour sanitizer. We reviewed "touch points" and again went from daily to twice daily.
As the situation developed, we decided to close our public rooms, so the dining room and lounges were closed. We developed delicious, nutritious and filling breakfasts that could all be served in the guests room (all compostable and fully disposable to minimise the risk of cross contamination). We then replaced our mugs and beakers with vegware beakers and hot cups on our refreshment tray.
Since lockdown began We have introduced all sorts of new procedures for laundry (both guests and our own) like our NHS guests can pop their uniforms into a pillow slip, pop it outside their door and we take it away to wash and dry it (in the pillowslip) while they sleep. 
As most of our NHS workers are on shifts, we have a flexible check in/out system now and we place them in different areas of the property so as not to disturb sleepers whilst we clean other rooms.  
The Sheldon B&B is set along a quiet side street, so it's perfect for a peaceful stay and all those booking will benefit from a double or superking bed at single rate including disposable breakfast in one of our quiet zone rooms.  
NHS workers just need to ask their line managers about staying with us. Rooms are just £40 per night.
If you are needing to self isolate from your family during this time we really are working very hard to keep you comfortable and safe. You can be assured that if you drive you will have free private parking throughout your stay. We have free fast and stable wi-fi throughout, so you will be able to keep in touch with your loved ones. We can also store and heat meals for you as required.  
You will need to provide us with you NHS or other frontline worker pass or authorisation note and we will do the rest.