Christmas Pantomimes in Brighton and Sussex - 2015
24th October 2009
Author: Team at thebestof Brighton & Hove
Comments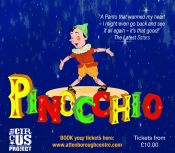 The ultimate Pantomime Listing for Brighton and Hove and surrounding areas - Christmas 2015.
The information provided here is as a guide only - Please confirm all details with the venues.
If you know of a Panto in the locality not on this list, you can add the event directly via this link or send us the details by email.
Would you like to know more about Brighton's historical connection with Panto? In this article, Brighton based author and historian, Rose Collis, recalls Ellen Nye Chart, the woman who introduced the festive favourite to the Theatre Royal in the 19th century, and two legendary 'Panto Dames' who lived in Brighton: Douglas Byng and Jack Tripp. 
*Main Image courtesy of The Ropetackle, Shoreham
---
PANTOMIME:
---
Aladdin@ the Emporium from Thursday 3 December 2015 to 9 January 2016
Emporium's Aladdin is an ancient tale that runs for over a month in Brighton starring Tyler Kennington. A lad from the wrong side of the tracks gets a chance to have it all: wealth, greatness and the girl of his dreams. But castles made of Arabian sand have a tendency to crumble, and soon he has to choose between the man he claims to be, and the man he really is.
When: Wednesday 2 December 2015 to Saturday 9 January 2016 inclusive except there is no show on Monday 4 January.
Times: 2pm and 7pm every day until Sunday 3 January, then 7pm from January 5 to 9 and 2pm on Saturday January 9.
Venue: Emporium, 88 London Road, Brighton, BN1 4JF
Tickets range from £12 to £21.50 for individuals. Family tickets also available.
This is a family friendly event suitable for ages 5+ though it will contain some 'pantoscary' effects and a few whizz-bangs that may be a bit much for very nervous children.  
There is still time to buy tickets in this extended pantomime season at the elegant Emporium. Book early to avoid disappointment.

Website http://www.emporiumbrighton.com/  
---
Cinderella @ White Rock Theatre, Hastings from Friday 11 December
This famous rags-to-riches storycharts the journey of Cinderella who is transported to the Prince's Ball with the help of a pumpkin, some mice and lots of Fairy Godmother magic. The pantomime stars Jessie Wallace as Cinderella.
Please note times of performances vary on a daily basis.
On Saturday 12 December there will be a matinee at 2pm and an evening show at 7pm.
On Sunday 13 shows are at 1pm and 5pm, then Tuesday 15 at 10:30am and 2pm, Wednesday 16 at 10:30 and 2pm, Thursday 17 at 10:30 am and 7pm, Saturday 19 at 1pm and 5pm, Sunday 20 at 1pm and 5pm, Monday 21 at 1pm and 5pm, Tuesday 22 at 1pm and 5pm, Wednesday 23 at 1pm and 5pm, Thursday 24 at 1pm and 5pm, Saturday 26 (boxing day) at 3pm and 7pm, and finally Sunday 27 at 1pm and 5pm.
Tickets range from £16 to £21 with family tickets and concessions available upon request. A £1.00 per ticket booking fee applies, capped at six per order. Fee-free booking for White Rock Friends; Groups of 10+ please call 01424 462288 to buy without paying booking fees.
Do not miss Jessie Wallace who is best known for starring in Eastenders. This pantomime may well sell out. https://whiterocktheatre.org.uk/online/default.asp
---
Jack in the Beanstalk @ the Ropetackle in Shoreham from Sunday 20th December 2015
Jack Trott and his 'glamorous' mum, Dame Trott, are very poor. Except of course for Daisy The Cow! But when Daisy stops giving milk, Dame Trott comes up with a plan to help pay the rent to Gobblegore who rules the Kingdom on behalf of the big bad Giant. Find out how beans save the day. 
When: From Sunday 20 December to Sunday 3 January 2016 excluding Christmas Day.
Times: At 7pm on Sunday December 20, Monday 21, 22 and 23 December at 11am, 3pm and 6pm, 24 (Christmas Eve) at 10:30 and 2:30pm, 26 (Boxing day) 2:30 and 5:30pm, 27 December at 10:30am, 2:30 and 5:30pm, 28, 29 and 30 at 2pm and 5pm, 31 January (New Year's Eve) at 2pm, 10:30 and 6pm on Saturday 2, 12 and 4pm on Sunday 3January.
 Venue: Ropetackle Arts Centre,Little High Street, Shoreham-by-Sea, West Sussex, BN43 5EG, Tel: 01273 464440, Email: admin@ropetacklecentre.co.uk
Prices vary: adults £12*, children £10 (aged 16 and under), family (2 adults + 2 children or 1 adult + 3 children) £40
*tickets for performances on Weds 23rd, Christmas Eve, and Boxing Day cost £14 adults, £12 children, or £44 family of four.
Seating will be allocated in order of the time booked.The auditorium will be set-out in rows with mats at the front for children.Buggies, prams and, pushchairs can be stored in the auditorium.Babies and small children too young to sit on a chair alone must sit on the lap of their parent or guardian. Suitable for ages 3+.
Go and watch Aladdin if you would like to make all your dreams come true.
http://ropetacklecentre.co.uk/visit/christmas-panto/
---
Cinderella @ Pavilion theatre, Worthing on Friday December 4
Humble Cinderella, the servant sister, goes to the ball in a pumpkin carriage and steals the show. Starring Camilla Dallerup from Strictly Come Dancing as Fairy Godmother, Cara Dudgeon as Cinderella, Matt Evers from Dancing on Ice as Prince Charming and Mark Read from boy band A1 as Dandini.
When: Friday December 4 2015 to Sunday 3 January 2016.
Tickets: From £13. Call 01903 206 206 between 9.30am* to 8pm (* from 11am Sundays) or book online:
https://uk.patronbase.com/_WorthingTheatres/Productions
Some reduced price seats are restricted view. Contact the box office before booking for more information. 
There is a full programme of family friendly, funny events for kids here:
Don't miss Cinderella if you would like to see who she meets at the ball.
http://worthingtheatres.co.uk/events-by-type/forkids/
---
Beauty and the Beast @ Capitol theatre, Horsham from December 11
When: Friday 11 December to 3 January
Times: Friday December 11 at 1pm and 7pm, Saturday 12 December at 2pm and 6pm, Sunday 13 1pm and 5pm, Tuesday 15 December 10:15 and 1:30pm, 16 at 1pm and 6:30pm, 18 at 7pm, 19 at 2pm and 6pm, 20 December to 24 (Christmas Eve) at 1pm and 5pm. On 26 December (Boxing Day) performances will be held at 2 and 6pm, then Sunday 27 December to 31 inclusive (New Year's Eve) at 1pm and 5pm, on Saturday 2 December at 2pm and 6pm and finally Sunday at 1pm and 5pm.
Venue: The Capitol Horsham, North Street, Horsham, West Sussex,RH12 1RG,
Tel: 01403 750220, Email:contact@thecapitolhorsham.com
Tickets: From £10.00 to £20.50
If you want to find out what beauty and the beast have in common, book the Capitol's 2015/16 traditional family pantomime. Book early to secure the best seats.
https://www.thecapitolhorsham.com/whats-on/panto/beauty-and-the-beast/
---
Jack and the Beanstalk @ the Hawth, Crawley from Friday November 11
Jack and his mother are very poor but Jack is given some magic beans with surprising results. The pantomime stars 'baddie', Steve McFadden and Rebecca Keatley from CBeebies' Let's Play.
When: From Friday 11 December to Sunday January 3.
Times: Friday 11 December at 7pm, 12 Dec at 2:30pm and 7pm, 13 December at 5:30pm, 14 at 10:30am and 5:30pm, 17 Dec at 2 and 5:30pm, Friday 18 at 7pm only, December 19 to 24 (Christmas Eve) and 26 Dec (Boxing Day) at 2 and 5:30pm inclusive, Sunday December 27 at 10:30am and 2pm, Monday 28 December to Thursday 30 Dec at 2pm and 5:30pm, 31 Dec (New Year's Eve) 11am and 2:30pm, January 2 at 11:30am and 2pm, Sunday January 3 at 11am and 2:30pm.
Venue: The Hawth,Hawth Avenue,Crawley,RH10 6YZ. 
Tickets: Box office, Tel: (01293) 553636 Monday to Saturday 10 to 6pm.
If you would like to join Jack in his journey from poverty and his scrapes with a giant, don't miss Jack in the Beanstalk.
http://www.parkwoodtheatres.co.uk/theatre/productionpage.aspx?hid=4&nid=6331_2&zid=2
---
Check out some of our other popular Articles and Guides for  this time of year:
---
---
Halloween Events and Parties in Brighton and Hove 
Halloween activities for children and families in Brighton and Hove 2015
Firework Displays in Brighton and Hove - 2015
Christmas shows and activities Brighton and Hove 2015 
Christmas craft fairs and markets in Brighton and Hove
---