Halloween Events and Parties in Brighton and Hove
18th September 2009
Author: Team at thebestof Brighton & Hove
Comments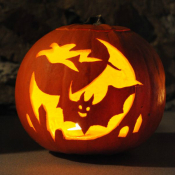 Halloween Events in October and November 2015
If you would like to be spooked and party until the early hours, check out the Halloween events below for adults of all ages during October and November.
These listings are for adults and young adults, parents should check age requirements before booking.
For Halloween activities for families with young children see this article:
Halloween Activities for Children & Families 2015 - Brighton and Hove.
If you'd like to have your event added to this list, email us at brightonandhove@thebestof.co.uk
**Main image courtesy of Halloween©Miles Davies_Sussex Wildlife Trust**
---
ADVERT: Professional Halloween Party make-up for you and your friends - gory cuts, slashes and evil looking wounds. Xpress Beauty of Hove make-up artist Katie is offering a special service to ensure you look Stylishly Horrible for your event this month + a complementary £5 gift voucher for our readers. Warning! Gory images here.
---
ADVERT: Travelling to your party in a group and in costume? Call 01273 204060 or 1273 414141 to get a quote for a Door to Door Taxi Service - for groups of 3 and 4 it can work out cheaper than travelling by bus! Brighton & Hove Radio Cabs are a recommended taxi firm on thebestof Brighton & Hove. Read their reviews here.
---
ADVERT: In Hove? Saturday 31st is HELL'S BELLS at The Better Half, your new local pub with genuine heart & soul... except come in your wicked costume & leave both of yours behind for just this one night! Competition for best dressed. To book a table, call 01273 737869 (mention THEBESTOF for a trick or treat). Find us at 1 Hove Place, Hove, BN3 2RGUK.
---
The Fairy Tale Fair Halloween Edition @ Open Market - Sunday 25th October
The fairy tale fair is suitable for both adults and children at the Open Market, Brighton, Sunday 25th October.
At the Open Market there will be more than forty stalls including face painting, craft, vintage and magic as well as the permanent stalls and cafes: something for every family member. Come along on the first Sunday of half-term to join in the fun!
Venue: The Open Market, Marshalls Row, London Road, BN1 4JU, Brighton. 10.30am – 4pm. 
More details on the website: 
www.thefairytalefair.co.uk
More great events in November at the Open Market : 
www.brightonopenmarket.co.uk/events/
---
Shaun Off His Head Halloween Party @ Rialto Theatre - Saturday 31st October
Shaun off his head Halloween party of music, movies and mayhem will be held on Halloween, Saturday 31st October, from 9pm.
Join us and the guys from STRUM in a party special with some fab music and Halloween themed drinks (watch out for the special 'witching hour' offer!)
Dress up if you dare!
There'll be 4 bands performing followed by a DJ until the late hours. Come in fancy dress and dance / drink the night away! There'll also be screening of some classic horror comedies in the background and halloween decorations galore! Maybe even some wooden stocks, oooh-er. Full acts to be confirmed shortly.
Tickets: £5
Venue: Rialto Theatre, 11 Dyke Road, Brighton, BN1 3FE
http://www.rialtotheatre.co.uk/whats-on
---
Shooshh Presents Halloween House Of Horrors
Welcome to a REAL halloween Party, your biggest fears will be tested, your mind's will be blown with terror, and NOBODY is safe!
With Trick or Treaters left right and centre doing more tricks than giving out treats…
On Saturday The 31st of October Shooshh Brings You Halloween House Of Horrors...
This Halloween Shooshh has a whole host of creepy fun and games...
Trick or treat balloon drop (Not only good things fall from the sky)
Mutilating Morgue
Creepy cocktails
Spectacularly spooky stage show
VIP Tables...
We have custom built our VIP lounges and have one of the most extensive bottle menus in the whole of the UK. Our Shooshh waitresses have been trained directly from the brands that we endorse.
You can enjoy the night complete with your own bar, set away from the main dance floor but in full view of everyone so you are still part of the biggest and best clubbing experience.
This is the ultimate indulgence – you won't believe until you see it.
Platinum Lounge – seats up to 25 people Booths – seats up to 12/15 people Tables – seat up to 8 people
GET IN TOUCH // CONTACT US
To book your VIP booth/table or for all other enquiries.
Call or Text: 07944888889
Email: info@shooshhbrighton.com
Tel: 01273 202 807
---
FRIGHT NIGHT - Brighton Halloween Festival
As the days become shorter, and the nights become longer, a new phenomenon has been brewing in Brighton. For the first time ever, we are proud to present…
FRIGHT NIGHT 2015 Brighton's biggest Halloween fest @ Brighton Racecourse
5000+ People Two Stages: Outdoor and Indoor HUGE Lineup of Headline Artists HUGE Attractions: Horror Mazes, LIVE Actors & More.
FRIGHT NIGHT // Saturday 31st October sees the biggest ever Halloween event land at Brighton Racecourse. Hosted by some of the world's biggest music artists, alongside a fully themed site, this is like nothing you will have ever experienced.
EXPECT: • MAIN Stage: Outdoor • Haunted Cellar Stage: Indoor • 5000+ People • World's BIGGEST DJ's and Live Artists • Brighton Racecourse, Freshfield Road • Incredible Light & Laser Shows • The Old Mine Horror Maze • LIVE Actors • VIP Area with Private Bar sponsored by CIROC • Food Stalls run by Local Businesses
---
BUY YOUR TICKETS NOW BEFORE ITS TOO LATE!
---
This event is 18+ www.drinkaware.co.uk
We're ready – Are you?
FRIGHT NIGHT Saturday 31st October 2015
3pm – 11pm Brighton Racecourse
---
Vanishing Point Halloween Party - with Krystal Klear, Justin Robertson and Skint Records @Patterns Brighton - Saturday 31st October
Saturday 31st October 10:30 until 4am at the Beachfront. Adults only. Fancy dress. This is a clubbing Halloween party of underground house music. Justin Robertson will be the DJ playing house, disco tracks and more.
Venue: Patterns, 10 Marine Parade, Brighton BN2 1TL
Tickets:
£10 - On the Door
£8 - On-line Advance Special Price
Book On-Line Tickets Now (Save £'s & Beat the Queues!)
---
Halloween party @funkyfish club, Brighton on Sat 31st October 2015
HALLOWEEN PARTY!
Get the fancy dress costumes out and dust them off for a fun party at FunkyFish Club - Free shot on entry to everybody in fancy dress – the more 80s & 90s the better + Prizes for the best costumes!
Come and dance the night away!
Advance Tickets are limited so please get them early to avoid disappointment!
Doors 10pm - Tickets will also be available on the door.
Music Genres: Cheesy Dance, Disco, Funk, Pop, Rock
Minimum age: 18
Entry price (public): £5.00
---
EMPORIUM HALLOWEEN DISCO @emporium, Brighton on Sat 31st October 2015
Halloween Party!
Roll up and join us on the spookiest night of the year, October 31st, when Emporium will be hosting our very first Halloween party! Let us scare you senseless at our STRICTLY-COSTUME disco - with very special guests, prizes for best and worst dressed, and games and competitions throughout the night.

We assure you it'll be a night to remember, but just in case you wake up in doubt the next morning, there will also be a photo booth and professional photographer on hand to make sure there is evidence from the night before.
Tickets are £10 per head and include a welcome drink on entry. We'll be going from 9:30PM - 2AM, so you can dance 'til you drop (dead).
https://www.thebestof.co.uk/local/brighton-and-hove/events/feature/emporium-halloween-disco 
---
FEAR ON THE PIER @Brighton Pier - Saturday 31 October
---
The Halloween Horror Show 2015 @ Grand Hotel Brighton  - Saturday 31st October
Join in the Sussex Beacon's Grand Haunted Hollywood Ball on Saturday 31 October 2015 at the Grand Hotel, Brighton. The fundraising ball will be hosted by actress Lorraine Chase and sports personality Robin Cousins.
Lorraine and Robin will play the roles of a ghostly film director and thesistant. Guests will be taken on a Haunted Hollywood themed musical journey directed by west end director Carol Todd. The night will start with a sparkling wine reception followed by a sumptuous three-course Grand Halloween feast. There will be plenty of surprises along the way and rest assured our ghosts and ghouls will have you dancing by the end of the night.
Guests are encouraged to attend in 'Haunted Hollywood' themed fancy dress and there will be a prize for the best-'fancy'-dressed man and woman.
Date: Saturday 31 October 2015
Venue: Grand Hotel, Brighton
Time: 6:45pm to 2am
Dress code: Black tie or Haunted Hollywood themed fancy dress
Ticket price: £95 or £850 for a table of ten.
See more Information and Buy tickets online:
www.sussexbeacon.org.uk/halloween/
---
Copperdollar @ The Old Market - 29th to 31st October
Thursday October 29 to Saturday October 31 2015. Adults only.
Copperdollar return to Hove after playing Glastonbury this summer with their celebration of Halloween and Mexican day of the dead. Copperdollar's parties are a visual feast of art, performance and music with resident DJ Marc Stylus, who has played at the Spiegeltent, Lost Vagueness, Electro Blues Nights and many more.
Venue: The Old Market, Upper Market Street, Brighton & Hove, BN3 1AS.
---
Twisted fairy Tales @ Proud Cabaret Brighton in Kemptown - 29th to 31st October
Thursday 29th October to Saturday 31st October
Venue: Proud Cabaret, 83 St George's Road, Brighton, BN2 1EF
This cabaret is for adults only and weaves tragic fairy tales from Alice in Wonderland, Little Red Riding Hood and many more household characters.
The cabaret begins at 8:45pm, doors open at 7pm for dinner and drinks.
---
Mesaoria Plain @ The Tempest - Saturday 31st October
The cavernous Tempest Inn at King's Road Arches is throwing open its doors for a Halloween special on Saturday 31st October.
Music for the night comes from DJs Gordon Kaye, Soft Rocks, Balearic Mike, Paul Hughes, and Tim Rivers.
All profits from this event will be donated charities who are helping refugees fleeing from Syria and other war torn countries. Please support this worthwhile event.
Venue: Tempest inn, 161 – 169 King's Arches, Brighton, BN1 1NB
www.drinkinbrighton.co.uk/events/tempest/
---
DONUTS Halloween Special Club Night @ KOMEDIA BRIGHTON  - 31st October
DONUTS Halloween special will showcase funk, soul, hip hop and electronic beats! But expect the unexpected. Fancy dress is optional but you may win some prizes for a good costume.
Saturday 31st October. Advance tickets available from SEE tickets.
Venue: Komedia, 44-47 Gardner Street, Brighton, BN1 1UN
---
Brighton's Ghost walk of the Lanes @ Druid's Head - Saturday 31st October
This is a most haunted night of fun and frights. And ghost walkers will be handing out ghoulish goodies to all the children brave enough to attend.
When: There will be three ghost walks on Halloween Night, Saturday October 31
Times: 6.00, 7.30 and 9.00 pm.
Venue: Brighton's ghost walk of the Lanes. Meet at the Druid's Head, Brighton Place, BN1 1HJ.
Prices vary: adults £8, children £4, family tickets £20.
No need to book in advance. Walks last up to 70 minutes. Young children should come to the first walk at 6pm.
Expect a few laughs and definitely some screams!
http://ghostwalkbrighton.co.uk/#unique-identifier6
---
Shocktoberfest Scream Park 2015 @ Tulleys Farm - October
The award winning farm features live actors, special effects and scary surprises - the phenomenal haunts for 2015 will include eight haunted houses, each with their own theme. These are the Volt, Chop Shop, Colony, the Nightshade Circus, The Horrorwood Hayride, the Cellar, Hellements - the Ritual and the Haunted House
But Shocktober Fest also boasts two live music stages, award winning street theatre and delicious food, all wrapped up in a friendly festival atmosphere!
When: 3, 9-10 October, 15-18, 21-25, 27 October to 1st November. Book early.
Venue: Tulleys Farm, Turners Hill Road, Turners Hill, Crawley, West Sussex RH10 4PE
Not recommended for children under 12.
www.halloweenattractions.co.uk/locations/crawley/shocktoberfest
---
Glyndebourne tour: Don Pasquale, 10 October to 4 December 2015
Opera by Gaetano Donizetti. Don Pasquale, an old man, tells his nephew, Ernesto, that he has found a young woman for Ernesto to marry, but Ernesto refuses. Ernesto tells Pasquale that he has already found his lover, a poor young woman by the name of Norina.
Sung in English with supertitles.
Venue: Glyndebourne, Lewes, East Sussex, BN8 5UU
Box Office tel: +44(0)1273 815000
www.glyndebourne.com/tickets-and-whats-on/events/
---
Check out some of our other popular Articles and Guides for  this time of year:
---
Halloween activities for children and families in Brighton and Hove 2015
Firework Displays in Brighton and Hove - 2015
Christmas Pantomimes in Brighton and Sussex - 2015
Christmas shows and activities Brighton and Hove 2015 
Christmas craft fairs and markets in Brighton and Hove
---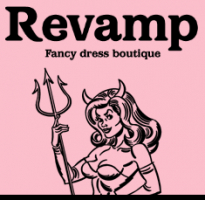 Revamp Fancy Dress
Why not check out this Fancy Dress business in Brighton and Hove. Revamp Fancy Dress is a 'thebestof' business member.