Halloween Events and Parties in Brighton and Hove
18th September 2009
Author: Gerry H
Comments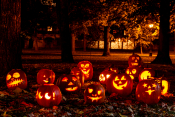 Halloween Events in October and November 2014

Some of the best halloween parties and events happening in the Brighton and Hove area during October and November.
Split into Halloween for Kids and Families and Halloween for Young Adults/Adults sections.
Check age requirements before you go.
If you'd like to have your event added to this list, email us at brightonandhove@thebestof.co.uk
Travelling in a group and in costume? Call recommended Brighton & Hove Radio Cabs for a Door to Door taxi service quote. Call 01273 204060 or 1273 414141.
---
HALLOWEEN FOR KIDS AND FAMILIES - 2014
---
ART SCHISM'S 'Dead Good' Exhibition and Workshops - 17 Oct - 2nd Nov
Venue: ART SCHISM, 87 Gloucester Rd, Brighton BN1 4AP
To celebrate the spookiest time of year, Art Schism are delighted to offer a wide variety of Halloween-inspired workshops during the October Half Term.

So, if you have the kids this Half-Term and stuck for things to do, let Art Schism help you make something to scare your friends and family with!

Stitch 'n' Witch Afternoon – Knitting and Crochet
Monday 27th October, 2:00pm – 5:00pm (Suitable for ages 8+)

Sketching Spooktacular – Drawing and Doodling Session
Tuesday 28th October, 2:00pm – 5:00pm (Suitable for ages 5+)

Sinna One's Spooky Spray Paint Session
Wednesday 29th October, 2:00pm – 5:00pm (Suitable for 12+)

Insight into Screen Printing
Thursday 30th October, 2:00pm – 5:00pm (Suitable for 5+)

Halloween Drawgasm!
Thursday 30th October, 8:00pm - Slightly Late (Suitable for all ages)

Halloween 'Dead Good' Shindig 
Friday 31st October, 5:00pm onwards. With resident illusionist Joe Marnie, fancy dress and treats aplenty.
Free Entry, Donations Welcome. All workshops are subject to availability at the time, so if it is full then feel to come back later in the afternoon. 
Children under the age of 12 must be accompanied by an adult.
---
Frighten Brighton and Emporium Presents Emporiumacabre II - 31st October 2014
Venue: 88 London Rd, Brighton, The City of Brighton and Hove, United Kingdom
Join the Emporium for a day celebrating thrills, chills and all things seasonably fiendish! Event's include their Macabre Market for all your scary supplies, spooky screenings suitable for all ages, costume characters, special goulish guests with signings and chilling chat plus plenty of extra floorboard-creaking extra surprises.
The Day:
11am - 5pm
The Macabre Market - in our café-bar. Spooky stalls crammed with fascinating oddities and creepy artifacts from local artisans. Admission free
3pm
Creepy campsite screenings of Scooby Doo and Casper the Friendly Ghost hosted by some of your favourite Mystery Machine characters. Bring your torch. Suitable for children (5+) and the child-like. Admission free.
7pm
The Evening. Welcome to our candlelit crypt for costumed characters, creepy cocktails, special spooky guest appearances, signings and surprises! Admission free.
7:45pm
The Night. Q & A with Michael Armstrong, writer/director of Mark of The Devil, The Haunted House of Horror and The Sex Thief among others. Includes a rare screening of his cult short film, The Image, which stars David Bowie. Tkts: £12.50
Followed by a free screening of Theatre of Blood, the grisly 1973 classic starring Harry Andrews, Diana Rigg, Coral Browne, Michael Hordern, Joan Hickson, Robert Morley, Diana Dors.... and Vincent Price as an overlooked actor who exacts his gruesome revenges on a number of theatre critics. Anyone for poodle pie?
Website: http://emporiumbrighton.com/emporiumacabre-ii/
---
myminidisco: Cool Music for Cool Kids - 2nd November 2014
Venue: 44-47 Gardner St, Brighton, East Sussex BN1 1UN United Kingdom
Spooky myminidisco…back with a bang to celebrate Halloween with a fancy dress special.
Expect all the usual fun & games as the super sized ghetto blaster unleashes the beats to an up for it crowd of mini ravers and their parents. Prizes for the best costumes, a hula hoop show, FREE face painting, complimentary goody bags and a dance instructor.
2pm start.
(0-8 year olds)…
Full Price - £8.00
Child on Lap - Free)
Family of Four - £25.00
Information and Tickets from the website...
---
Yellowave - Half term Halloween kids party - 31st October 2014
Venue: 299 Madeira Drive, Brighton, East Sussex BN2 1EN United Kingdom
Come and have some Ghoulish Fun at the half term Halloween Kids Party – includes Halloween games in the sand, hot chocolate, Halloween nibbles and decorate a pumpkin.
Cost £10 per person. Booking essential. Aimed at ages 5-9yrs.
For further details or to book tickets please call the Yellowave Beach Sports venue on 01273 672222.
Website: http://www.yellowave.co.uk
---
Halloween Horrors! at Woods Mill - 31st October 2014
Venue: Woods Mill, Henfield, West Sussex BN5 9SD United Kingdom
Dust off your Halloween costumes and come along to Woods Mill nature reserve near Henfield for a spooktacular experience with Sussex Wildlife Trust. Meet real live bats and enjoy creepy craft activities – make your own weird and wonderful wooden creature and bat mask to take home with you. 

Adventurous explorers will follow a candlelit trail through the woods to our camp fire circle as darkness falls.  Learn how to whittle your own toasting stick to crisp marshmallows over the fire, and enjoy a warming cup of hot chocolate. Fancy dress costumes are warmly welcomed!
Suitable for children aged 5-11 years; all children must be accompanied by an adult.
Time: 5:30 pm - 7:30 pm
Cost for Sussex Wildlife Trust members: £5.00 per child / £2.50 per adult. Non-members:  £7.00 per child / £3.50 per adult. Booking is essential.
Phone: 01273 492630
Website: http://www.sussexwildlifetrust.org.uk/events/event_diary/page00003.htm#24
---
Drusillas Park - Halloween - Sat 25/10 - Sunday 2/11 2014
Venue: Drusillas Park, Alfriston, East Sussex BN26 5QS
Stake out the fun at Drusillas this Halloween! Between Saturday Saturday 25th October to Sunday 2nd November. They've conjured up oodles of eerie events and seasonal surprises to keep your little horrors half term happy including:
Haunted Heights
Spooky Happenings
Mummy Mayhem
Creepy Crawly Encounters 
Scooby-Doo – Wednesday 29th October
The Parlour

Book tickets in advance to save £££s for Halloween Shriek Week. Visit the link below to purchase yours now! 
Website: http://www.drusillas.co.uk/halloween-activities-in-east-sussex
---
The Pumpkin Patch & Spook Fest at Tulleys Farm in 2014
Each October weekend and Sat 25th October - 2 November 
Venue: Tulleys Farm, Turners Hill Road, Turners Hill, Crawley, West Sussex, United Kingdom, RH10 4PE
Looking for ghoulish fun? The UK's top voted Halloween family attraction is back for 2014 at Tulleys Farm in West Sussex. 
Jam packed with Pumpkins, Spooky Maze and walk through attractions, fun shows, activities, great shopping and great food PLUS - two scarier attractions for all ages - the famous Horrid Hayride and the Haunted House. 
Opening times – 10am to 4.30pm

For further information and online saver tickets for the Family Halloween attractions, visit 
http://halloweenattractions.co.uk/spooktoberfest/
or call 01342 710471
---
Halloween Happy Hauntings at Fishers Farm Park - From 25th October - 2nd November
Start: Sat 25th Oct 2014
End: Sun 2nd Nov 2014
Venue: Fishers Farm Park, Newpound Lane, Wisborough Green, West Sussex, United Kingdom, RH14 0EG
Witches and Wizards, Vampires and Lizards, and owls that go hoot in the night. Scary tales and slimey snails, and ghosts that give you a fright!
It's all happening at Fishers this hair-raising October half term for the 'Halloween Happy Hauntings'! Ideally suited for ages 2 – 11 yrs, come and enjoy this fangtastic week with your own little monsters!
There is lots more besides... For information on prices and opening times please see:
http://www.fishersfarmpark.co.uk/discover-fishers/special-events/halloween-happy-hauntings/
You can also call 01403 700063
---
The Ghost Walk of the Lanes - Fri 31st October and Sat 1st November 2014
Start at the Druid's Head pub, Brighton Place (opposite Donatello's Restaurant)

Tel: 01273 328 297 or 0752 260 5524
This Ghost Walk goes where other Ghost Walks fear to tread. An alternative and fun way to learn about Brighton's history.
There will  be two extra ghost walks over the Halloween period. There is an earlier start time of 6:30 P.M. in order to accommodate families with younger children. There will also be plenty of gruesome goodies for all our little Halloweeners to gobble.
The times and dates are as follows:
Friday 31st October. There will be three walks on this date. The start times are as follows:
6:30 P.M. start (families)
7:30 P.M. start (adults)
9:00 P.M. start (adults)
Saturday 1st November. There will be two walks on this date. The start times are as follows:
6:30 P.M. start (families)
7:30 P.M. start (adults)
Booking not essential but recommended.

Ticket Information:
Adult Admission       £8.00 per ticket
Kids Admission         £4.00 per ticket
Seniors & Students   £5.00 per ticket 
Family Tickets          £20.00 for 2 adults, 2 kids 
http://ghostwalkbrighton.co.uk/halloween-special-2014
---
HALLOWEEN FOR YOUNG ADULTS/ADULTS - 2014
---
DOY's KOMEDIA BRIGHTON - Beach of the Dead 2015 Film Fundraiser - 1st November
Join us on Saturday November 1st 2014 at 11pm till 3am, dressed to distress for a zombie film screening at Duke of York's Komedia (15+).

This fundraising event is vital to Beach of the Dead's future, this event will allow us to go hard and gruesome on a comeback for Beach of the Dead 2015.
Attendees are asked to dust off their zombie costumes, for an intimate Beach of the Dead experience.
Limited Tickets, purchase online or via phone – 0871 902 5728
http://beachofthedead.com/index.html
Ages: 15+
 
---
KOMEDIA BRIGHTON - Trailer Trash presents...American Horror Story Halloween Special!
Club Night - 31 October
The Asylum Is Open for Business. Check Your Sanity at the Door.
Commit yourself…..Join us for American Horror Story this Halloween if you dare…. the only night the ghosts can leave the murder house and walk the Earth with you!
With live cabaret, gruesome treats, crazed visuals + DJ Jenna Allsopp (spellbound), Dress to distress - you're going to die in there!
Ages: 18+ //Standing
http://komediabrighton.ticketsolve.com/shows/873521473/events?show_id=873521473
---
Tulleys Farm - Shocktoberfest Scream Park 2014
18 nights of the most interactive and immersive Halloween entertainment in the U.K. From 4, 10, 11, 16, 17, 18, 19, 22, 23, 24, 25, 26, 28, 29, 30, 31 October and 1, 2 November.
Venue: Tulleys Farm, Turners Hill Road, Turners Hill, Crawley, West Sussex, United Kingdom, RH10 4P
THE UK'S NO1 HALLOWEEN EVENT - 18 FRIGHT NIGHTS!
Full of incredible haunted attractions, the park features the infamous Horrorwood Haunted Hayride, The Cellar Haunted House and Hell-ements Inferno. Plus LOTS NEW FOR 2014 including The Haunted House, Twisted Shock n' Roll, The Tunnel, The Silver Scream Movie Scare Zone, and Zombie Paintball!*
The scream park also incorporates three food courts, scare zones, street theatre and more!
Shocktober Fest has a visitor capacity limit for the 2014 season and the event WILL sell out. Bbook early tickets to avoid dispointment.
To buy tickets and for more information visit www.HalloweenAttractions.co.uk/shocktoberfest
(Not recommended for under 12's)
---
The Old Market - Copperdollar: back of beyond - Friday 31st October 2014
Venue: The Old Market, Upper Market Street, Brighton & Hove, BN3 1AS
Following a complete sell-out 2013, Copperdollar return with their huge celebration for Halloween and Mexican Day of the Dead.
Doors: 8:00pm til 2:00am (last entry 11:00pm)
Tickets: £14.00 [12.00 Conc.], // Groups 8+ £10.00 
Please Note: Suitable for ages 18+ only.
---
Hilton Brighton Metropole - The Halloween Horror Show - November 1
Venue: King's Road, Brighton, East Sussex, BN1 2FU 
Enjoy a sumptuous Halloween feast followed by a spectacular live floor show with a live band and dancing until the early hours. The event will be hosted by actor and television presenter Christopher Biggins.
The dress code will be black tie or Halloween themed fancy dress. There will be Halloween themed games as well as auctions and a raffle offering exclusive and 'money can't buy' prizes. 

The Ball will be raising funds for The Sussex Beacon – a charity offering specialist care and support to men, women and families affected by HIV.
Time: 7:00 pm - 11:00 pm
Cost: £95pp/£850 for a table of ten
Website: http://www3.hilton.com/en/hotels/united-kingdom/hilton-brighton-metropole-BSHMETW/index.html
---
Fun Fair Club - Riddles in the dark presents: tales from the krypt - Wed 22nd October 2014
RITD present a dark and twisted circus-themed fancy dress Halloween party. Featuring live performances, stalls, games, magic and mind-reading.
Doors: 9:00pm til 2:00am (last entry 1:00am)
Entry price (public): £5 Advance, £7 OTD
Minimum age: 18
---
glyndebourne tour: the turn of the screw - 18 October - 24 October 2014

Venue: Glyndebourne, Lewes, East Sussex, BN8 5UU
A chilling and enthralling ghost story from a world-class opera house.
Benjamin Britten's opera. Two children are at the core of the story, Miles and Flora. Has their innocence been fatally corrupted? Have they become possessed by malign forces? Are they essentially evil?
Sung in English with supertitles. The performance lasts approximately 2 hours, including one interval of 20 minutes
Doors: 4:00pm til 10:00pm (last entry 4:00pm)
Box Office tel: +44(0)1273 815000
Website: http://glyndebourne.com/production/turn-screw-0
---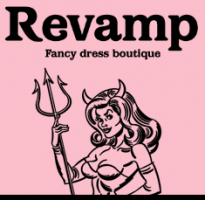 Revamp Fancy Dress
Why not check out this Fancy Dress business in Brighton and Hove. Revamp Fancy Dress is a 'thebestof' business member.